Building Consumer Trust During a Crisis: Top Use Cases and Digital Tools
As the world begins to move into the new normal after the Coronavirus pandemic, consumers will demand more transparency into product safety and authenticity.
Consumer brands need to re-evaluate their organization, process, data, and technology to ensure that their products are safe and that consumers trust their brand to be reliable, safe, and effective. Providing this consumer confidence will require building transparency and trust in the brand, products, ingredients, supply chain, manufacturing operations and distribution channels.
Here's a look at the three top use cases for building customer trust – traceability, transparency, and authentication – and an analysis on how to leverage technology like artificial intelligence (AI) and blockchain to navigate the new post-pandemic reality.
Use Case 1: Traceability
Supply Chain Traceability. A product can be traced from source to customer or shelf using blockchain or sensors. As an example, Walmart requires suppliers of leafy green vegetables to enter detailed supply chain information in a blockchain database. If there are any product issues, they can identify affected products within seconds, saving money and keeping consumers healthy.
Food Safety Traceability. With the help of smart food safety technologies – such as wireless temperature sensors and the internet of things (IoT) – companies track food safety values like temperature and humidity in real time to meet regulations and ensure food safety and quality.
These technologies:
Improve regulatory compliance and improve operational efficiency by reducing time consuming tracking activities and human error
Allow earlier hazard detections that enable quicker corrective (and even preventative) actions
Contribute to the reduction of the impact of disease outbreaks
Enable quick response to risks along the food chain
Use Case 2: Transparency
Supply Chain Transparency. In a post-pandemic world, consumers will likely demand more visibility and transparency into the supply chain; they want to understand where ingredients were grown or made. Blockchain and sensors can be leveraged to provide transparency to the consumer about where a product comes from. Hershey's, for example, created a map that allows consumers to view sources for the ingredients in their Milk Chocolate with Almonds bars. They even provide videos for each location to show more about the farmers they work with and the manufacturing process.
Use Case 3: Authentication
Brand Authentication. According to the Global Brand Counterfeiting Report 2018, the value of counterfeited goods in 2017 amounted to $1.2 Trillion. Companies spend a lot of resources to protect brand authenticity. Companies that introduce blockchain, RFID or other digital technologies will find it easier to confirm authenticity throughout the supply chain.
Ethical Sourcing. Ethical sourcing can be documented using blockchain or RFID technologies. For example, they can document whether fish were caught legally and sustainably, as well as whether safe labor conditions were met. This allows consumers to differentiate fish caught ethically from those caught unethically.
Technology & Tools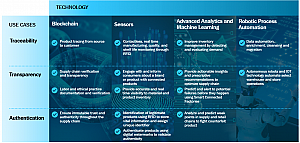 Blockchain. Blockchain provides an end-to-end traceability from the raw materials to the end consumer. It has evolved into a transparency and trust enabler. It is a decentralized public ledger that contains a digital sequence of records that are very hard to counterfeit. The use of blockchain in retail is growing at a CAGR of 96.4%. But apart from the benefits, uncertainty with Blockchain still remains. The biggest downsides are lack of scalability and interoperability as there are no common standards yet.
Sensors. Sensor techonology is making science fiction science fact. There are examples with Near-Field Communication (NFC) sensors, like in Samsung Pay and Apple Pay, that detect and monitor bacteria, odors, temperature, specific chemistries or moisture levels in food packaging. This provides precise actionable data and direct engagement to consumers, customers, and government regulatory agencies. Even with traditional sensors, current processing power can allow real-time feedback.
Advanced Analytics and Machine Learning. With blockchain ledgers and sensor data, more insights can be gathered before a product makes it to the customer. Advanced analytics and machine learning can reveal patterns and anticipate problems. These technologies can be leveraged to review performance data to identify previously unspotted performance trends.
Robotic Process Automation (RPA). An RPA is a small application with a pointed task. Typically, companies use an RPA to automate a mundane task. It is capable of thousands of tasks, but for now think of it as a virtual data entry, data integration, and/or data migration clerk. RPA apps are quick to deploy, easy to change, and have a higher accuracy than a human clerk. As companies make the journey into an organization enabled by smart connected operations (SCO), RPAs can help avoid duplicate entry, costly integrations, and a lot of the pain associated with data migration. RPA can even help a company with a quick win - copying data from various sources to provide a transparency profile.
Getting Started: Key Concepts to Keep in Mind
Map Out a Full Strategy. The future has never been more uncertain, but now it the time to act. Take the time to re-evaluate the organization, processes, data, and technology to ensure that products are safe and that consumers trust the brand to be reliable, safe, and effective.
Understand customer, consumer, and industry dynamics and be sure to surface both threats and opportunities
Focus efforts around business objectives: there are many cool technologies in the digital space, but not all of them will drive business value equally across companies
Prioritize opportunity areas and establish a clear vision of how to position your brand to address the next normal
Identify the technologies, data and processes that deliver value for consumers
Build metrics and scorecards to stay on track
Establish a cross-functional governance team made up of leaders with the power and influence to steer the organization
A technology-only approach is not enough to get full value from a transformation. Companies typically need to change processes, educate co-workers, and rescope current positions. Be sure to build organizational change management into your plans.
It is okay to start small. If your company is not ready for a full transformation, start with one business problem to demonstrate value.
Choose a business problem where the results are measurable—it is best if you can link it to in-market results
Create a cross-functional team
Take an agile approach
Use early success to gain buy-in and secure funding for a larger roll-out
Done correctly, implementing digital technologies in support of smart connected operations can build consumer confidence and trust that your products are safe and effective.