Bringing products to market today requires a cohesive and connected cross-functional enterprise. Teams, divisions and regions all need timely access and simple navigation to the product information that drives core enterprise and ISO processes.
However, most organizations are wrestling with the complexity of siloed systems, processes and people, crippling the ability to effectively execute. Much of the complexity is the result of a disconnected web of core, legacy, SaaS, on-premise, and functional point systems.

We help companies access data from multiple systems in a single portal with pre-configured and custom-built apps based on common roles, fundamental use cases and frequent functionality.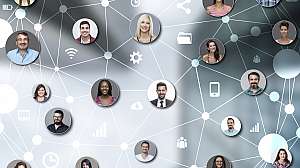 Here's how to leverage the growing capabilities of business apps and connected digital platforms to reduce complexity and support the role-based needs of end users.
Connected Role-Based Apps
Leading companies are leveraging IoT to unlock and aggregate data from any IT system, and better enable day-to-day tasks. A connected digital platform with role-based apps can reduce internal complexity, significantly increasing speed to market, improving quality and reducing cost as a result. Connected apps offer mobile access, a streamlined user experience (UX) and less navigation for each individual role.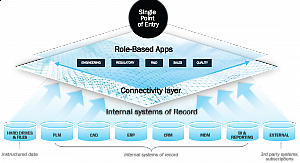 Business Value Benefits
Increased efficiency and value-add work​​
Quicker access to key data and documents​​
Enterprise visibility, self-serve data and reports​​
Complete cross-functional views for holistic decision making
Closed-loop collaboration
Reduced cost of poor quality​​
Analytics base to provide key insights at scale
Predictive analytics to drive prevention of issues​​
Business continuity and existing system infrastructure
Flexibility for system consolidation, migration and integration efforts
Types of Connected Role-Based Apps
Pre-configured and custom-built apps provide convenient, easy-to-use solutions available to users across the organization. Pre-built apps provide core functionality to quickly deploy and simplify tasks common to all organizations, while custom apps provide options for targeted business processes and unique source system architectures with their open connectivity model and low-code development features.

Connected Role-Based Apps
Built to address a fundamental set of use cases and pain points offering a focused user experience to streamline the key information and activities for each respective function. Core enterprise and all ISO 9001 processes can be simplified with pre-configured or custom apps.
Federated Product and Document Search Apps
Base foundational apps that offer step-change search, access, visibility and use of enterprise data and documents from any system or data source. Cross-functional users are no longer required to request and wait on counterparts or forced to navigate an unfamiliar point system to access the right information.
Dashboard and Report Apps
Cornerstone apps that leverage the power of digital technology to "mash-up" and bring data and documents from disparate systems into a single view. Aggregate cross-functional, cross-BU or cross-region system data into complete views for fully informed decisions. Apps set the base for Advanced Analytics and allow for innumerable user defined views and cross-functional impact reports.
Role-Based App Features
Simplified user experience
Single sign-on and point of entry
Focused, role-based context
Open model with pre-built connectors to common systems
Custom apps leverage leading practices to enable closed-loop workflow, approvals, notifications
Traceability, audit, CFR Part 11 compliant
Cross-functional impact reports
Embedded within PLM or separate portal
Mobile access

Use Cases for Connected Role-Based Apps
R&D
Process Enablement:
Product Development
Verification & Validation

Cross-System Mash-ups:
Requirements vs. Risk vs. Design
Verification & Validation vs. Changes
Quality
Process Enablement:

Quality issues vs. REP quantities, revenue and cost
Nonconformance, complaint, audit, CAPA
Cross-System Mash-ups:
Cost of Quality
Management Review
Response to unannounced audits
Supply Chain
Process Enablement:
Cross-System Mash-ups:

Rationalization vs. Inventory and forecast

Planning
Manufacturing
Process Enablement:
Batch/Lot Master Record
Equipment reliability and maintenance

Cross-System Mash-ups:

BOM compare – PLM vs. ERP vs. MES
Regulatory
Process Enablement:
Product recertification
Regulatory submission
Document collection for submissions or audits
Cross-System Mash-ups:

Safety reporting and product registrations
Enterprise regulatory reports
Post-market surveillance
Sales & Marketing
Process Enablement:
Portfolio Review
SKU Rationalization
Cross-System Mash-ups:
Complaints vs. CRM historical and forecasted sales
Regulatory changes and compliance
Finance
Process Enablement:

Cross-System Mash-ups:
Service
Process Enablement:
Complaint creation and escalation to CAPA
Remote Service
Cross-System Mash-ups:

Service costs & efficiencies
Connected cause analysis
How We Help Clients Build Role-Based Apps for Cross-Functional Users
We combine our deep industry expertise, process knowledge and system implementation experience to first understand then build the appropriate mix of pre-built and custom apps to drive quick wins and long-term value for your organization.

Systems & Opportunity Assessment
Engage cross-functional users to understand current state data, where source information and documents reside (PLM, ERP, QMS, MDM, etc.), processes it feeds, who needs it, who is responsible for maintaining it, bottlenecks and baselines
Identify highest value cross-system data "mash-ups", dashboards and reports
Prioritize suggested target systems and roadmap of the associated role-based apps (Pre-built and Custom Development) with highest impact
Minimum Viable Product (MVP) Pilot to Scale
Implement a proof of value deployment at a subset of business units, sites and/or product lines
Gain feedback and make refinements to enable multiple use cases, leveraging prioritized systems and data sources
Capture benefits of optimized enterprise access and a simplified user experience
Connected Pre-Built Role-Based Apps Deployment
Built for accelerated deployment
Connected to common commercial software solutions
Based on industry-leading practices and standard business process to provide immediate value realization
Connected Custom Role-Based Apps Development & Deployment
An open technology model with significant flexibility using OData, REST API and javascript and low-code development features to ease the customization effort and timeline
Pairing the platform with your PLM system can deliver a powerful backbone to:

Enhance distinct, cross-system business processes, aggregate workflows and notifications
Centrally track and view information and status
Compile data and documents
Enable traceability, auditability, and CFR Part 11 compliance
Our Work in Role-Based Enterprise Apps
Case Study: Medical Device Manufacturer
Designed and implemented single portal to facilitate regulatory, supply chain and engineering functions' collection of data across multiple systems to inform re-certification vs. rationalize decisions for leading medical device manufacturer
Context
Organization was seeking to unify product data across business units and supporting systems into a single, user-friendly platform to improve internal processes related to EU MDR device certifications
Desire to improve efficiency, enhance compliance and reduce time-to-certification for products
Approach
Identified and cataloged all disparate data sources
Created a central data aggregation solution built on digital platform solution
Connected to all applicable data sources and integrated to solution via plug-ins
Authored intelligent search services and indexing
Provided translation services so data could be viewed and manipulated with multiple presentation layer offerings
Created robust logging and reporting mechanisms for all data interactions
Results
Unified multiple data sources and types into a single platform for review by the Regulatory Affairs team
Data was organized into product packages reviewed to determine if a device was eligible for EU MDR certification
All processes and systems designed to comply with EU MDR reporting requirements
Thought Leaders