We help manufacturers augment legacy control systems with prescriptive analytics to achieve greater production throughput and yields.
Manufacturers are facing a host of challenges. Inflation, rising interest rates and the threat of recession impose limits on capital expenditures and curtail the deployment of new lines or plants.
Global disruption and supply chain delays erase any margin for error or scrap with parts or material inputs. Workforce efficiency is depleted as experienced operators age out and new workers are disinclined to join. In addition to rising energy costs, stakeholders are holding global organizations accountable for their energy use and environmental impact.

For manufacturers that need to do more with what they already have, autonomous manufacturing enabled by closed-loop optimization is the optimal path toward operational resilience and profitability.
Real Results
A tire manufacturer drove a 45% reduction in downtime, and produced 550,000 more tires per year
One Fortune 500 CPG company reduced specification rejections by 30%
A dairy producer achieved up to a 42% reduction in quality variability, and a 6–15% increase in production throughput

Two cement mills increased throughput 4.8% and 5.7% and reduced power consumption by 3.5 KWh/s ton of cement produced
One petrochemical provider decreased transition times by up to 50%, and increased production by 7%
Unlock the Value of Autonomous Manufacturing for Your Business
With model predictive control (MPC), industrial AI and machine learning we help optimize operations for ultimate capacity based on changing conditions. We empower manufacturers to achieve precision to deliver quality products at speed and scale, while reducing costs and environmental risk.

Watch: How Artificial Intelligence breakthroughs in advanced control are helping customers evolve from Automation to Autonomy.

Our repeatable and adaptable models are honed through successful deployments to deliver better results, faster while maintaining security, safety and stability.
We begin by connecting the individual autonomous systems that make up a factory using a unified methodology and architecture to create a "system of systems" model.
The performance of individual production assets is optimized using model predictive control (MPC) to adjust equipment settings and the corresponding process variables, such as flow rate, temperature or pressures.
This degree of visibility and control is then extended from the asset, to the line, and ultimately the plant level, using IoT connectivity to bring operations data to the cloud. This enables visibility and control of the dynamics of the entire plant, mitigating the impact of a disturbance in one department on the rest of the manufacturing process.
The operations data generated from each asset and line is used to train self-optimizing AI models to progressively enhance performance over time. The incremental value created through this process is easily observable on real-time trend and KPI visualizations.
By continuously managing moment-by-moment details, our AI services allow people to focus their intelligence on the bigger picture, while MPC and other tools autonomously drive their process toward the targets they have set.
Closed-Loop Optimization
Closed-loop optimization enables physical systems to evolve from automation to autonomy. By developing a digital representation of a physical system (digital twin) and optimizing it with historical and real-time sensor data, the system learns to:
Observe operating conditions
Infer desirable outcomes associated with system adjustments
Decide on the optimal adjustments
Act on these decisions using physical control elements
The diagram below illustrates the general architecture for closed-loop optimization.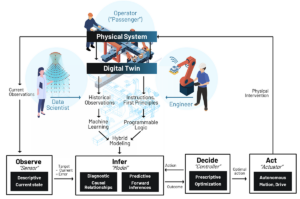 Core Areas for Delivering Impact with Closed-Loop Optimization
Process Optimization
Drive measurable improvements in throughput from existing equipment, in applications such as:
Dryers and evaporators in mining, food and beverage
Flotation, crushing and grinding, and kiln control in mining
Transition in polymer production
Distillation for ethanol and other compounds
Quality Optimization
Consistently deliver better products and greater yields, through:
Predictive quality simulation
Automated product testing
Equipment optimization
Automated optical inspection
Energy Optimization
Achieve sustainability goals and improve the bottom line with:
Raw material availability analytics
Predictive emissions monitoring and management
WAGES optimization across the value chain

Supply Chain Optimization
Improve predictability and agility in the face of changing market needs by applying AI and machine learning to use cases like:
Predictive inventory management
Warehouse automation
Automated asset identification
Route optimization
Kalypso and Rockwell Automation provide the most advanced level of enterprise process and system orchestration on the market today, with a fully integrated hardware, software and services solution.
Rockwell's legacy in industrial control systems and market-leading portfolio of programmable logic controllers, drives and distributed control systems serves as the foundation autonomous manufacturing, capturing production variable data to inform process models and directly implementing prescriptive actions.
Rockwell's FactoryTalk™, including LogixAI, Pavilion8 and PlantPAx, and other solutions are complemented by deep partnerships with Microsoft, AWS, PTC and others.
Kalypso's professional services team brings decades of practical experience and a unique combination of data science, process engineering and consulting expertise that has earned more than 160 patents and driven the successful implementation of over 1,000 process control models worldwide.
Thought Leaders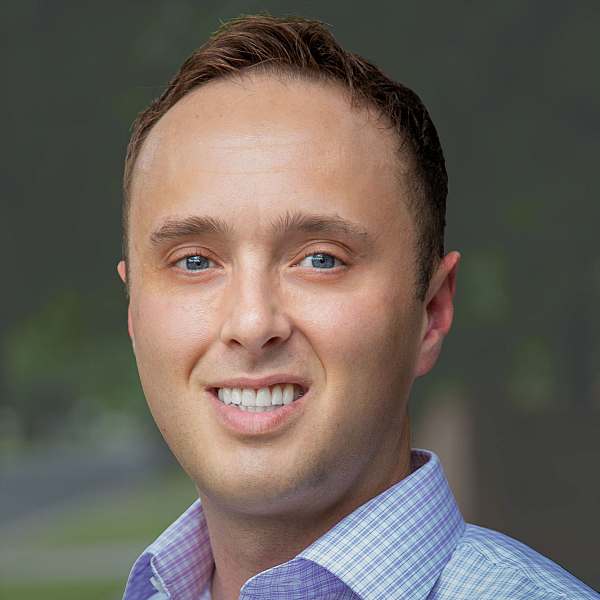 Principal & Global Practice Leader, Data Science & AI