Our Clients in Industrial High Tech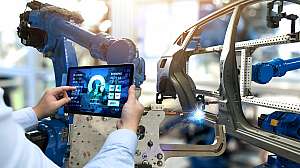 Industrial
Our industrial clients are in process manufacturing, including chemicals and other raw materials; discrete manufacturing, including engineered parts, components and subassemblies; and natural resources, including mining, oil and gas.
High Tech
We work with high tech clients in semiconductor, including integrated circuit suppliers; and electronics, including electronic devices and all services or machinery for electronics.
Business Impact
Improved Overall Equipment Effectiveness (OEE)
Decreased production costs
Improved quality and accuracy
Increased equipment run time
Faster product development cycles
Increased development pipeline throughput
Improved product adoption rates
Increased market share
Industrial High Tech Industry Expertise
We work with our industrial high tech clients throughout the product development lifecycle - from commercial and engineering to manufacturing and end-of-life - to enable a digital enterprise with integrated data that delivers innovative products and solutions.
As industry practitioners, our work is hands-on and our knowledge is based in experience. We serve a diverse industrial high tech client base as trusted, strategic partners. Our approach is focused on helping you navigate demanding market requirements and achieve faster time to market with high quality.

Industrial High Tech Service Focus Areas