PLI is an evolution of PLM that applies artificial intelligence and automation to help PLM users extract meaningful insights from product data, formulate predictions, recommend improvements, and automate actions within systems and processes.
Deployed via a suite of user-centric apps, PLI addresses core business needs of PLM users, including data migration, new product development cycle times, change management, product quality, supplier management, manufacturability and regulatory compliance.
Our clients use PLI to make evidence-based decisions, reliably plan and forecast, and continuously improve business results.

What is PLI?
This video offers a brief, high-level overview of PLI and how to evolve PLM with advanced analytics and machine learning.
How does PLI work?
Watch this video to dive deeper. Learn about structured data, advanced analytics vs. machine learning, and more about how PLI leverages these technologies to maximize the value of PLM data.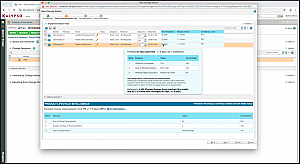 Use Case Demo: PLI for engineering change management
For this video demo, we show how PLI takes the variability and guess work out of the implementation timeline by using the rich dataset in PLM to drive valuable insights and recommendations.

Addressing Core Business Needs
Maximize the Value of PLM Data
You're just starting your PLM roadmap, or you're a mature user sitting on months, even years, of untapped business data.
Optimize R&D Performance
You're an R&D, engineering or product development leader with performance commitments to uphold like system adoption, cycle time, change frequency, design reuse, first pass yield, cost and quality.
Drive Continuous Product Development Improvements
You want to understand how PLM impacts your results, how to predict or forecast future results more reliably, how to continuously drive improvements, and how to automate repeatable actions in PLM.

Put the Power of Analytics to Work
You're intrigued by the promise of analytics but you are wholly unsatisfied with the capabilities of legacy PLM reporting and business intelligence products.
A Data-Driven Approach to Solving Problems
PLI uses advanced analytics to get more meaningful and actionable insights from your data.
While Excel and other legacy reporting techniques can help companies manually explore and begin to explain business performance, PLI enables the ability to predict outcomes, prescribe actions for improvement and even automate actions in PLM.
PLI helps innovators:
Explore
What happened?
Explore current and historical product development performance metrics.
Explain
Why did it happen?
Explain performance trends with multivariate statistics, identify important patterns, correlations and root causes.
Predict
What will happen?
Forecast future performance based on predictive analytics and machine learning techniques. Set reliable expectations on cycle time, cost, quality and manufacturability.
Prescribe & Automate
What recommendations will optimize future outcomes?
Prescribe evidence-based recommendations to improve future outcomes. Automate actions in PLM, including accepting or rejecting workflow changes.
Existing PLI Applications
These pre-configured PLI apps add rapid value, with fixed-price services that include implementation, support for custom data models, development of custom reports and mashups, and model evaluation.
PLI + PLM
PLM data is available, plentiful and structured, making PLM a logical starting point for many companies, with clear benefits in R&D and new product development.
PLM System Adoption
Analyze how users are using PLM, level of engagement and productive output.
Data Quality
Enrich PLM data quality - identify duplicates, incomplete, anomalous and erroneous data.
Cycle Time
Analyze new product development and engineering change cycle times. Improve time to market with intelligent automation.
Change Frequency
Analyze design robustness and change volatility patterns. Reduce number of design changes.
Rework / Rejection
Analyze design approval and rejection patterns. Improve 'first time yield' rates.
Deviations and Variances
Analyze patterns behind deviations and variances. Reduce supplier and manufacturing variances.
Design Re-use and Duplication
Recommend part re-use opportunities and identify part and component duplicates.
PLI + Enterprise Systems
For companies with structured data in other enterprise systems, PLI can provide value to additional teams, including manufacturing, supply chain and service.
Product Performance (with IoT)
Bring performance insights from connected products back into R&D process. Facilitate data-driven design.
Product Quality (with QMS)
Correlate design decisions to product quality results. Predict quality issues and prescribe solutions.
Manufacturing Performance (with MES)
Correlate design decisions to manufacturing performance (scrap, yield, quality).
Cost (with ERP)
Correlate design decisions to product cost. Identify cost reduction opportunities.
Customer Experience (with CRM)
Correlate design decisions to customer experience, adverse events and complaints.
Need a Custom PLI App?
Implementing PLI to address your unique specific business challenges is quick and easy. Our accelerated approach can include:

Discovery Workshop
Complimentary one day workshop to review needs, explore use cases, and identify specific opportunities to prove value
Proof of Value
Two week project to rapidly demonstrate insights from your data, and create a roadmap for business value including ROI and scaling approach
Minimum Viable Solution
Eight to ten week engagement to build out the proof of value into a functional solution, including a use case definition, data preparation, model development and user training
Design for Insights
The value of insights from PLI are only as good as the quality of your PLM data. If you are just getting started with PLM, consolidating multiple systems, or working on cleaning up your PLM data, we can help you structure your data with insights in mind.
With our Design for Insight services, we design a PLM data model that is optimized to extract the insights you need as data accrues.
Our Design for Insight methodology includes:
Identify operational imperatives for achieving key business imperatives – time to market, product cost, quality, compliance, feasibility

Identify analytical insights that will improve these operational imperatives and organize these into Descriptive, Diagnostic, Predictive, Prescriptive categories
Identify the features necessary to support these analytical insights
Identify the data points and relationships within PLM that should compose these features
Document these data points and relationships to be designed into the PLM configuration