Saluting Innovation @ LifePaint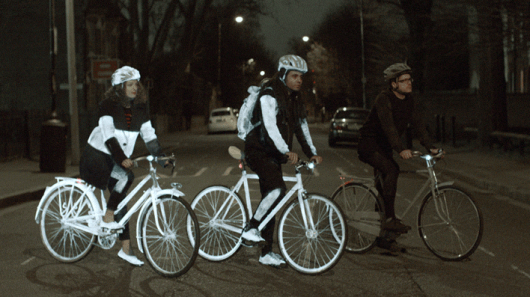 Saluting Innovation at Volvo UK for crafting LifePaint, an easy and convenient approach to keeping bicyclists safe from the vehicular dangers of riding at night. Regardless of what a rider is wearing or accessorized with, LifePaint helps both riders and drivers avoid potential accidents and keep everyone safe.
If you've ever ridden a bicycle, you know the basics: wear a helmet, have some flashing lights in case it gets dark, and perhaps some safety gear such as gloves or elbow protection. But, is that enough? Sometimes it isn't. If you're passing an intersection, you want cars coming from your sides to see you, right? That's where LifePaint fulfills its purpose.
LifePaint is a highly-reflective water based safety spray. You no longer have to worry about buying or wearing special reflective clothing; this safety spray converts your existing wardrobe into visible, bright-as-a-star apparel.
Imperceptible by day, LifePaint only glows in direct glare of car headlights and will not damage the color or material of your clothes. And yes, it washes off and will last up to a week of normal use.
I ride a bicycle almost every day and can't wait to get my hands on LifePaint spray as soon as it's available outside the United Kingdom. I salute Volvo UK for creating a no-excuses way to keep everyone on the road safe and sound.
---
Read More InnoSalutes
Innovation comes in many shapes and sizes. Stay informed about the latest and greatest innovations happening in the world as our team salutes our favorites and uncovers what makes them authentically innovative. Click here for more #InnoSalutes