PLM-Enabled Quality Compliance for Medical Device Part 6 – Equipment & Facility Controls
With today's quality compliance challenges, life science and medical device companies can use product lifecycle management (PLM) as a backbone to support compliance, while enabling continued innovation. PLM connects performance data and enables FDA compliance in six key functions: design controls, document and change controls, corrective and preventative action, materials controls, production and process controls and equipment and facility controls.
This blog will highlight leading practices around how the fifth major quality function, Equipment and Facilities Controls, is managed within ERP and MES - inside the scope of PLM.
During the product lifecycle, equipment and facilities are needed to develop the product, produce the product, maintain and service the product, and modify or dispose of the product. Equipment and facilities will affect the quality of the product, its cost and the time to market. As part of the product-to-production model, there is a direct link between PLM, the production plant, IT, engineering and operations, exchanging work instructions, engineering data, non-conforming events, supply chain management, etc.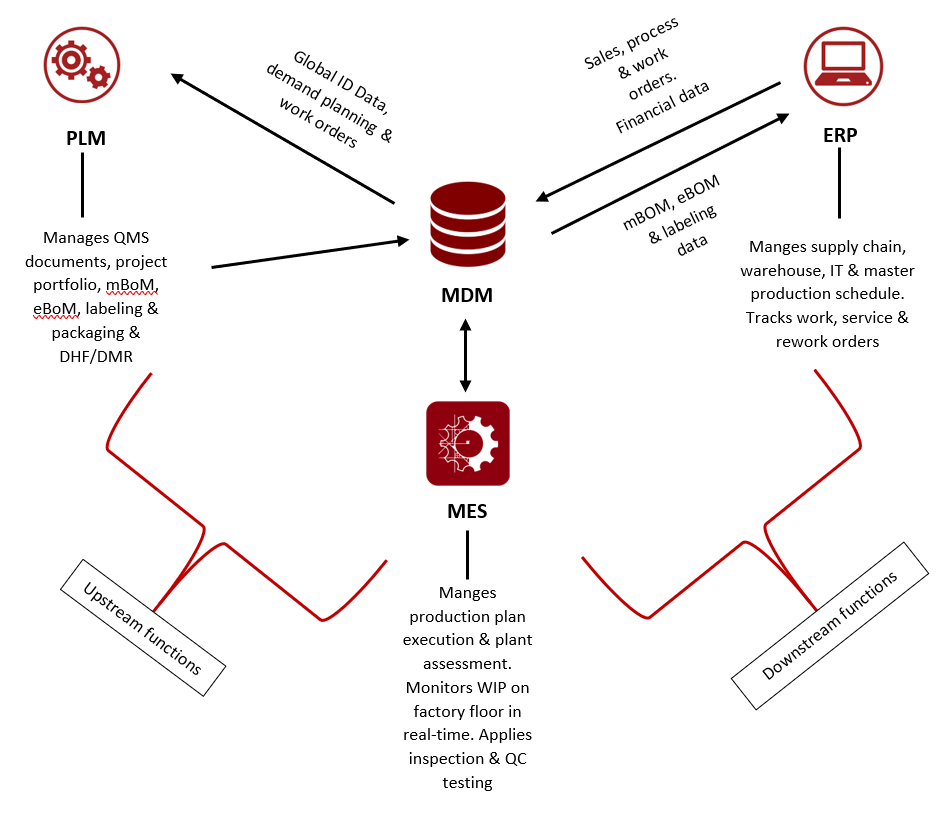 The closed loop links the up and down stream process with data between traditional, but different work environments across all enterprise systems. Without integration between the three systems above, data sharing is manual, resulting in many complex errors, delays, redundancy and inability to achieve accurate analysis with complete visibility into the core process.
A closed loop platform, enabled by PLM, provides one source of truth, while it enables agile response and streamlines processes. This model also produces higher quality products, enables cost effective operation and expedites the product to market; ultimately impacting the patients' quality care.
It is important to note that using MDM as a mediator is an optional model and other models should be evaluated based on the organization's business structure and requirements.