The pace of change in the medical device industry is both exciting and extraordinary.
Major market forces such as intensifying regulatory scrutiny, growing product quality demands, emerging digital technology, mergers/acquisitions, and evolving healthcare models are causing paradigm shifts in business strategies and processes.

This environment creates opportunities for medical device companies to better serve more people around the world with increasingly innovative and affordable diagnostics, treatments, combination devices, and cures.
As the medical device industry evolves, your PLM system should, too
Today's unique challenges and opportunities are driving medical device manufactures to automate and integrate disparate engineering, manufacturing, regulatory and quality business processes and data into a single, consolidated PLM solution. Strategically, this needs to be phased in over time, starting with foundational design control, document control and change control elements. The quality management feedback loop – which includes nonconformance, complaint, CAPA, and audit management processes – can be implemented in parallel or opportunistically once the foundational backbone is in place.

And because PLM manages the critical product data throughout the product lifecycle and across the supply chain, PLM provides the key infrastructure for the digital transformation of the end-to-end product development lifecycle.
With a strategic approach to PLM, companies can extend product models and gain new insight leveraging emerging digital technologies including the Internet of Things (IoT), Augmented Reality, and Advanced Analytics/Machine Learning. Through these connections, medical device companies can create breakthrough products and services and gain strategic insights.
Benefits of a Foundational PLM Strategy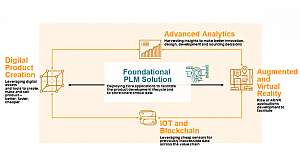 Business Impact:
Increase innovation volume and velocity
Maintain and increase access to global markets
Drive compliance and quality into the core of product development
Enable a globally integrated business
Enhance acquisition onboarding
Streamline infrastructure to support a digitally enabled product backbone
How We Help Optimize PLM in a Digital World
Regardless of existing processes, technical maturity or business objectives, Kalypso will facilitate, guide and support you through all of phases of the PLM implementation process to accelerate the value of your investment.
As an objective provider of end-to-end PLM strategy, advisory, implementation and managed support services, we combine deep experience in strategy, process improvement, technology and organizational effectiveness with expertise in PLM platform deployments for all of the leading PLM software solutions - both cloud and on-premises.
Our proprietary, industry-specific PLM capability frameworks define the scope of PLM capabilities based on industry needs and provide the basis for a PLM maturity assessment, strategic plan and implementation roadmap.
We are at the forefront of helping industries shape their understanding and implementation of PLM in a digital world. Our expertise has been recognized by industry analysts, technology providers, and universities. We have in-depth knowledge, hands-on experience and established relationships across the entire PLM technology ecosystem.
Kalypso's Unique PLM Methodologies and Accelerators for Medical Device
Accel for Medical DeviceTM
Our Accel for Medical Device™ provides industry-specific PLM accelerators that save time, minimize risk, and reduce the cost of implementation.

Accel combines Kalypso's extensive medical device industry and implementation experience in an accelerated delivery model designed to rapidly deploy foundational PLM capabilities and quickly establish the core to power digital innovation.
Accel for Medical Device™ includes:
PLM & QMS
Regulatory Information Management (RIM)
Audit Management
Electronic Records Management (ERM)
Product Lifecycle Intelligence
Support for Smart Connected Products
Rapid Results
Deliver rapid business value from PLM
There is no shortage of product lifecycle management (PLM) implementation methodologies. Most can guide companies through the tactical steps of configuring and testing software, but few can provide a roadmap for process and performance improvement.
Our PLM methodology Rapid Results is designed to do just that.
Rapid Results is designed to increase a Medical Device company's ability to quickly gain key insight and extract real business value from PLM. Our proven, leading practice-based approach is the result of continual insights and lessons learned from hundreds of PLM implementations.
The Rapid Results Difference
Rapid Results goes beyond the technical steps of configuring, testing and deploying PLM software, and instead provides a comprehensive and flexible approach to address your specific needs.
Three key aspects of Rapid Results set it apart from other PLM methodologies:
A business results focused approach
Phased rollouts to drive user adoption
True organization transformation
Product Lifecycle Intelligence (PLI)
PLI is an evolution of PLM that applies artificial intelligence and automation to help Medical Device companies extract meaningful insights from product data, formulate predictions, recommend improvements, and automate actions within systems and processes.
Deployed via a suite of user-centric apps, PLI addresses core business needs of PLM users including new product development cycle times, change management, product quality, supplier management, manufacturability and regulatory compliance.
Our clients use PLI to make evidence-based decisions, reliably plan and forecast, and continuously improve business results.
PLI Apps for Medical Device
Cycle Time
Analyze new product development and engineering change cycle times. Improve time to market with intelligent automation.
Change Frequency
Analyze design robustness and change volatility patterns. Reduce number of design changes.
Rework / Rejection
Analyze design approval and rejection patterns. Improve 'first time yield' rates.
Deviations and Variances
Analyze patterns behind deviations and variances. Reduce supplier and manufacturing variances.
Design Re-use and Duplication
Recommend part re-use opportunities and identify part and component duplicates.
PLI + Enterprise Systems
For companies with structured data in other enterprise systems, PLI can provide value to additional teams, including manufacturing, supply chain and service.
Product Performance (with IoT)
Bring performance insights from connected products back into R&D process. Facilitate data-driven design.
Product Quality (with QMS)
Correlate design decisions to product quality results. Predict quality issues and prescribe solutions.
Manufacturing Performance (with MES)
Correlate design decisions to manufacturing performance (scrap, yield, quality).
Customer Experience (with CRM)
Correlate design decisions to customer experience, adverse events and complaints.
PLM System Adoption
Analyze how users are using PLM, level of engagement and productive output.
Data Quality
Enrich PLM data quality - identify duplicates, incomplete, anomalous and erroneous data.
Accel for Regulatory Information ManagementTM (RIM)
Accel for RIM provides a single, global source of truth for product registration planning and tracking to accelerate regulatory submissions.

Accel for RIM is an integrated platform that enables medical device companies to more effectively manage product registrations and comply with regulations via an accelerated, leading-practice delivery model.
Using a data-driven approach that leverages digital product connectivity enabled by a modern RIM system, Accel for RIM is designed to quickly implement foundational regulatory information management capabilities to help companies manage, control and report regulatory data.

Accel for RIM is pre-configured and based on industry-leading practices, providing a single, global source of truth for product registration planning and tracking to accelerate regulatory submissions. Our centralized and adaptable RIM system allows companies to manage information for new and existing products before, throughout and following the product design and registration processes.
Business Impact
Expand and accelerate international sales – reduce time, effort and expertise required to register products; know where products are registered and salable
Reduce regulatory risk – prevent shipment of unauthorized or non-compliant products; understand the impact of design changes; respond quickly to changing regulations; know where to report adverse events or conduct product recalls
Make better decisions – improve planning and strategic decisions with better information
Reduce manual effort of strained resources – free people to focus on higher value work
We're here to help!
We work with medical device clients throughout the product development lifecycle to better serve patients and address unmet medical needs in the market.

Our work is hands-on and our knowledge is based in our experience as industry practitioners. We serve as strategic partners to a diverse client base including some of the largest, most complex medical device companies in the world. We are committed to helping you navigate healthcare's complex regulatory landscape and deliver high-quality products to enhance patient outcomes.
Thought Leaders