Kalypso helps clients discover, create, make and sell better products with digital.
Our people are strategists, technologists, data scientists and industry practitioners. Our expertise to get initiatives going, move projects past the proof of concept stage, and abilities to work with a diverse set of technologies can make your digital transformation real.

Come meet the Kalypso team at booth 942 in Moscone South
Real Use Cases
Smart Connected Discover to Make
Experience how you can streamline the discover to make process enabling a continuous flow of insights between market, engineering and manufacturing to help uncover new product needs, solve and prevent manufacturing issues with Oracle Cloud and Kalypso.
Smart Connected Operations (SCO)
SCO is the use of interconnected machines and devices, intelligent analytics, and connected workers across product development, manufacturing, operations, supply chain and service to enable smarter, faster business decisions and achieve meaningful results.
Learn how companies that operate large capital equipment use SCO to minimize production downtime, maximize team performance and optimize OEE.
Cold Chain Management with IoT and Blockchain
Cold chain management ensures a constant temperature control for products from the time they are manufactured until the time they are used. It's imperative to the food and pharmaceutical industries. The standards are different, but the principles are the same – prevent temperature excursions along the production chain; when they occur, identify and remove the product.

Learn how companies use IoT for real-time monitoring of the cold chain and blockchain to secure it against fraud.
Product Lifecycle Intelligence (PLI)
PLI turns PLM data into insights that improve business results. PLI is an evolution of PLM that applies artificial intelligence and automation to help PLM users extract meaningful insights from product data, formulate predictions, recommend improvements, and automate actions within systems and processes.
Learn how companies use PLI to make evidence-based decisions, reliably plan and forecast, and continuously improve business results.
---
As you initiate your digital journey or if you've already started it, there are two essential areas that you should consider and plan for.
First, the management of rapid data growth and complexity that your organization will experience. Second, the integration of the newer technologies (IoT, blockchain, adaptive intelligence, etc.) with legacy solutions.
Is digital product data proliferation affecting your commercialization efficiency?
The progressive use of digital authoring tools in new product development along with the growing amount of attribution, rich content and digital assets that are created to satisfy channel demands are leading to proliferation of data silos. It takes companies a lot of time and effort to collect all necessary information for product launch. Often, commercialization product data enrichment happens in an ungoverned way leading to data inaccuracies and late product releases.

Do you need to move on-premises applications to Oracle Cloud?
Many newer technologies (IoT, blockchain, adaptive intelligence, etc.) are largely available in the cloud. To gain most of the benefit of the investment companies make in these solutions they typically need to integrate them with existing enterprise applications. These integrations are possible but are complex and costly. To gain full benefits of strategic digital transformation initiatives and deliver them rapidly, it's best to evolve enterprise solutions and move them to the cloud. If you're using Oracle on-premises applications, it might be time to consider taking your final upgrade and moving to the cloud to take advantage of streamlined integrations, improved business capabilities, enhanced user experience, frequent releases that deliver continuous innovation and more.
Networking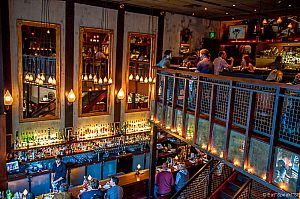 Join us at Zero Zero for Happy Hour, steps away from Moscone Center
Monday, September 16, 2019, 5:30pm-7:30pm
Zero Zero I 826 Folsom St., San Francisco
Take a break from OpenWorld's sessions and the buzz of the exhibit floor and meet us at a casual, Michelin recommended hangout. Join the Kalypso team and a group of your peers for drinks and bites, and to continue the discussion on digital transformation with Oracle Cloud.
---
Join the invitation-only PLM Cloud networking lunch with Oracle customers Square and Unigen at Morton's Steakhouse
Monday, September 16, 11:45am – 1:30pm