The Digital Mine: Realizing Value from Autonomous Fixed Plants
The mining industry faces specific challenges that hinder year-over-year productivity improvements, including volatile commodity pricing, increased environmental legislation and decreases in ore grade. Digital technologies like advanced analytics, IoT and robotics can help by automating decisions across the value chain, but this requires the seamless integration of equipment, machines, process operations and information systems. Many mining companies lack the foundational operational technology (OT) required to achieve full interoperability by implementing and scaling new technology.
Ultimately, the future vision for mining is an autonomous fixed plant to minimize process variability, maximize productivity, reduce human intervention, reduce cost and improve safety.
This article explores three workstreams companies should consider on their journey to creating autonomous fixed plants. It also details four examples of the business value mining companies can navigate through the application of digital technologies to drive interoperability.
Unique Challenges for the Mining Industry
The resource market is volatile with commodity prices characterized by supercycles that impact how mining companies invest. In general, supercycles tend to follow large increases in consumption and demand as shown in Figure 1, leading to a boom-and-bust financial landscape.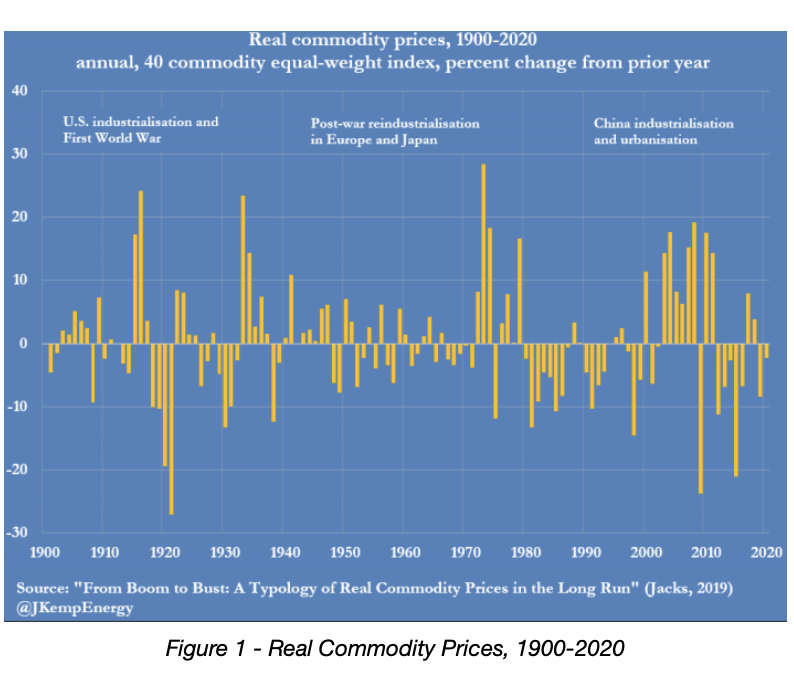 These supercycles in mineral prices have continuously spiked and dipped over the past two decades. Overall prices experienced tremendous growth in the 2000s until they hit rock-bottom during the financial crisis of 2008. They once again hit a recent low after the commodity price crisis in 2015.
As the COVID-19 pandemic evolves, its impact on mineral prices is still unfolding. So far, various minerals have been affected differently based on their end uses. For example, iron ore, which is largely used in construction, experienced price increases of nearly 80% in 2020, but thermal coal prices have drastically decreased.
Regardless of the commodity -- end-user demand (market) or price volatility -- mining companies commonly focus on improvements in volume, productivity and cost. Unfortunately, evidence shows that year-over-year productivity improvements in the mining industry have lagged compared to other manufacturing sectors.
This trend has prompted industry leaders to become more active in investing and adopting the latest technologies to increase their organizations' competitiveness.
What is an Autonomous Fixed Plant?
An autonomous fixed plant is a processing plant that is fully integrated across the valued chain, enabling it to operate at an optimal state for any given business, operational objectives and constraints.

To achieve this end state, we first need to be able to effectively measure and control the process in real-time through the use of sensors, analyzers and smart instruments. Secondly, we need to capture real-time plant and material characteristics such as equipment operating conditions, plant conditions, ore and feed characteristics.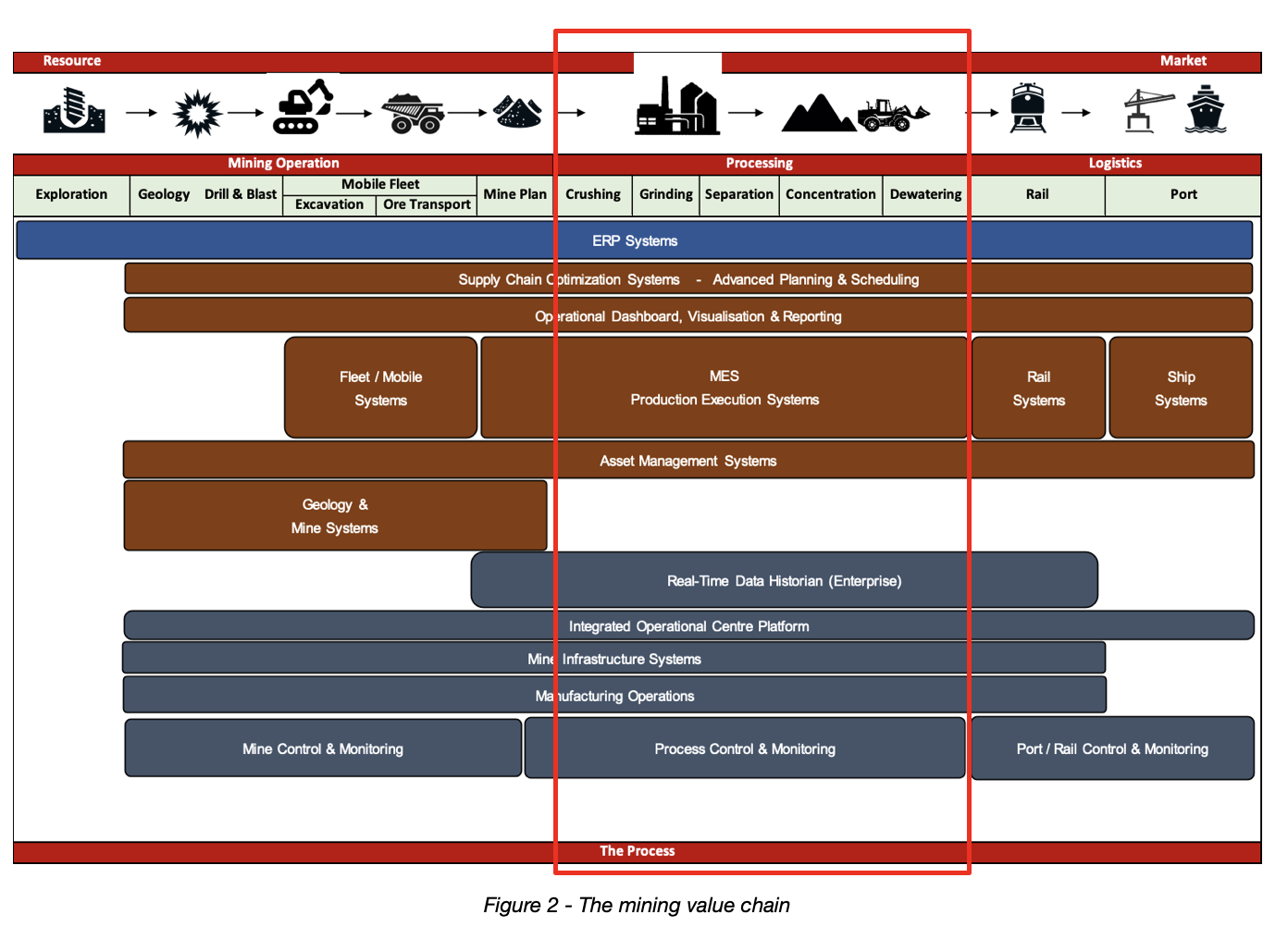 Figure 2 shows a generic mining value chain from resource to market. The highlighted area indicates the processing unit operation or fixed plant. A key component of the autonomous fixed plant is the horizontal interoperability across the value chain and the integration through the technology stack, from sensors to enterprise resource planning (ERP).
This enables information to be used intelligently and to automatically adapt the control strategies, enabling optimum operations and moving towards a "zero operator intervention" end state. These interoperable and integrated systems can also empower people with insights to make better business decisions and simplify the collaboration among functional groups.
Workstreams for the Autonomous Fixed Plant Journey
Kalypso's autonomous operations framework has three fundamental workstreams to guide clients from their current state toward their autonomous future. These workstreams represent technology segments that apply across various business functions (e.g., field operations, control room, quality, reliability and maintenance) to address business and operational challenges.
Control Workstream: Maturity ranges from manual control to automated control including machine learning and AI. As a company moves toward machine learning control, the plant becomes more autonomous and the degree of human dependence drastically decreases.
Operation Workstream: Maturity ranges from paper-based operations to intelligent operations. As clients move toward intelligent operations, real-time visibility and deeper insights become available to enable more predictive and prescriptive decision-making.
Infrastructure Workstream: Maturity ranges from disconnected analog assets to connected smart assets. Technology included in this workstream includes (but is not limited to) network infrastructure, field instrumentation, and equipment actuation. This serves as the foundation to enable the future of an autonomous plant.
Value-Driven Applications of Digital Technology
For each high-priority business challenge mining companies face today, we have highlighted opportunities for digital technology to provide real business value. These examples use a combination of proven and cutting-edge technologies to move mining operations toward a fully autonomous fixed plant.

Business Challenge 1: Asset Utilization
Being asset-intensive by nature, mining operations are highly focused on equipment utilization, which directly impacts operation and overall throughput. Due to diverse ore characteristics and the nature of operating in remote environments, many miners express concerns about the lack of real-time and accurate utilization rates for their equipment. Without this information, operations teams are less effective in making improvements.
Challenges include:
SAG/AG Mill overload events from unexpected and unmeasured feed changes can lead to lengthy recovery delays
Crusher chocking or bridging issues can go undetected by existing instrumentation for extended periods of time
Inconsistent particle size distribution due to lack of crusher and mill control
Thickener brown events often have slow, complex, and manual recovery procedures
Breakdowns or slowdowns can occur expectedly at bottlenecks such as overland conveyors and crushers
There are opportunities to introduce technology like intelligent sensors, advanced process control, and advanced analytics to address these challenges. This has the potential to reduce equipment wear and tear by 4-6%, decrease process variability by up to 50% and increase equipment utilization by 20%.
Example applications:
Using AI-based image recognition to trigger early detection of puzzling and bridging issues in crushers. This real-time and automatic monitoring of existing CCTV footage ensures the earliest possible detection and eliminates the need for human monitoring.
The application of model-based advanced process control or machine learning to optimize operation by targeting yield, recovery, throughput, energy and consumables. This reduces dependency on operator competency and experience, which introduces unnecessary variation into the system.
Using fiber optics sensing and machine learning to detect roller and pully failures, reducing mean-time-to-repair (MTTR) and eliminating the need for periodic visual inspections. These inspections have historically proven to be time-consuming, unsafe and ineffective.
Business Challenge 2: Labor Efficiency
Traditionally, mining is a labor-intensive industry where operations rely heavily on on-site experience of the field and control room operators, maintenance personnel, and metallurgist process engineers. These teams have worked together to act as the eyes, ears, hands, and brains of the plant, but this experience-based knowledge is not enough to operate the mine of the future. Manual operating methods lead to a lack of process governance and introduce significant human-caused errors and variability. The industry is also experiencing a skill shortage and higher than usual turnover. A more autonomous way of operating is required to increase efficiency, reduce variability, and improve training effectiveness and knowledge retention of new employees.
Challenges include:
High reliance on visual observations, manual interventions and verbal escalation of process conditions such as scrubber efficiency, oversized ore particle, froth float condition and product moisture.
Operators using subjective and experience-based decision-making on control settings such as plant feed rate, flotation recovery rates and dewatering rates.
Dependence on inefficient communication methods and manual coordination of activities such as paper base planning, plan scheduling and emailed plan execution as well as ad-hoc requests to control room operators via walkies.
To move towards a more intelligent way of operating, the key is to use an enterprise-level application to systematically collect, manage and process information to minimize manual activities and reduce process inconsistencies caused by human error. By automating business processes and applying decision automation, expected benefits include an increase in productivity, improvements in knowledge retention and shortening of training time.
Example applications:
Using IoT sensors and a Wi-Fi/5G network infrastructure as a foundation to enable real-time monitoring of field assets. This dramatically reduces the reliance on field operators to conduct visual inspections and effectively removes them from potentially harmful conditions.
Using an IoT platform and mobile devices to digitally capture, manage and visualize information for activities such as field requests or issue escalation. This allows operations stakeholders to independently retrieve information from a common and single source of truth. This also minimizes uncontrolled communication and manually coordinated tasks among operators.
Using 3D digital twin and XR-enabled devices to conduct employee training and on-the-job enablement, such as providing electronic instructions via goggles in the field. This reduces the need for FIFO (fly in, fly out) and shortens the onboarding time for new employees. Additionally, this supports a hands-free and safer way of working in the field.
Business Challenge 3: Quality and Blend
Due to the lack of real-time grade and quality monitoring, operations express concerns around the complexity of blend planning and fleet mobilization due to sampling delays. Mine planning, scheduling and process execution are heavily dependent on blend stability and blend quality, which relies on trailing indicators such as off-line laboratory assays that are generally manually entered into a historian or database once completed. This can impact accurate inventory tracking and result in quality issues at the processing plant, rail, and port, requiring operations to stockpile and re-blend material increasing double handing and cost. If lower grade product leaves the plant and makes it to port, further blending is required, or penalties are applied due to out-of-spec product.
Challenges include:
Product samples taken from Run of Mine (ROM) feed streams or plant stockpiles require significant time to process, causing delays before product grade deviations can be identified and escalated. This also impacts the reconciliation of product inventory.
Obtaining a representative sample from large stockpiles can be complicated and requires detailed sampling techniques and equipment.
On-site metallurgists often rely on manual methods to develop blend plans, carrying out metal balances and reconciliation manually. Analysis outputs and insights are difficult to extract because they are conducted in offline tools like MS Excel.
On-line grade and moisture analyzers' successful application vary dramatically and depend heavily on the type of ore, deployed location, environment, calibration requirements and skills to support and maintain equipment.
To effectively achieve grade accuracy, the key is to introduce a more systematic and scalable platform for capturing, managing and modeling information from various stockpiles and feed streams in near real-time. The application of a combination of multiple measuring systems such as online analyzers, cameras, acoustic systems and traditional instrumentation provides an environment consisting of redundant sources of information that can be analyzed and modeled to validate data, drastically decreasing required effort and time to develop an effective mine/blend plan.
Example applications:
Using an IoT platform, grade analyzers and moisture analyzers to capture in-circuit grade and moisture information to allow for real-time decision-making.
Leveraging a mining information system (MIS) to model material movements and metal accounting across the value chain. This can provide effective inventory tracking and accounting with automatic analysis of quality and volume.
Using systematic enforcement, which can be integrated with the process control system, to automatically divert or flag off-spec product moving toward train load out (TLO). This can either prevent off-spec product from leaving the plant or identify more effective blending requirements at port.
Business Challenge 4: Throughput
The resource-to-market value chain is unique to the mining industry, consisting of a number of self-contained operations that are highly interdependent and are critical in managing production and quality. Operations vary from highly instrumented and controlled to manual and semi-automated systems and equipment (e.g., ore extraction, processing, material movement, and logistics). Interoperability across the value chain is complex and difficult to optimize due to the highly specialized assets, measurement challenges, complex processes, and communications systems.
As an example, large iron ore producers in Australia have complex production and processing networks that are globally dispersed but operate as a single operation. That is, the mines produce material to meet customer requirements. Each mine will have dedicated extraction, haulage and processing capabilities that supply a common logistics network consisting of rail and shipping. All operations are centrally monitored and controlled from a Remote Operation Centre (ROC), which is broken down into four key areas plus supporting functions (health and safety, camp management, rostering, etc.)
However, each step along the way has an operations team that manages their respective processes using disparate tools and systems. We believe substantial business benefits can be realized when adjacent links in this value chain are integrated.
Challenges include:
Interruptions and downtime in the fixed plant affect the upstream fleet schedule, resulting in the queuing of trucks.
Unsynchronized primary crushing, plant infeed and TLO (train load out) rates lead to stockpile depletion or overstock.
Material fragmentation variation causes recirculating load within the crushing circuits, leading to reprocessing of material or excess fines. Fundamentally crushing is not able to react quick enough to ore size variations, resulting in reduced output and wasted capacity.
An integrated value chain that intelligently manages assets, processes and systems will create a centralized "system of systems." The main function of this "system of systems" is to automate decision-making and control across links in the value chain.
Example applications:
Using mining executing systems (MES) to manage process execution and stockpiles. Integrating MES with advanced process control can model and prescribe ideal infeed rates along the value chain (e.g., primary crushing, conveying, secondary crushing circuits).
Using an IIoT platform to integrate fleet management systems (FMS), on-line analyzers, MES, and rail management systems. This integration can be used to coordinate operations among the different operations teams.
The Bottom Line
Autonomous fixed plants are the future of mining. These plants will automatically perform at an optimal and safe level while prompting operators to interfere only by exception. At the same time, the autonomous fixed plant will provide the operations team with an open and common digital platform for communication and collaboration and remove people from harm's way.
Whether you are starting your journey or validating value with use cases, there are immense opportunities for miners to apply digital technology to improve productivity and competitiveness in the market. A pragmatic plan to implement and scale technology can help companies get there faster.