Voice of Customer (VoC) Analytics – A New Normal in Today's Retail Environment
In January 2021, First Insight and Kalypso hosted a webinar on the growing importance of Voice-of-Customer (VoC) Analytics in the retail landscape. Here are some key insights.
Gretchen Jezerc, Senior Vice President of Marketing at First Insight, introduced today's complex retail landscape and how First Insight's technology helps companies stay at the forefront of understanding consumer preferences. Will Yester, a director in Kalypso's consumer practice, shared results from Kalypso's 5th Annual Digital Adoption Survey in the retail, footwear, and apparel industries – highlighting the significant growth in industry maturity for Voice-of-Customer Analytics technologies.
A Complicated Retail Landscape
The retail consumer landscape has never been easy to understand. Trends come and go, consumers have a wealth of information and options at their fingertips 24/7, and it is extremely difficult to know exactly how to appeal to specific consumer groups. This complexity was already present well before 2020, but the onset of a global pandemic has amplified the challenge of understanding consumers to an overwhelming degree.
The key to success in today's retail environment, Jezerc explained, is to focus on creating truly differentiated products and experiences. Simply having one or the other can still create positive results, but it is the combination of both that yields true sustained success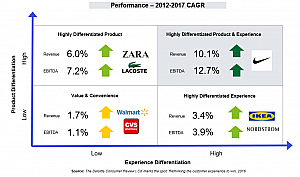 Many retailers find this aspiration is a lot easier said than done. Who wouldn't love to have the brand equity Nike has?
For First Insight, Jezerc highlighted their Next-Gen XM solution built on the InsightSuite platform. InsightSuite is designed specifically to help their customers leverage predictive analytics to transform voice-of-customer data – now including customer experience, product experience, brand experience and employee experience data - into actionable insights that inform better decisions around products and experiences.
By providing this real consumer feedback on both customer experiences and products - and feeding that back into the product creation process - First Insight helps its customers anticipate and remove the shroud of mystery surrounding rapidly changing consumer preferences.
Digital Maturity in the Retail Industry – VoC Analytics
For five years now, Kalypso, in partnership with The Interline and Indiana University's Kelley School of Business, has conducted a survey to capture the retail industry's maturity in digital product creation. The survey results offer insight into how retail industry leaders view their own company's progression on 18 different capabilities of digital product creation.
Among these use cases is Voice of Consumer (VoC) Analytics, which Yester explained saw significant growth from 2019 results. In 2019, 35 percent of respondents had VoC Analytics on their radar (either already investing in it or planning to within the next two years) In 2020, that same statistic jumped to 62 percent of respondents, a 77 percent increase.
Ninety-three percent of respondents also said they believed that COVID-19 has accelerated the need for digital transformation within design, development, and merchandising in the industry. As shown in the graphic below, the average company included in the study saw significant maturation in their use and/or planned use of VoC Analytics from 2019 to 2020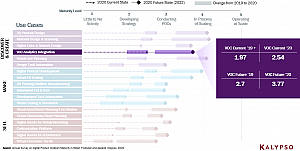 It is clear that VoC Analytics is becoming a major capability focus for many companies in the industry. Yester emphasized VoC Analytics' ability to allow leaders to make better, more informed decisions in the product creation process. He further stated that while 2020's growth in maturity of this area was already significant, he expects this momentum to continue.
Key Takeaways
Like it or not, "unprecedented" was the word of the year in 2020. In a year filled with ups and downs, uncertainty abounded as every traditional view of the world relied on assumptions that no longer held true.
This was especially true for retail companies, when the already complex consumer landscape was disrupted by the global COVID-19 pandemic. However, companies still needed to make informed product creation, design, pricing, planning and marketing decisions during this time, and many turned to Voice-of-Consumer Analytics to enhance their ability to understand their customers.
Leading organizations like First Insight utilized their expertise to allow their customers to invest in first-party VoC data analytics capabilities to yield more differentiated products and consumer experiences. 2020 was difficult for many companies, but for many in the retail industry it also provided an opportunity to reflect on their current digital capabilities, realign their strategy, and invest in their future digital transformation.