Digital Knowledge Management: A Key Step on Pharma's Journey to the Connected Enterprise
In March 2020, the Pharmaceuticals industry faced one of its most public-facing and time-pressing challenges to date: develop, manufacture and distribute a vaccine for COVID-19 globally as quickly and safely as possible.
While sheer human perseverance played a pivotal role in driving the notable speed to market for vaccines, this approach is not sustainable nor practical for commercial drug products. Digital methods and tools should be leveraged to achieve similar results in a sustainable, efficient, and profitable way. Pharmaceutical manufacturers now face the need to confront these challenges head-on and embrace connectivity across the value chain, starting with laying the digital foundation for innovation in the form of Digital Knowledge Management and Pharma 4.0.
Pharma 4.0 and the Digital Thread
Even before the pandemic, pharmaceutical manufacturers faced mounting pressures from increasing regulatory complexity, emerging value-based healthcare models, demand for personalized medicine, including cell and gene therapy, fluctuating supply chain risk and reliability, manufacturing network complexity and network node expansion, and enormous manufacturing complexity. As demonstrated by COVID-19, the planet also relies on them to quickly solve extremely complex and increasingly severe health challenges.
These pressures are not new, but they are growing. Fortunately, so are the solutions.
In the early 2010s, Industrie 4.0 took global manufacturers by storm, showcasing the benefits of the Internet of Things (IoT) across the manufacturing floor and integrated into daily production and distribution scenarios. In 2017, the International Society for Pharmaceutical Engineering (ISPE.org) provided quality-centric guidance promulgated in ICH 10, 11, and 12, use cases, and a roadmap for the pharma industry to embrace digital management of their operations, giving rise to Pharma 4.0.
Today, Pharma 4.0 is expanding into the digital thread, driving benefits of the connected enterprise to address core industry challenges more holistically than at any point in history.
The digital thread is a seamless flow of data that connects business processes across the value chain to deliver top-line growth, improve operational excellence and enable risk mitigation. The digital thread spans the entire value chain (across discover, create, make, and sell phases), and touches key processes including recipe and process development, tech transfer, plant and process engineering, and scale up, in essence creating a Digital Fabric across the connected enterprise.
The enablement of a seamless end-to-end digital thread is the result of a multi-year journey for pharmaceutical companies, but the first steps are clear and tangible: building a single, digitized, and structured source of truth for pharmaceutical product and process definitions (or 'Digital Knowledge').
Digital Knowledge Management: The Key to the Digital Thread
Just as a manufacturing plant requires a strong foundation to ensure continuous and safe operations, addressing the fundamentals of Digital Knowledge Management unlocks the power of a pervasive and continuous digital thread. What is Digital Knowledge Management anyway?

Digital Knowledge Management is a single source of truth for digitized product and process definitions, allowing for enterprise change control and collaboration across the value chain.
By creating and enabling a digital product definition along with all its process definitions, R&D and manufacturing can ease the burden of enterprise change control and collaboration across the value chain, leading to benefits such as reduced process design cycle time, integrated quality controls, simpler and faster tech transfer, and more efficient manufacturing.

In the pharmaceutical industry, Digital Knowledge Management organizes, standardizes, and streamlines the information required to define the product and the way it is made. This includes its physical and chemical specifications, critical quality attributes, critical process parameters and setpoints, manufacturing requirements, and the management of variability in those data sets from line to line and plant to plant.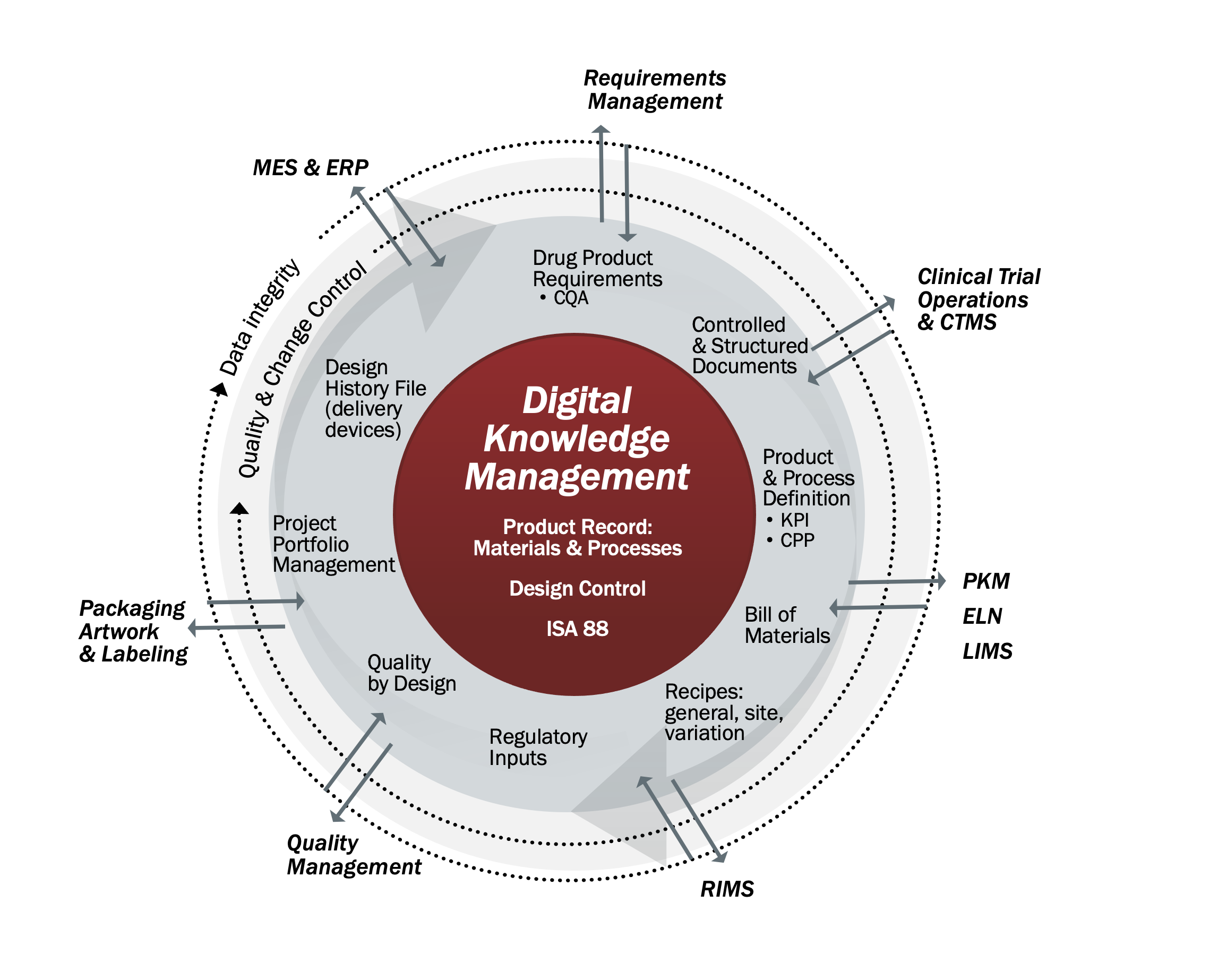 In today's pharmaceutical environment, transitions between development and manufacturing milestones alike tend to be managed in silos, as they are manually packaged and repackaged in order to suit the needs of the next stakeholder.
This disconnect between business functions and processes is a driving force for unforced errors throughout the discovery, design and manufacture of pharmaceutical products, leading to elevated costs, long cycle times, manual efforts to ensure multi-site manufacturing, and lack of incentive for product improvement.
These challenges can be remedied by weaving a pervasive digital thread, built on the foundation of Digital Knowledge Management. When multiple systems that are used throughout the product's lifecycle are integrated into cogent digital data streams , data transforms from a required output into a valuable asset from which the digital thread can glean invaluable and competitive insight. These systems can include (but aren't limited to):
Recipe authoring tools
Process Knowledge Management tools (PKM)
Laboratory Information Management System (LIMS)
Electronic Lab Notebooks (ELN)
Regulatory Information Management (RIMS)
Clinical Trial Management Systems (CTMS)
Manufacturing Execution Systems (MES)
Enterprise Resource Management (ERP)
This integration of systems can also be referred to as a Digital Knowledge Center, and is a necessity to implement change controls and other tracking mechanisms that authoring tools normally don't offer.
With this ecosystem of digital data, the digital thread becomes a conveyor of data as an asset and enables manufacturers to derive even more value from adjacent technologies.
The Benefits of Digital Knowledge Management Across the Value Chain
It is important to understand that enabling and strengthening Digital Knowledge Management offers benefits along the entire value chain. By minimizing or eliminating communication barriers and empowering cross-functional collaboration through a reliable single source or truth, cost-reduction is inevitable and risks to quality and product safety are mitigated.
An example of this is the digitization of work instructions. In a traditional work environment, employees on the manufacturing floor are handed a work instruction that has undergone lengthy change control exercises. These work instructions are typically printed or delivered as a "paper on glass" electronic document, and as a result, operators may be working with outdated out-of-compliance copies. But what happens when regulations change, or there's a new way to lower the cost of a recipe? The cost and time of siloed changes and the eventual reprint of thousands of copies and manual retraining can be significant.
Managing Digital Knowledge not only eliminates the need for paper-based work instructions, but enables early prediction of recommended recipe changes, prompts and tracks approval of those changes, and propagates those changes to any and all necessary consumers across the enterprise across the globe.
This saves time throughout the change control process, eliminates wasted time by engineers trying to track down the latest source of truth, enables management and executive visibility into the status and priorities of emerging projects and changes, and expedites the communication between R&D and manufacturing.
Finally, and most importantly, it serves as the launch point for a digitized technology transfer process by:
Managing product and process design knowledge in a single source of truth repository
Undergoing a harmonized change control process
Collaborating and centralizing cross-functional materials and process knowledge and ensuring that manufacturing can rapidly scale across global manufacturing sites and lines
As a result, tech transfer lead times are reduced, reliability is improved and product risk decreases.
How to Get Started
The foundation of a single, digitized, and structured source of truth for pharmaceutical product and process definitions is necessary to achieve a continuous digital thread.
Start by taking stock of the maturity of the business processes, IT landscape, and product and process data against the vision of the digital thread in order to identify the greatest opportunity areas to create value.
Based on this assessment, develop a digital thread program architecture with Digital Knowledge Management at its core, and define the roadmap for the digital transformation journey that will get there. From there, build a business case, review and align priorities with executives, and begin to mobilize a team against the digital thread.
At the core of typical digital thread journey is developing a structured Digital Knowledge Management data model enabling the management and change control governance of market specific materials, processes, and localized equipment per ISA standards (88, 95, 99).
With this foundational capability in place, it is possible to begin sequentially connecting the digital threads, allowing for collaboration with manufacturing plants and CDMOs, integration with other enterprise tools such as ERP, MES, and RIMS, and the establishment of more advanced capabilities such as artificial intelligence for process and materials optimization.
Eventually, through establishing product and process data, change management, data governance and data exchange mechanisms across the digital value chain, the continuous digital thread will eliminate the need for tech transfer events and enable the secure publication and consumption of data on demand.
The Bottom Line
Embracing the digital thread and establishing a digital fabric across the enterprise will be necessary to meet the challenges of the present and future. Some pharmaceutical firms have already started to realize the benefits of the digital thread, and those who have a solid data foundation of digital knowledge management will be more prepared and more resilient – whatever the future holds.