We help companies unify quality processes and data across the product lifecycle with a digital QMS, fostering a culture of quality that ensures the delivery of more effective, safer products that improve patient lives.
As the medical world continues to shift toward value-based healthcare, the need for product quality and efficacy improvements, together with cost containment, is becoming more pressing. For decades, maintaining Food and Drug Administration (FDA) Part 820 compliance and ISO 13485 certification has been the top priority for medical device manufacturers, but it has not always delivered product quality and patient safety, as signaled by weaknesses identified in FDA warning letters.
Simply focusing on maintaining compliance is not enough, not only in the U.S. but globally.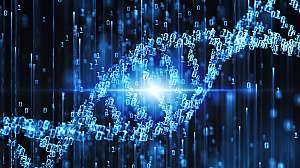 Here's how to transform your organization from treating quality as a compliance measure to establishing a culture of quality, enabled by a Digital QMS.
The Case for Quality Imperative
The FDA's CFR Part 820 compliance requirements act as a blueprint for worldwide regulatory compliance guidance, as noted by the European Union (EU) Medical Device Regulation (MDR). Quality and regulatory leaders assure their engineering and quality departments are staffed and resourced appropriately, and there are procedures in place to resolve and report issues. Most confirm that when new regulations arise, there are people and policies in place to adjust the processes to maintain compliance. But, the cost of making these changes is high and the effectiveness of maintaining product quality is debatable.

To change the mindset of the medical device industry from ensuring compliance to enhancing product quality and patient outcomes, the FDA started the Case for Quality (CfQ) initiative, which recommends manufacturers focus more time up-front on quality by design versus pure compliance.
85% of respondents indicated that the primary role of quality is compliance. Only 10% said it is to drive product quality and process improvement.

Building a Culture of Quality and Innovation, An Axendia Medical Device Industry Survey
You might be asking…
How do I go beyond compliance and start building quality at the on-set of design?
How do I include complaints and nonconformances within new product development workstreams?
How do I provide proof of an engineering change impact analysis in a required regulatory report?
Digital Quality Management System (QMS)
A digital QMS connects and harmonizes the data between foundational processes like design control, document control, change, nonconformance, complaint, CAPA and audit management over the product lifecycle. It provides product development teams visibility to lessons learned, facilitating quality by design in new product development and streamlining the resolution of engineering change orders.
While it is common for medical device manufacturers to have point solutions for quality and compliance management, many lack integration across them and to the product data record. Implementing a digital QMS increases data transparency and helps enable a foundational culture of quality.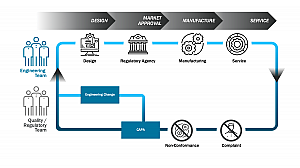 Business Value Benefits
Up to 40% lower cost of quality
65% fewer critical engineering change orders
95% lower nonconformance resolution times
72% greater CAPA effectiveness
Increased enterprise-wide quality visibility
Improved product safety and efficacy
Greater customer loyalty
On-time regulatory reporting
Sources: Closed-Loop Quality Management: Integrating PLM and Quality Management, Aberdeen Group; Quality Management Survey, LNS Research; The Quality Auditor Primer, Quality Council of Indiana
Building Up Digital QMS Maturity
Basic
Multiple, disconnected quality management systems
Mix of paper product data management and basic PLM
No analytics capabilities
High cost of poor quality
Poor customer satisfaction
Limited visibility of quality information across functions
Minimal traceability of adverse events and service issues
Reactive risk management
Manual data transfer errors
Uninformed decisions
Formal
Mix of consolidated and siloed quality management solutions
Formal PLM with foundational processes (document and design control, change management)
Analytics capabilities limited to descriptive and diagnostic
Average cost of poor quality
Fair customer satisfaction
Limited visibility of quality information across functions
Basic traceability of adverse events and service issues
Contingent risk management
Some data transfer errors
Better informed decisions
Connected Closed Loop
Greater integration of foundational PLM with quality management processes and data
A few siloed quality management and foundational processes
Improved cross-functional visibility of enterprise quality data
Predictive and prescriptive insights
Elementary quality by design
Developing culture of quality with focus on lower cost of poor quality
Good customer satisfaction
Intermediate traceability of adverse events and service issues
Proactive risk management
Minimal data transfer errors
Well-informed decisions
World Class Predictive
Harmonized consolidation of foundational product management with quality processes and data
Enterprise-wide quality data visibility
Predictive insights using AI and ML for future product development, quality optimization, preventive risk management and control verification
Optimized quality by design
Mature culture of quality focused on the cost of good quality
High customer satisfaction and loyalty
Real-time traceability of adverse events and service issues
Six sigma-controlled data errors
Automated, real-time change impact analysis, regulatory reporting, adverse event automation and closed loop feedback of product and process performance
Hands-On Micro-Workshop for Digital QMS
Tired of webinars? Schedule a personalized micro-workshop and accomplish something meaningful. Bring your team together for a collaborative session designed to help you drive meaningful decisions and actions.
Digital Quality Management System Assessment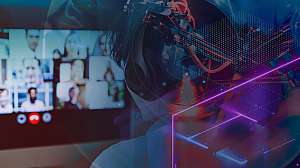 Digital Quality Management System Assessment
This workshop will help you assess your company's digital QMS maturity and prioritize top use cases.
Digital Quality Management System Assessment
How mature are your quality management capabilities? Is your organization compliance or quality focused? In this session, we'll assess your company's digital QMS maturity, prioritize top use cases to drive business value-add.
Who It's For
Best for directors in:
Quality & compliance
IT
R&D
Technology OCM
PLM IT
What You'll Get
You'll receive a customized report benchmarking the maturity of your digital QMS capabilities and recommendations for your business on how to progress to the future state.
Sign Up: Digital Quality Management System Assessment
How We Help Clients Enable Digital QMS
Digital QMS success requires a phased approach to consolidating, connecting, and harmonizing product and quality processes and data to enable cross-functional team sharing and a culture of quality. Kalypso can help you assess the current state of your organization, align on the key value drivers and develop a value-based roadmap for improvement using our digital QMS maturity model.
Our strategic three-phased approach is designed to drive maximum value with an iterative crawl-walk-run cycle.
Assessment and Strategy
Perform an assessment to understand current state quality management processes, system infrastructure, organization maturity, regulatory initiatives and challenges
Review and refine quality and compliance goals
Develop a digital QMS improvement roadmap, prioritizing objectives, IT investments and organizational changes
Proof of Value
Implement a small-scale proof of value deployment at a subset of business units or manufacturing sites
Gain feedback and measure results from the use cases included in the proof of value
Refine the planned system architecture and recommended quality practices for scalability across other business units and manufacturing sites
Scale Across the Organization
Develop an enterprise-wide digital QMS roll-out plan, incorporating necessary process, system architecture and organizational changes to achieve the desired results
Plan for multiple use case roll-outs to scale fully and achieve world class predictive QMS maturity
Continuously review progress, report on metrics and communicate value to the organization to drive culture of quality
Our Work in Digital QMS
Case Study: Medical Device Manufacturer
Transformed product development and quality data management with a digital QMS solution, optimizing product registrations, improving product quality and accelerating time to market

Context
Organization needed a better way of tracking worldwide product registrations
Research & Development and engineering functions needed to improve quality data exchange
Management wanted to use digital transformation to foster a new culture of quality
Kalypso performed an assessment of the existing QMS processes and infrastructure and helped the organization define an improvement roadmap
Approach
Created and launched a change management program and governance structure for the new Digital QMS initiative
Conducted workshops to define requirements
Designed, configured and validated the software
Deployed the solution globally via a phased rollout and a go-live support model
Monitored user adoption and provided organizational change management to ensure solution adoption
Results
Harmonized quality assurance, regulatory assurance, research and development, procurement and manufacturing processes
Reduced quality issue resolution times and improved accuracy of root cause analysis
Accelerated global product submissions and registrations
Enhanced decision making when designing new products and prioritizing CAPAs
Improved effectiveness of management reviews