Drive a Culture of Quality with Digital Quality Management
It's time to raise our standards on product quality and patient safety. As the medical device industry continues to shift toward value-based healthcare, the traditional focus on compliance is not enough. It's time to unify quality processes and data across the product lifecycle with a digital quality management system (QMS), fostering a culture of quality that ensures the delivery of more effective, safer products that improve patient lives.
Benefits of Consolidating Quality Management and Product Lifecycle Management (PLM)
It's widely known that quality management and PLM interoperability significantly reduces the cost due to poor quality. When engineering groups have visibility to quality issues tied to product information, they can design those issues out of future product versions.
The challenge is that getting to that interoperability requires a transformation from disparate systems to an integrated closed loop architecture, while maintaining a very complex software roadmap and market leadership at the same time.
But we know it's worth it.
Industry analysts have completed several studies to articulate the benefits of this closed loop architecture. One such benefit is reducing both internal and external failures by up to 50%, according to the Aberdeen Closed Loop Quality Management study1. A significant portion of this benefit comes from PLM software vendors providing cloud-based solutions with a full suite of quality management modules. This enables transformational change to happen more quickly and with less disruption to the business.
In fact, the latest digital QMS architecture helps drive a culture of quality by shifting from a compliance-centric view to a closed loop framework. This means moving from reactively addressing quality issues to proactively seeking opportunities to prevent issues through better process, product design and customer feedback.
When quality data is shared between processes and systems, companies can reduce quality costs, improve visibility, contribute to more accurate root cause analysis, reduce rework/scrap costs, provide predictive insights that help prevent compliance issues, and drive improved product and process design. And as quality becomes tightly aligned with the development and support processes, the cost due to poor quality is significantly reduced.
The Necessary Shift from Compliance to Product and Process Quality
The cost of poor quality comes to life year after year, as nonconformance, complaint and CAPA processes are among the top ten most frequently cited reasons for FDA warning letters. And it's a global problem. One key area the European Union Medical Device Regulation (EU MDR) focuses on is risk-based post market surveillance (tracking quality management activities after the product has been released to manufacture).
The disconnect? Historically most quality departments focus primarily on ensuring compliance. Too few manufacturers view the primary role of their quality department as driving product and process improvements. However, The FDA Case for Quality (CfQ) initiative states that manufacturers need to focus more time on product quality versus pure compliance. A closed loop digital QMS approach drives improvement in product quality across the product lifecycle by encouraging collaboration and providing visibility.
How Digital QMS Reduces the Cost of Poor Quality
Harmonizing business processes and quality management data across the organization is very complex when manufacturers maintain paper-based siloed systems. This complexity is only exacerbated by mergers and acquisitions.
McKinsey released a study in 2011 that states the medical device industry's opportunity to improve quality costs is between $4.6B and $6.0B2. Improving quality costs requires a dedicated cross-functional team effort to plan, fund, and replace siloed quality management functionality while doing business as a regulated medical device manufacturer.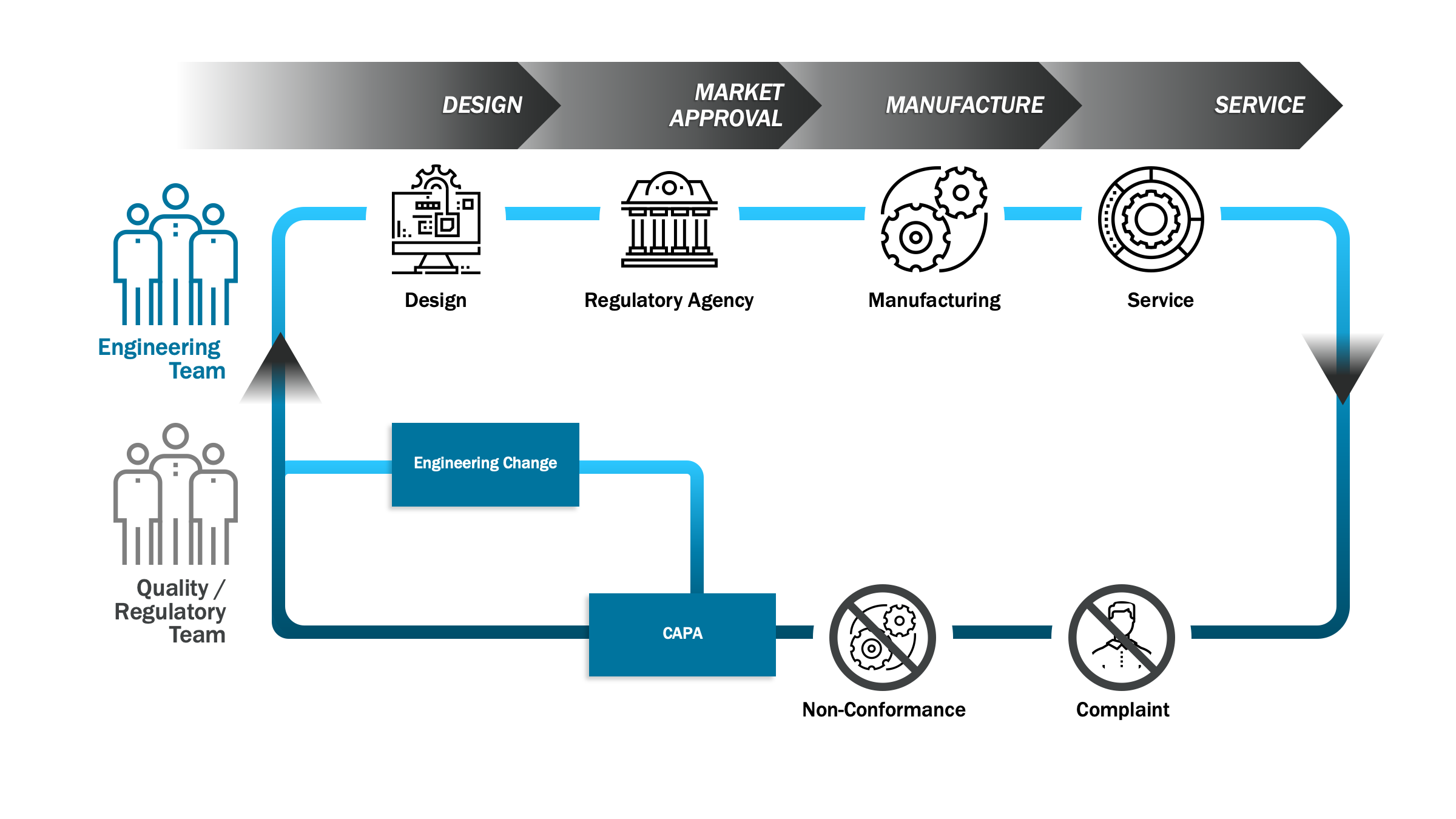 One of the major benefits of implementing a cloud-based digital QMS system is the immediate value companies get by leveraging leading practice workflows with reduced maintenance. This latest cutting-edge technology helps companies to consolidate product development, manufacturing, quality and regulatory processes in one closed loop architecture.
This closed loop approach improves product and process collaboration while enabling real time quality management visibility into how devices are performing in the market. The cloud makes it possible to implement multiple digital QMS workstreams in a very short period, minimizing the risk of business disruption.
The Digital QMS Architecture Enables Benefits Now – And in the Future
PLM is the product quality and compliance backbone for leading medical device manufacturers and enables companies to track CAD-based, critical-to-quality characteristics over the product lifecycle3. The digital thread and digital twin enable device manufacturers to pair CAD models with enterprise data to improve the quality of training, remote service, and virtual design reviews. Remote service is a competitive differentiator for manufacturers because of the improved cost savings, brand reputation, and ability to better serve customers. An advanced remote service capability provides accurate, real-time updates that prevent issues from occurring in the first place.
And with a digital QMS architecture in place, manufacturers can implement machine learning and predictive analytics, driving insights at scale. The proven benefits now and in the future are significant, but re-imagining the people, processes and technology to get there can seem daunting.
Building Up Digital QMS Maturity
Device manufacturers will see higher success rates when they establish and harmonize quality processes and solutions in the following order.
Product information foundation – the first phase typically consists of enabling document control, design control, risk and change management processes, and regulatory information management (RIM) with product and quality management solutions.
Connected closed loop – starting in parallel or soon after, the next phase includes manufacturers implementing nonconformance, complaint, corrective and preventive action (CAPA), supplier corrective action request (SCAR) and the audit management functionality required to integrate and maintain siloed QMS point solutions.
World class predictive quality management – this phase integrates QMS solutions with enterprise PLM, ERP, MES systems and digital technologies such as role-based app connectors and IoT smart connected devices to perform federated searches and return critical device data to the manufacturer, helping augment the long-term consolidation strategy.
Rapid deployment of a cloud based digital QMS solution is possible. As a manufacturer matures through the maturity phases, they can more easily use advanced analytics and machine learning to drive predictive insights and better configure core solutions like PLM in parallel. By connecting enterprise systems, they can track quality characteristics over the product lifecycle.
As the industry transforms their expectations of quality departments from a focus on compliance to product quality, manufactures can expect a higher level of collaboration, mitigated risk, better product design, and enhanced quality management transparency. Companies that reach this maturity are poised to leverage additional technologies like augmented and virtual reality, machine learning and predictive analytics to achieve top-tier status.
Digital QMS provides a state-of-the-art platform for sharing data across integrated processes, helping device manufacturers institute an improved culture of quality across the digital thread. When will you start your journey?
Resources and References
Raise the standard on product quality and patient safety with digital QMS
1. 2009 Aberdeen Closed Loop Quality Management – Integrating PLM and Quality Management:
https://www.plm.automation.sie...
2. The Business Case for Medical Device Quality: https://www.mckinsey.com/~/med...
3. https://patents.google.com/pat...
4. Quality Council of Indiana CQE Prep Guide
https://www.qualitycouncil.com...