Sustainability and the Digital Thread
How Innovation is Key to Saving the Planet
As we reflect on Earth Day, it's clear that our Earth needs innovation—now more than ever. And businesses need to innovate across the value chain in ways that are faster and smarter than some think possible.
Kalypso was born out of a rebellion with the mission to deliver on the promise of innovation. We're not afraid to think differently. Over the years, we've learned that the digital thread plays a key role in enabling sustainable products and operations for our clients.
So in honor of Earth Day—and every day—we're declaring our dedication to ensuring hundreds more Earth Day celebrations to come; for us, for our clients and for our planet.
There is also a growing understanding that sustainability is not a cost; it's an investment in establishing more sustainable ways to discover, create, make and sell more sustainable products.
This includes investing in sustainable product design, ensuring stable supply chains, and enabling affordable and reliable energy for industrial operations.
Sustainable product design and manufacturing use cases
The United Nations Sustainable Development Goals is a framework of 17 goals to be achieved by 2030. This framework is recognized globally, giving companies a way to measure their progress in different areas of a sustainable corporation. Some of the metrics are carbon neutrality, water management and increased usage of renewable energy. Using these benchmarks along with the digital thread helps companies act on their sustainable commitments.
Within the 17 goals, there are specific use cases for manufacturing and product design. Across the supply chain, our clients have opportunities in energy optimization, emission reduction and effective resource management. These goals can be met across the product lifecycle, starting from product design and creation to obsolescence and disposal.

For example:
To meet the UN goal of "Affordable and Clean Energy," manufacturers can get energy from renewable resources and use it as efficiently as possible, and they can reduce or eliminate CO2 emissions as a result of manufacturing, testing, transportation, or consumption of products
To meet the UN goal of "Climate Action," they can ensure that materials at all stages of the lifecycle are sourced, used, and discarded with minimal environmental and community impact
And to meet the goal of "Responsible Consumption and Production," they can eliminate materials from products that can cause harm and reduce waste across the product lifecycle
Meeting sustainability goals through the digital thread
The digital thread (illustrated in the graphic below) is a seamless flow of data that connects processes across the value chain. Innovation is at the heart of the digital thread and is critical to global product developers and manufacturers in achieving the sustainability imperatives set by the United Nations and other global community leaders.
Historically, product innovation has focused on bringing more new products to market faster. This type of innovation led to landfills that are overflowing with new, single-use products.
It's time to think differently, and to leverage the digital thread and supporting technologies to reduce global impact, instead of adding to it.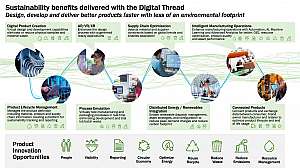 Once a company commits to sustainability, they can use various technologies along the digital thread—such as digital product creation, process emulation, predictive analytics, extended reality and intelligent manufacturing operations—to identify improvement opportunities and measure progress against benchmarks.
And this can all be done while still achieving corporate goals for innovation, quality and growth.
Sustainability can be a lens for innovative product development, energy management and product manufacturing.
By connecting data and processes across the digital thread, we can drive efficiency, visibility and innovation across the entire product lifecycle—from materials to the energy used to manufacture them—all critical to meeting our clients' sustainability goals.
Let's get started
Kalypso helps product leaders build their capabilities and operating models to operationalize sustainability at scale. We're not here to define your corporate sustainability strategy; we're here to partner with product development leaders who need to deliver their company's product sustainability results.
If sustainability is an important driver for your company, we'd love to talk to you.
Learn more
To read more about how Kalypso is using innovation to improve sustainability for our clients, read these perspectives: