Thank you for attending the panel discussion.
During the event, the panel covered the following topics:
Leading digital technologies, strategies and best practices
Overcoming challenges such as product complexity, disconnected systems, data quality, and frequent change orders
Increasing interaction between hardware, software and material design
Realizing benefits of connected platforms such as improved product design, product quality and customer satisfaction, while reducing manufacturing time
Redefining extended PLM with Advanced Analytics
Please submit your information to download the IDC slides and other useful information shared during the event.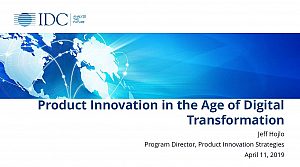 Kalypso is a global consulting firm focused on helping clients deliver advanced innovations in a digital world.
PTC helps companies around the world reinvent the way they design, manufacture, operate, and service things in and for a smart, connected world. Together, we combine leading strategy, process improvement, change leadership and technology to help companies capitalize on investments in PLM, IoT, analytics, augmented/mixed reality, and smart connected products and operations. https://www.ptc.com/en/products/plm.
Join us at LiveWorx 2019, the premier Digital Transformation conference in the world, June 10-13 in Boston.
Learn more at www.kalypso.com/liveworx2019