We help companies enable and optimize the manufacturing process by combining the power of XR, advanced analytics and IoT data.
While pharma, biotech and CDMO companies have embarked on digital transformation, efforts so far have been focused on select business functions, limited optimization at brownfield plants and exploration of advanced capabilities at greenfield facilities. Most manufacturing facilities still rely on legacy toolsets and manual efforts.
Plant workers and supervisors are often siloed from the enterprise digital ecosystem and face challenges in exchanging information and collaborating with internal experts.
Facility, line and equipment issues that could have been predicted and prevented, slow production, causing safety concerns and delaying critical medicines to patients. When problems arise, experts must visit a facility to manually troubleshoot, leading to extended downtime and increased cost.

Real Results
CASE STUDY
We helped a leading pharma company reduce new hire onboarding by 5 days and re-training time for experienced employees by 45% with XR.
XR can increase efficiencies, productivity, and safety on the manufacturing floor with relevant and contextual data access, process optimization, guided assistance and decision support.
XR lowers human error by enabling greater collaboration and training through guided instruction and remote assistance. Subject matter experts can train workers in remote locations in real time. Using role-based authentication with devices such as mixed reality smart glasses, XR can deliver the right contextual information to the right person at the right time.
Pharma and biotech process validation and auditing can be performed using an XR facility twin combined with IoT data and AI to ensure compliance to high quality and global regulatory standards.
Line commissioning and clearance operations can be digitally contextualized with XR to guide operators through the the disassembly, reassembly and calibration processes and can capture evidentiary proof that the operations were executed in accordance with documented procedures and standard operating procedures (SOPs).
Real-time line and equipment performance data including alerts and trending quality data from IoT solutions can be presented through XR contextually, not only at the operator level, but also displayed in virtual representations of the equipment, line, facility or groups of facilities. XR enables a virtual manufacturing control tower view of real-time operations including key performance indicators, alerts and predictions and prescriptions of the next best action.
How We Help Companies Build an Extended Reality Capability
We take a human-centric approach to extended reality that prioritizes peoples' needs, capabilities and behaviors first, then designs to accommodate. We combine deep experience in strategy, process improvement and organizational effectiveness with expertise in extended reality technologies and solutions.

Our recommended approach includes a discovery and use case definition phase, followed by an agile design and development phase in sprints, concluding with sprint reviews, user acceptance test (UAT)/readiness and formal validation. Whether you're just starting to explore extended reality or looking to mature specific use cases, we collaborate with you through all phases of the implementation process to realize the value of your extended reality investment.
Strategy
Executive visioning
Use case identification and prioritization
Technology pathway selection
Integration to digital thread
XR Foundation
Training and organizational change management
Governance establishment
Value management
Device consideration / procurement assist
Proof of Value with Pilot Implementation
Use case development
Business case
Persona identification
Pilot configuration
Integration to digital thread components
Organizational change
Enterprise-Scale Deployment
Program management and governance support
Value realization guardianship
Integration to digital thread capabilities (MES, LMS, PLM, IoT, Data Science, etc.)
Human-centered design, configuration and development
Global process harmonization and development
Organizational change management and training
Workplace factor risk and issue mitigation
Infrastructure planning and deployment
Knowledge transfer
SAFe 5.0 approach
Content Services
Ongoing content harvesting and creation
Video capture, analysis and enhancement
3D CAD/animation creation
LiDAR scanning
PLM integration/CAD
Facilitation of training content creation
Managed Services
Monitoring and maintenance
System administration and functional support
Changes and enhancements
Ticket response
Account management
Core Areas for Applying XR Technologies
Line Clearance & Changeover
Process Monitoring & Alert Notifications
Strategic Applications of XR Have Significant Impact
Reduce training length and cost with faster, more effective work instructions
Reduce unscheduled downtime with quicker line commissioning, line clearance, machine changeovers and maintenance
Decrease scrap and waste by reducing human error with in-context work instructions and guided procedures
Improve good manufacturing practice (GMP) compliance with improved work instructions
Capture evidentiary proof of weigh and dispense operations by integrating scale outputs and operator sign offs into electronic batch records in MES
CASE STUDY
We helped a leading pharma company improve and scale global training while cutting costs with XR.
Site managers were looking to improve operational efficiency by 5%, reduce training costs by 10% and maintenance costs by 3%. To meet these goals, they needed to develop an efficient solution to train their workforce on key procedures.
Conventional equipment training for this global company required significant planning, rescheduling and overhead and consumed valuable time from subject matter experts.
The vision was to make training available on-demand for every new hire at any location in the world, and scale it globally.
Our Approach
Experts were recorded from a first person point of view while performing the procedures and wearing mixed reality smartglasses, highlighting work instruction steps and safety measures.
The recorded training was viewed through the experts' eyes and enhanced with additional contextual information.
To validate effectiveness the experiences were made available to users (plant workers) and compared against traditional work instructions in the actual manufacturing environment.
The training platform we developed made it possible to achieve:
3-7 days reduction in new hire onboarding time
40%-50% reduction in re-training time for experienced employees shifting to a new line
100% conformance to work instructions compared to 70% for traditional training approaches
8 out of 10 users reported a better learning experience
Thought Leaders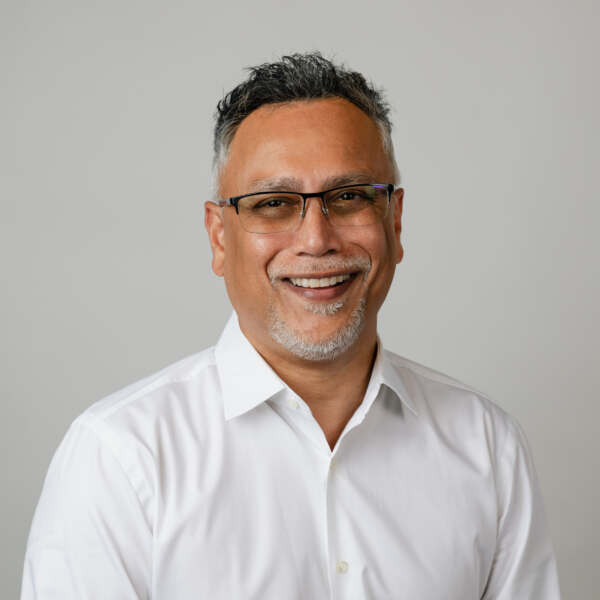 Principal & Global Leader - Pharmaceutical, Biotechnology and CDMO Practice