We help companies discover, create, make, sell and service product through the power of XR, improving productivity and clinical care.
Medical Device companies are under immense pressure from operating constraints, growing customer expectations, an aging work force, increasingly complex and connected assets and continuously evolving regulatory conditions. These mounting complexities have increased the need for holistic solutions that bring together real-time information, dynamic visualization capabilities and remote collaboration.

XR is a key enabler of digital transformation.
As part of the connected enterprise, XR uses a mix of wearable and handheld augmented reality (AR), mixed reality (MR), spatial computing and virtual reality (VR) tools to overlay additional digital information into how work gets done, enabling more efficient learning, remote working and significant business benefits.

XR brings digital information into view for product manufacturing, user training and service value chain by leveraging 3D geometry, audio, video, text and other media from multiple sources, including PLM and CAD systems, at any point in the product lifecycle – design, testing, quality assurance, manufacturing and after product launch.
XR helps medical device organizations address various challenges, including how to:
Collaborate in the ideation and development phases of a new product when not in the same physical location
Address gaps in knowledge on the production floor with efficient knowledge capture and immersive training
Monitor and collaborate with facilities when not on-site
Enable workers to be more effective and informed day-to-day
Turn the field service model from a cost center to a product differentiator
How We Help Companies Build an Extended Reality Capability
We take a human-centric approach to extended reality that prioritizes peoples' needs, capabilities and behaviors first, then designs to accommodate. We combine deep experience in strategy, process improvement and organizational effectiveness with expertise in extended reality technologies and solutions.

Our recommended approach includes a discovery and use case definition phase, followed by an agile design and development phase in sprints, concluding with sprint reviews, user acceptance test (UAT)/readiness and formal validation. Whether you're just starting to explore extended reality or looking to mature specific use cases, we collaborate with you through all phases of the implementation process to realize the value of your extended reality investment.
The Kalypso Difference
We understand the path to scale
We have a point of view on how XR fits into our clients' larger digital roadmap
We deliver a comprehensive set of services across a breadth of technology pathways
We understand how to deliver XR in a validated / GMP environment, including part 11
Strategy
Executive visioning
Use case identification and prioritization
Technology pathway selection
Integration to digital thread
XR Foundation
Training and organizational change management
Governance establishment
Value management
Device consideration / procurement assist
Proof of Value with Pilot Implementation
Use case development
Business case
Persona identification
Pilot configuration
Integration to digital thread components
Organizational change
Enterprise-Scale Deployment
Program management and governance support
Value realization guardianship
Integration to digital thread capabilities (MES, LMS, PLM, IoT, Data Science, etc.)
Human-centered design, configuration and development
Global process harmonization and development
Organizational change management and training
Workplace factor risk and issue mitigation
Infrastructure planning and deployment
Knowledge transfer
SAFe 5.0 approach
Content Services
Ongoing content harvesting and creation
Video capture, analysis and enhancement
3D CAD/animation creation
LiDAR scanning
PLM integration/CAD
Facilitation of training content creation
Managed Services
Monitoring and maintenance
System administration and functional support
Changes and enhancements
Ticket response
Account management
Whether you're just starting to explore extended reality or looking to mature specific use cases, we collaborate with you through all phases of the implementation process to realize the value of your extended reality investment.
We combine our deep experience in life sciences, digital strategy, process improvement and organizational effectiveness with expertise in extended reality technologies and solutions as well as other related technologies across the digital thread (IoT, IoMT, Security, AI, Data Science, Data Management, PLM, CAD, CAD Simplification).

Our XR delivery methodology is based on Agile SAFe 5.0, which is an industry-proven, value-focused method for scaling Agile at the enterprise level. Our recommended approach combines discovery and use case definition, agile design and development, UAT and validation at enterprise scale.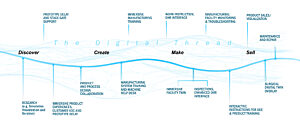 Key Use Cases for XR
Collaboration
Tools allowing multiple users to visualize and interact with a product's digital twin in a real or virtual environment.
Real Results
Reduce development lead time by increasing speed and accuracy in design reviews
80-90% reduction in time for design reviews​
75-90% reduction in time for quality inspections​
Training
VR & AR tools guiding trainees to help understand the working procedures of machinery, and maintenance needed in various scenarios​.
Real Results
Boost staff skillset by introducing speed, accuracy and cost-effectiveness in knowledge transfer​
90%+ improved first-time operation success rate​
50-60% reduction in training time​
60% less time to create training material​​
Work Instructions
Helping employees working on plant floor cells to assemble components correctly and in the right order.
Real Results
Increase productivity by improving speed and accuracy in manufacturing and assembly phases​
15-30% improved labor effectiveness​
10-35% increase in productivity​
5-10% reduction in rework and waste
Remote Service
XR can allow a product to be identified in the field, to​ gather and provide information , and execute activities related to that product.
Real Results
Ensure effectiveness of service interventions & shared visibility as well as employee safety
Up to 75% reduction in field service visits​
10-12% reduction in field service overtime
Immersive Product Experiences​
XR and VR can be used to simulate the spatial configuration and user experiences of products even without their physical presence.
Real Results
Enable faster business investment evaluations & early validation of development projects
CASE STUDY
We helped a leading pharma company improve and scale global training while cutting costs with XR.
Site managers were looking to improve operational efficiency by 5%, reduce training costs by 10% and maintenance costs by 3%. To meet these goals, they needed to develop an efficient solution to train their workforce on key procedures.
Conventional equipment training for this global company required significant planning, rescheduling and overhead and consumed valuable time from subject matter experts.
The vision was to make training available on-demand for every new hire at any location in the world, and scale it globally.
Our Approach
Experts were recorded from a first person point of view while performing the procedures and wearing mixed reality smartglasses, highlighting work instruction steps and safety measures.
The recorded training was viewed through the experts' eyes and enhanced with additional contextual information.
To validate effectiveness the experiences were made available to users (plant workers) and compared against traditional work instructions in the actual manufacturing environment.
The training platform we developed made it possible to achieve:
3-7 days reduction in new hire onboarding time
40%-50% reduction in re-training time for experienced employees shifting to a new line
100% conformance to work instructions compared to 70% for traditional training approaches
8 out of 10 users reported a better learning experience