Big regulatory changes are coming to the way medical device companies sell their products in the European Union (EU). Previous product management strategies are becoming antiquated and exponentially increasing risk.
As a part of the changes in the EU, Unique Device Identification (UDI) and Basic UDI will be a requirement for medical devices. The new regulatory initiative falls under the EU Medical Device Regulation (MDR) and supersedes the Medical Device Directive (MDD), which previously had no provisions on traceability of medical devices, so the steps necessary for compliance are completely new for organizations selling products in the EU market.

How We Help Clients Get Ready for EU MDR
As the May 2020 deadline to comply with EU MDR quickly approaches, it's time to take charge of your regulatory compliance strategy and compete to win in the new medical device regulatory climate.
At Kalypso we help companies achieve EU MDR compliance and drive innovation with digitally-enabled products, processes and business models.
We help you build a strong product data backbone with product lifecycle management (PLM); layer in pre-built software accelerators to streamline key processes; and take advantage of key digital technologies like IoT and advanced analytics to tackle key EU MDR initiatives such as:
FDA Case for Quality (focus on product quality)
Strategic integration of current and planned systems
Implementation of regulatory information management (RIM)
Harmonization of UDI processes
Consolidation of siloed product data systems
Augmentation of PLM strategy with IoT and advanced analytics
Our EU MDR Services
Our comprehensive EU MDR services are designed to meet you wherever you are in your EU MDR journey:
Optimization of existing EU MDR compliance plans/journey
Development of EU MDR strategy for process governance, architecture, product rationalization and benchmarking
Consolidation, integration and migration of enterprise data
Utilization of structure product labeling for content management needs (i.e. clinical trials, technical documentation, labeling, eIFU's, etc.)
Leading practice deployment and configuration of PLM
Registration of devices and tracking of certificates
Digital application connectors, data mashups and advanced analytics, and role-based portals for economic operators
Harmonization of Regulatory Information Management (RIM)
Submissions of data to the EUDAMED database (i.e. UDI)
Clinical investigations
Post-market surveillance
Download Our EU MDR eBook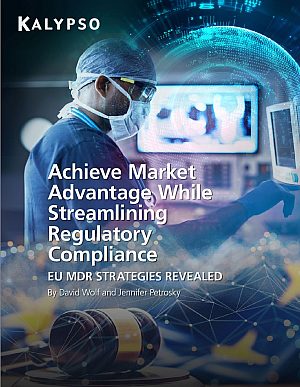 Our Strategic Three-Phase Approach to EU MDR
EU MDR compliance success requires a phased approach to consolidating, connecting and harmonizing cross-functional teams, systems and processes. Our three-phase approach is designed to drive maximum value with an iterative crawl-walk-run cycle.
Perform an EU MDR strategy assessment to identify current state architecture, regulatory initiatives and challenges
Review/refine compliance goals, system architecture diagrams, etc.
Access key SMEs to capture mission-critical functionality and information
Prioritize IT workstreams, software solutions and process governance

Implement a small scale proof of value deployment at a subset of operating companies, manufacturing sites and/or products
Gain feedback, make refinements and update the PLM/digital system architecture and leading practice
Organizational change management (OCM) is essential to driving sustainable results across regulatory organizations

Assessment and MVP knowledge is transferred from the first two phases, enabling multiple use cases, while leveraging prioritized software solutions
Enterprise-wide business value is realized, and the benefits of an optimized EU MDR program help you streamline your EU MDR journey
EU MDR Solution Overview
At Kalypso, our sweet spot is structuring a consolidated PLM system as the product quality and compliance backbone to capitalize on IoT and advanced analytics in support of key EU MDR workstreams:

Registration of devices and management of technical documentation
EUDAMED UDI database
Vigilance and post-market surveillance
Clinical investigations
Notified bodies and certificates
Registration of economic operators
eIFU and labeling
Material compliance and conflict minerals
General Data Protection Regulation (GDPR)
EU MDR Data Landscape & Partnerships
Kalypso and leading life sciences companies combine the best of both worlds to deliver world-class software implementation and validation support.
Our strategic software partners provide technology solutions to make it easy to accelerate transformation and innovation. They focus exclusively on the regulated biotechnology, pharmaceutical and medical device industries, and are compliance partners with the world's top technology platforms and applications.