The COVID-19 pandemic has forced retailers and brands to fundamentally rethink how they discover, create, make and sell new products.
However, at a time when product leaders have never had more clarity around the need to make strategic changes, they have never had less discretionary money to spend on making them.
Are you fighting to secure funding for your digital product creation (DPC) program? Has your company invested in 3D design and development capabilities, but struggled to establish a transformative digital vision for the end-to-end product lifecycle? Are you stuck doing pilots or proofs of concept with no end in sight? Do you have the necessary foundation in place to scale? Are you ready to scale, but not sure where to start?
Our proven 12-week DPC accelerator service is designed to help you achieve speed-to-scale and speed-to-value by:
Aligning around DPC strategy, a common vision and business value
Creating a DPC roadmap that addresses your unique complexities for people, process, technology and sponsorship
Accelerating beyond pilots to achieve scale and value
You're Not Alone – Insights from Recent Research
Today, most product leaders in retail, footwear and apparel (RFA) are actively pursuing some form of a 3D DPC initiative. But while they are experimenting with various digital use cases, actual maturity and link to business value varies widely.

Our annual research on DPC Maturity in Retail, Footwear and Apparel shows common themes and insights that emphasize the imperative for DPC, including:
COVID-19 accelerated the pace of digital transformation
2020 current state maturity reflected early acceleration
Common barriers to DPC success are process, culture and talent rather than technology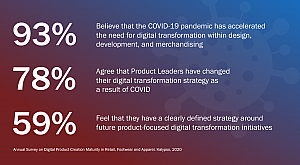 How We Help Companies Accelerate the Value of DPC - In Just 12 Weeks
This unique 12-week accelerator service is designed to set the foundations you need to accelerate and scale your unique DPC program.
What to Expect: Outcomes and Resources
At the end of the 12-week DPC accelerator service, you can expect the following outcomes and customized resources.
After our 12-week accelerator service, you will have the tools and plans needed to launch or relaunch your DPC program with a clear vision and strategy for execution.
The Kalypso Difference for DPC
Foundation-First Focus
Before scaling DPC, our approach focuses on establishing a solid foundation of governance, processes and technology, allowing companies to quickly prove value and avoid common pitfalls.
Holistic, Hands-On Approach
In our experience, organizations go through five iterative stages as they implement DPC, including understanding and curation, vision and value proposition, prototyping and trial, justification and roadmap, and adoption and scaling.
Our services are designed to help clients throughout their digital product creation journey.
Deep DPC Technology Expertise
With a long history implementing DPC for retailers and brands, we've worked with many use cases, including 3D product design, material design & scanning, visual line planning, digital product development, virtual fit testing, voice of customer analytics integration and more.
We understand the technologies, processes, and people-related requirements for DPC.
Let's Get Started
Our proven 12-week DPC accelerator service is designed to help you accelerate speed-to-scale and speed-to-value. We can't wait to work with you.