Your Planning Approach is Broken: Five Factors for Integrated Planning Success
The traditional approach to planning, one that is linear and functionally-driven, is broken.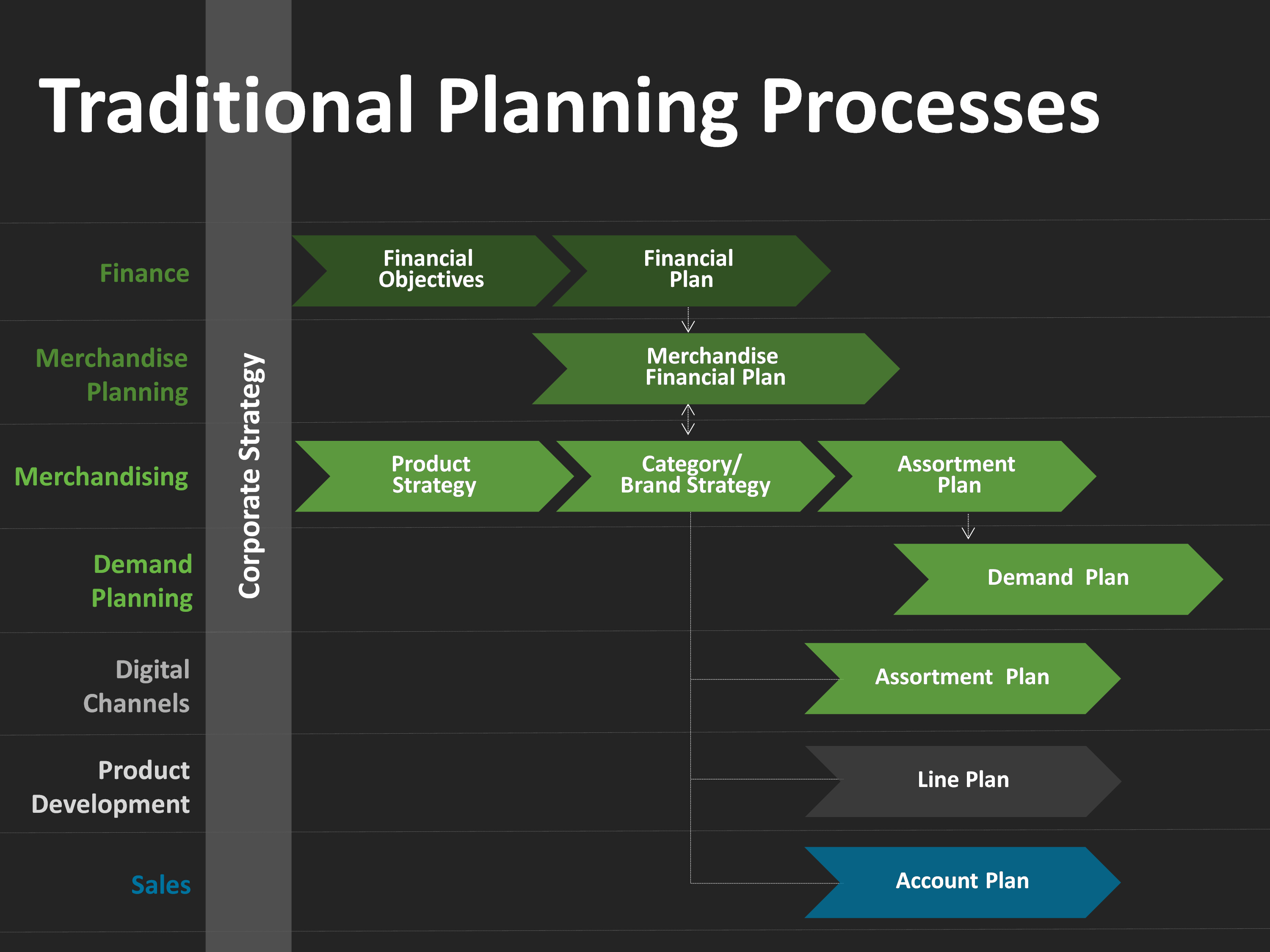 For most retail, footwear and apparel companies, planning is managed by multiple functions - Finance, Merchandise Planning, Merchandising, Retail, Digital Channels, Sales, and Demand Planning - that are all responsible for one part of the plan. These functions operate independently and at various times along the go-to-market calendar, from initial corporate strategy to product development to execution. They are separate groups with their own processes which might be, at best, loosely tied together. They create different plans with different KPIs, sometimes using different systems and data sources. As a result, there is no single and centralized source of data. When multiple versions of the truth exist, no one speaks the same language, hours are spent reconciling numbers and everyone marches in their own direction.
As the retail environment gets more complex, with multiple selling channels, increasing competition, and shorter product lifecycles, a broken planning system becomes a bigger and bigger problem. With Finance teams creating high-level budgets, Planning teams distilling that information into specific product assortments, Design teams following new trends, and Sales teams trying to meet the evolving needs of the retailers and distributors, it is a challenge to ensure everyone is aligned and knows how to coordinate execution. Instead companies often end up with information in siloes, growth targets that are merely assumed, and new opportunities and potential risks that are not identified early enough.
Integrated planning requires good upfront direction, clear roles and responsibilities, and a coordinated calendar to ensure all functions are aligned in their efforts and can work as quickly and efficiently as possible. It simply can't be done if you don't have a defined process that is integrated across all planning streams, because it's hard to move forward if you don't have agreement on where you are going. Integrated planning ensures alignment on key business objectives such as:
What are the planned growth categories? And channels? Or Regions?
What products do we continue to stand behind? And which will retire?
Where are we trying to drive innovation?
How are we leveraging the digital channels?
How should we source in order to achieve our margin targets?
What's our liquidation strategy?
Benefits of an Integrated Planning Approach
The time is now to integrate planning. Integrated Planning is an iterative cross-functional process that ensures all stakeholders are involved at the right times, creating better alignment across the organization and improved financial performance.
Unlike traditional planning, Integrated Planning is:
Iterative vs. Linear. Instead of waiting for handoffs between teams, cross-functional partners work together to continuously develop and refine the plan.
Collaborative vs. Siloed. Instead of having separate players who own different pieces of the plan, cross functional groups come together to share information and make key decisions.
Aligned vs. Disjointed. Key metrics and goals, rooted in common definitions and sharing a common data source, are aligned across all planning groups, eliminating the need to translate numbers provided by one group to another.
Strategic vs. Reactionary. Decisions and plans are constructed based on the bigger picture and support the long-term company strategy, incorporating information from across the enterprise.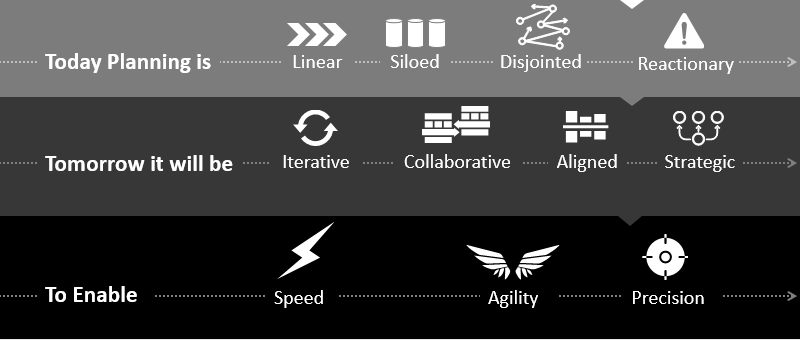 Integrated Planning brings multiple functions together in the planning process, creating a harmonized process with one language, and enabling people to work towards one strategy that aligns around the long-term business strategy and short-term objectives.
Five Factors for Integrated Planning Success
Implementing Integrated Planning is a large undertaking, and often involves significant change across people, process and technology. As you begin the journey, keep the following five factors in mind to make certain that you are set up for success:
Share the strategic vision. Ensure that there is a well-documented long-term strategic plan with very clear financial objectives and that it is communicated and socialized across the organization. This strategic plan must have meaningful financial objectives tied to the growth plan. It's not enough to say "we should grow 5% next year." The strategy must clearly define how we plan to get there, which product categories to focus on, which customer segments are most important, what new markets are being targeted, etc. Providing the Planning team with the high-level direction and financial targets earlier will enable them to incorporate the strategy into their merchandise and assortment plans.
Get the right people at the table. Good planning decisions are made by incorporating the best available information, so getting cross functional input is key. Line Planning, Digital Channel Planning and Global Merchandise Planning teams need to work closely together throughout the entire go-to-market process to ensure enough products, and the right products, are being developed to meet financial goals. Regional merchants and planners should provide input on what they need and identify gaps early on so that the global design and merchandising teams can develop product in time. Incorporating Sales and/or Retail Merchants into line discussions earlier helps to identify key account needs and incorporate customer and consumer feedback.
Timing is everything. Bringing products to market quickly and efficiently requires some planning decisions to be made sooner rather than later. Procuring materials, reserving factory capacity and managing transportation need to be done well in advance to ensure on time delivery – but all of these rely on accurate planning and forecasting. Progressive lock down on product decisions combined with early involvement of both Demand and Sales Planning will help streamline execution and maintain margins throughout the entire process and prevent costly re-work.
Make sure everyone is speaking the same language. Establish common KPIs that are used across teams. Ensure that there is alignment and understanding of the definitions of those KPIs. Good governance enables alignment around shared goals, improves trust in the information, and facilitates communication. Having one version of the truth is essential in ensuring smooth execution in today's planning environment.
Support the process with robust tools. Planning today requires a set of reliable and integrated planning tools that can support the key steps of the process and ensure that accurate and trustworthy information is always available. One system which can be leveraged by multiple functions simplifies communication and encourages collaboration.
Traditional planning in most retail, footwear and apparel organizations does not enable a fully integrated view across markets and functions and cannot support the rapidly evolving needs of the current market. Today's increasingly demanding customer expects to find the right product at the best price, when they want it, regardless of what channel they are shopping. Companies must be both thoughtful and precise in their execution – and that requires having a solid plan, from start to finish. Don't continue to rely on outdated tools and linear, duplicative planning processes. Move forward and embrace Integrated Planning.