The PLM Dilemma of Multi-Category Retailers: One or Multiple Systems?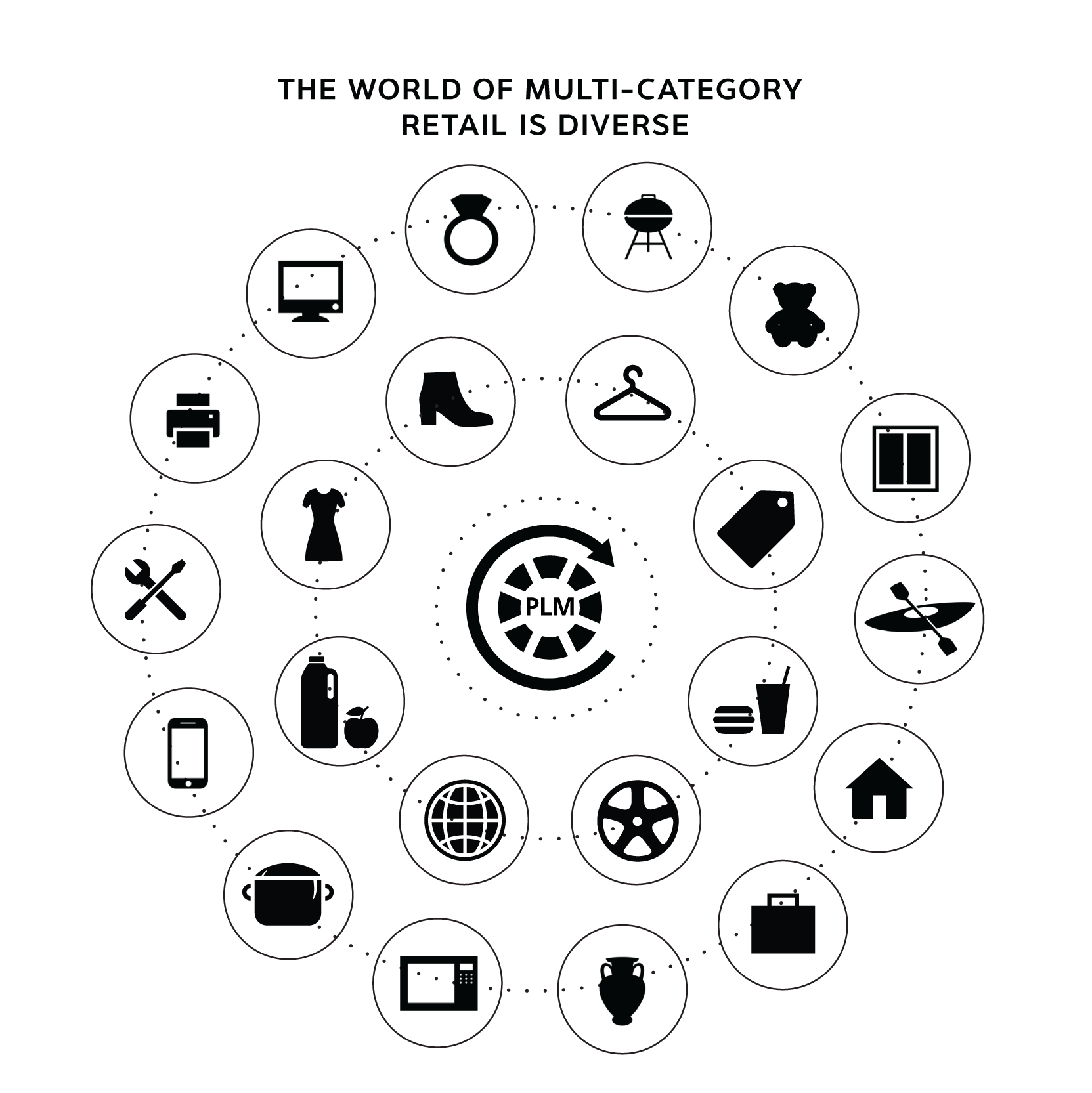 Multi-category retailers design and develop a wide array of product types – from home textiles, lawn tools, wooden furniture and backpacks, to food products, apparel and formulated products. Product lifecycle management (PLM) processes and technology offer improved collaboration, shorter design cycles, improved data integrity and more, but there are as many ways to apply PLM as there are combinations of or types of products. With so many possible variations, should multi-category retailers align all product development teams onto one platform, or use multiple systems?
The answer depends on a number of considerations around your product segmentation and business model. It also depends on the maturity of available PLM solutions in key product categories that are important for your business. The first step in the process is to look for commonalities between product development business processes, and then assess the available solutions.
Build a Vision Before Picking a Solution
Cross-category retailers should first strive to harmonize business process around product development, aligning on high level milestones that move each product from concept to sample iteration and product line reviews to approval.
Since every product category is different, the objective of this exercise should be to:
Align on milestones - Define the common language for talking about, tracking and managing the development of the line or assortment. Target dates may vary due to the different lead times required for the development or production of each of the products.
Identify requirements - Understand the needs of each business in terms of activities and tasks. Know what is included in a product specification for each of the different products: Packaging? Measurements? Images? Test reports? Information for customs?
Look for opportunities to collaborate - Are there common tasks that could be centralized to a shared function or role to collaborate with each team? Does one category offer a perspective or way of working that could be advantageous to another?
Once these questions are answered for all categories, apply the information and learning to create a vision for the ideal future state.
With this vision established, proceed with a solution assessment to determine a feasible fit for all product categories. Can a single solution support the requirements for all categories? Is a unique system required to support the requirements for each product category? While benefits are gained from single PLM solution, it's not possible for every combination, like when food or formulated products are involved. The development of food or formulated products often have different enough requirements from apparel or hard lines to justify not aligning on a common platform even when a common development process might be established.
An Example: Hard Goods and Soft Goods Under One Umbrella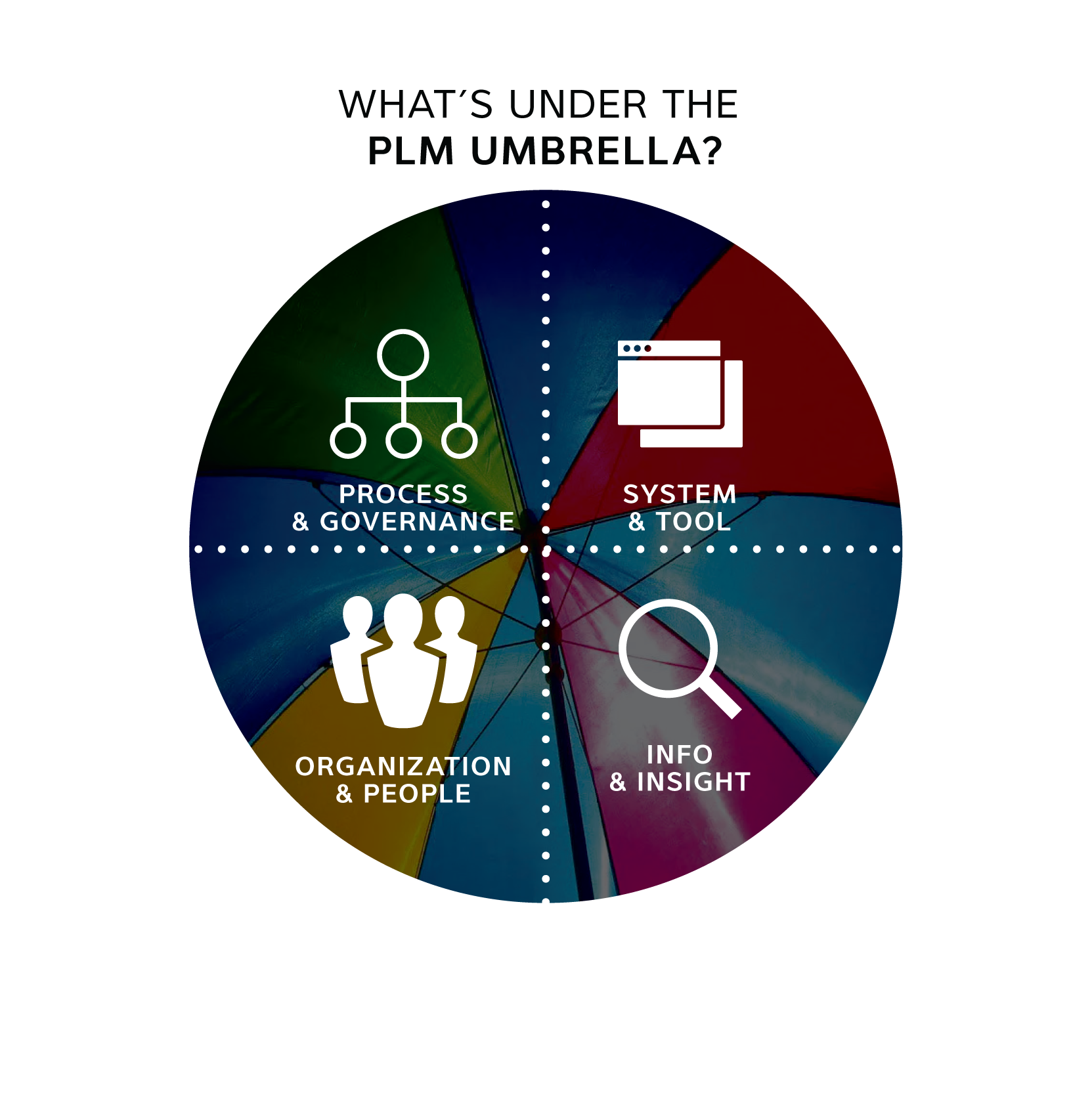 Let's take a business scenario involving process harmonization and PLM implementation for a multi-category retailer with really diverse product categories from apparel and accessories, footwear and performance gear to home goods and sporting goods.
Key considerations for this business scenario are:
A number of process variances exist, from the initiation of a product concept to the allocation of roles and responsibilities
The degree of vendor collaboration varies significantly in the product design and development process
The apparel and footwear business teams own design and development from concept, imagery and BOM all the way to full product specification development and approvals, while the hard goods team relies more heavily on vendor expertise and recommendations for manufacturing process and specification details
With commoditized product offerings, complete design and development of the product is outsourced, only customizing requirements around brand imagery or packaging
It is important to note here that different product categories may need to organize their work differently to complete their product specification. So while apparel will require detailed measurement sheet, grading, and fit sample functionality, most of the hard goods categories will require significant regulatory testing and documentation or functional/performance testing that may not be required of the apparel categories.
In this scenario, the cross-functional teams representing various hard goods and softlines product categories defined a future state process that supported all tasks required for the development of their products and specification. Due to the wide variety of product categories, not all tasks are relevant to all teams, but all tasks are accounted for in the future state. Throughout the harmonization process, the teams can learn from each other and implement leading practices as they make decisions on how to move forward.
A common PLM platform can be rolled out for all product categories - configured around the decisions made throughout the process design work. As they move forward, representatives from different product categories continue their cadence to collaborate as they work through development seasons and get smarter around the entire solution design.
The Benefits of Single System
A single enterprise PLM solution streamlines knowledge across categories and business units, allowing retailers to centralize shared services, consolidate material usage for sourcing leverage, and curate cohesive collections of products. It also unleashes powerful dashboards and reports that allow the retailer to see the status of a line in one system.
By using PLM as a single source of truth across all product categories and business units, multi-category retailers can streamline product development processes and pathways, gain clarity around the development roles for each product, and enable opportunities to centralize shared services. With one system to license, maintain, and support, retailers will save money on the initial implementation and on-going costs. Plus, it is easier for one system to integrate with enterprise systems such as ERP.
Start on the Right Foot for Your PLM Journey
For multi-category retailers, it can sometimes feel that categories are more different than alike. And since every business is different, every solution is different. There's no one-size-fits-all answer. But the goal is the same – higher productivity, aggregation of materials and components, reusability of product data, improved margins, reduced cycle time and more efficient vendor collaboration – across the entire organization.
Practical First Steps:
Perform an assessment to benchmark yourself against industry standards
Prioritize the requirements that are most important for your business
Develop a PLM roadmap
The careful analysis of business processes required can seem daunting, but the investment is worth it. While there may be activities across all of the product categories that exist for some or don't exist for others, and while there may be different roles that exist across the different categories, retailers can streamline common processes across the business and successfully roll them into a shared solution supported by a single PLM system. When proper alignment and harmonization techniques are used to help choose the most appropriate PLM solution, a common solution really can support product development requirements across apparel, footwear and hard goods development teams. And during the process of defining the enterprise wide PLM vision and solution, both teams can learn from one another and even optimize their ways of working towards the greater good.