The Future of PLM in CPG: Perspectives from Kalypso, PepsiCo and Tech-Clarity
*Guest authored by Jim Brown is the President of Digital Innovation Research for independent research firm Tech-Clarity
Product lifecycle management (PLM) has become a must-have solution for consumer packaged goods (CPG) companies. Most CPG companies have implemented PLM, but not all PLM implementations fill the same needs. Since PLM reached prominence just over a decade ago, both the industry and available software solutions have changed dramatically. So how ready are CPG companies' PLM systems to take on the digital transformation of CPG?
Researching the Future of PLM
Tech-Clarity teamed up with Kalypso to survey over 150 companies that either design, develop, produce and or commercialize consumer packaged goods. The resulting report, The State of PLM in CPG, shares the current state of PLM implementations and how leading companies plan to increase the business value of PLM in the future.
Read the complete research here.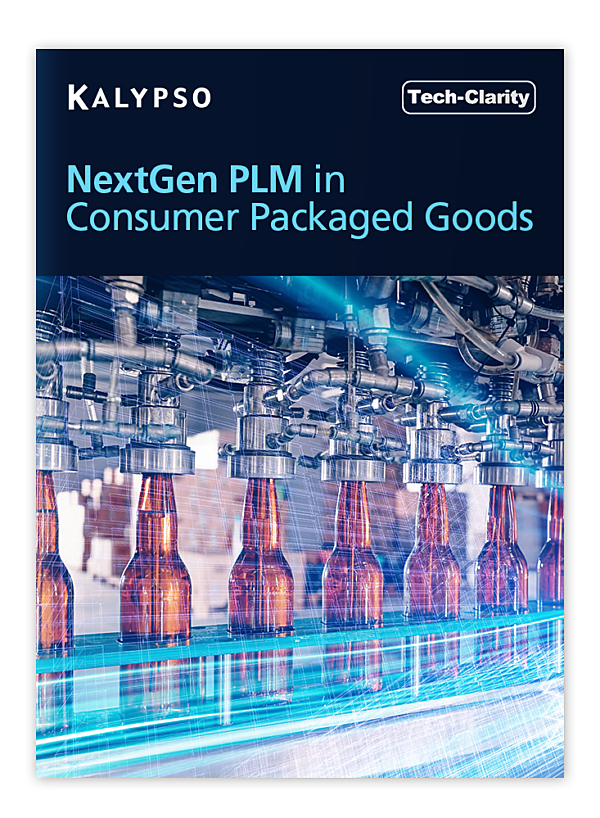 Sharing Research, Experience, and Insights
Kalypso hosted an interactive discussion with PLM industry leaders from a variety of roles to discuss the findings. The panel brought together over six decades of PLM experience from industry, trusted advisors, and research perspectives. The panel, hosted by Kalypso's Consumer Industry Marketing Manager Hadley Bauer, consisted of:
Susan Hamel, PepsiCo's Senior Director of Global R&D, shared her experience in advancing the PLM agenda over the last 20 years
Colin Speakman, Kalypso's Consumer Goods Global Director, offered his experience, knowledge, and strong relationships with CPG companies
Jim Brown, Tech-Clarity's President of Product Innovation and Digital Transformation Research
We also gained insights from the audience through some poll questions.
Watch the webinar replay here.
Key Takeaways
I learned a lot from each of the panelists' perspectives and unique vantage points. In summary, the primary takeaways from the research and discussion are:
PLM has proven value
There's even more value still available
Current implementations need to mature
Today's PLM systems need to change
Read on for the highlights, or watch the webinar recording here to get the full perspective.
PLM has Proven Value
Most CPG companies recognize that PLM adds value. Some view PLM as a way to manage product specifications and core product data. Some view it as a way to streamline product development. Others also see it as a foundation for more advanced capabilities.
Let's start with the research perspective. The survey focused on the business value companies have achieved. The results are both top-line revenue improvements and bottom-line cost savings and efficiencies (see chart).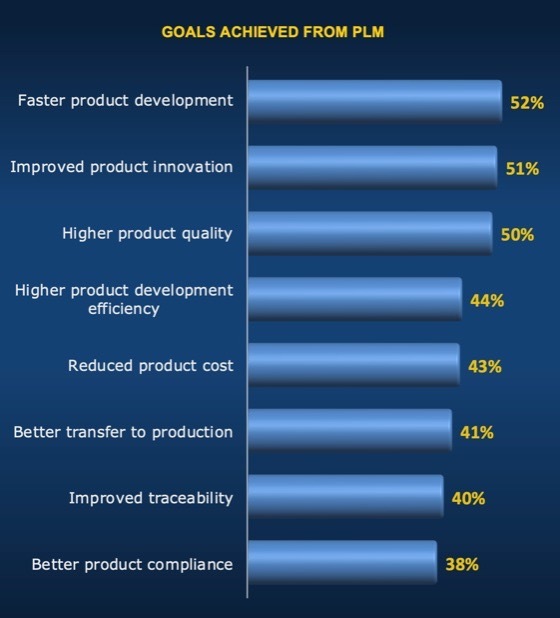 The speakers shared practical improvements that drove strategic value, for example, improving customer material code creation. This tactical improvement resulted in a three to four weeks cycle time reduction, improved quality, and fewer mistakes. This advantage, in turn, resulted in getting into the market faster to realize revenue sooner and be first to market, which is a real competitive advantage. This example shares how improving data management practices results in business-level value.
Managing product data also serves as the foundation to do more. Speakers pointed out the importance of getting data under control. For example, conversations with CPG companies about advanced capabilities like machine learning, artificial intelligence, or organization-wide optimization evolve back to having foundational product information in PLM. Even the basics add value.
There's More Value Available
PLM offers even more value as companies move beyond the basics. The webinar discussed how companies get more from PLM by extending beyond R&D. The research uncovered the potential to gain significant new value by expanding PLM's scope (see chart).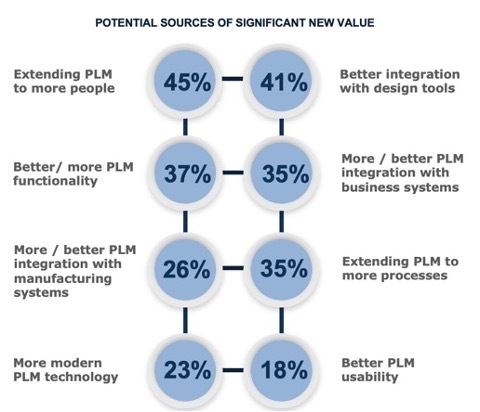 The speakers shared that organizations have unlocked opportunities by expanding the use of PLM through different functions or exploiting the data in new ways, for example, leveraging the data within PLM starting from R&D and using it in manufacturing and into logistics. Other benefits included better integration with business systems and cost savings from simulation and modeling.
The audience poll concurred. About one-half with PLM see a significant amount of additional value available from PLM, and others, some. Only one participant said there's not much or no additional value available.
Implementations Need to Mature
Despite the potential for additional value, the status quo finds most CPG companies unprepared for the future. PLM needs are changing, and PLM must adapt and evolve. Therefore, CPG companies that want to retain or improve their product innovation performance must continue to improve their PLM implementations and capabilities.
Top Performers point the way toward the future of PLM. The research points out the value of taking a more strategic view of PLM. Top Performers, those that report better product development performance, are more likely to view PLM as an enterprise and value chain level solution (see chart).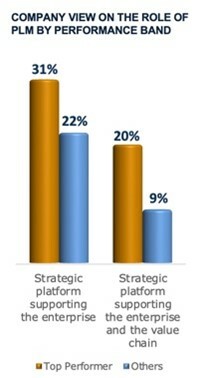 The speakers shared that to truly unlock value, PLM has to be broader than R&D. For example, there's tremendous value when an organization thinks about how they can leverage data in new ways and in new processes. You don't need to spend the time on a line going through the trials and using trial and error to see if it works. You don't necessarily need to be in the lab trying multiple formulations to see how they'll perform.
The leading companies adopt PLM as a platform for the enterprise and supply chain that is more integrated, more advanced, more widely adopted, and kept more current. Then they can leverage their information in other departments for modeling, simulation, and emulation to reduce cost and be faster to market.
Systems Need to Change
The research finds that it's not just the view of PLM that needs to change. Survey results show that while the majority of companies felt their PLM system met their current needs, only one-quarter of companies believe it meets their current and future needs (see chart). What CPG companies need from PLM is evolving, and PLM systems need to change as well.
The participant poll confirmed this. None of the companies on the webinar believe their current primary system will fully meet their future needs, and some say it will mostly meet their needs. But a much more significant percentage, more than twice that, report it will only meet it somewhat or that it's got many gaps.
The speakers shared that PLM must evolve to support digital transformation, simulation, AI, and other advanced capabilities. This is important because 85% of CPG companies see PLM as critical or important to digital transformation, and 98% of companies say that digital transformation is critical or important to their company strategy. That means that PLM is vital to today's digital company strategies.
Speakers explained the concept of "virtual first" related to manufacturing simulation, digital twin, and ideation spaces. Specific examples of value came from modeling and simulation, including virtual formula development and conveying simulation. These resulted in significant product development acceleration and faster time to market, leading to accelerated revenue realization and a first-mover advantage in the marketplace.
Final Thoughts
PLM has added tremendous value to CPG companies, but much more value is available. Implementations and systems must evolve to support broader, more integrated, digital ways of working. The Top Performing companies prove the value of more mature PLM implementations and processes.
There's work to do! As one speaker summed up, the future is now. Organizations are doing these things right now and unlocking these values, it's not something that's just a dream. It's a reality.