Post-Pandemic Futures for RFA: Implications and Value Chain Enablers
In recent months, retail, footwear and apparel (RFA) product creation leaders have focused on their immediate response to COVID-19. As retail locations reopen globally, product leaders must shift their focus to address long-term implications for the future. New learnings around resilience and flexibility have empowered product leaders to craft an initial response.
The next challenge: planning for a highly uncertain future.
Kalypso wants to provide our clients the confidence to respond in the post-COVID world. To do so, we brought together Kalypso's consumer industry leaders and the latest strategic foresight methodologies around the central question:
How might the value chain for North American and European RFA markets evolve and shift in the next 5 years?
What's a Scenario?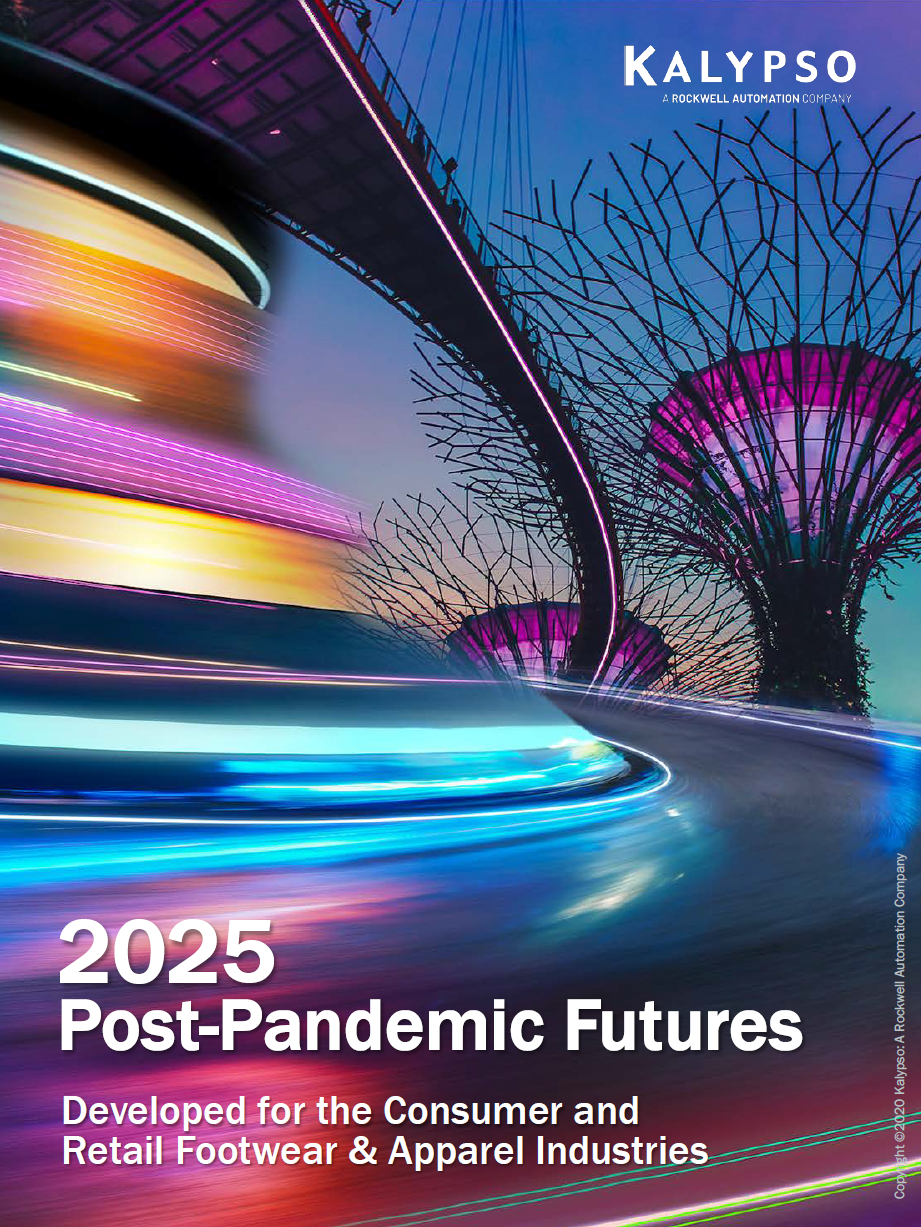 Kalypso developed four alternative future scenarios for the year 2025. Scenarios are plausible, provocative alternative views of the future. They are meant to magnify change happening today and challenge our assumptions about tomorrow. The full in-depth report is available for download here.
Scenarios are not predictions of the future but tools to spark discussion in order to build more resilient operating models and refine product strategies in the face of uncertainty.
Each scenario is modeled after a plausible economic recovery scenario. The economic recovery timelines are an abstract representation of the trajectory of real GDP, real income, employment, industrial production, and wholesale-retail sales from 2020 to 2025.
With the scenarios we outline, it's less important to focus on exact timing and more important to assess the impact of the recession recovery pattern on society and the consumer industries. The scenarios will be unevenly distributed. Across and within regions, patterns from more than one scenario may even play out simultaneously.
RFA Implications and Value Chain Enablers
For each scenario, we explore the implications these recovery scenarios have on what product creation leaders might make (in the form of artifacts from the future) and how products are made (in the form of value chain enablers).
What - Artifacts from the Future
This explores the long-term implications for product strategy by demonstrating products and experiences that could be available in 2025. Artifacts from the Future make the details of each scenario concrete and help the reader become more immersed in the scenario.
How - Value Chain Enablers
This explores near-term and longer-term product development implications (including shifts to customer needs, business models, the product creation process, and the supply chain) and the relevance of five sets of technologies in the digital thread to enable transformation.
Below is a summary of each scenario, as well as a high level overview of implications for retailers and brands.
The full in-depth report is available for download here.

Scenario Summary
Although consumers largely return to pre-COVID shopping habits, the economy stunts spending, driving brands to prioritize efficiency, cost reduction and risk mitigation over innovation. Product teams' reliance on virtual collaboration during lockdown accelerates the adoption of digital product creation tools, especially in material development, fit simulations, and virtual line reviews. For consumer insights, merchant and sourcing teams, backward-looking projections give way to predictive analytics that more accurately model new consumer behaviors and complex, geographically dispersed supply chains. Meanwhile, channel teams encourage high margin online consumers to continue to engage virtually even as they return to shopping in-store.
Artifacts from the Future
In the Flourishing Communities scenario, we imagine RFA products that empower consumers to optimize their home environments and express their values and personalities. Common product attributes will include digitally-enables circular production, climate positive, versatility
Examples include:
Travel Safe Apparel: Fear of the spread of germs and bacteria while traveling causes travelers to be more conscious of travel attire. Brands respond with a category of travel-safe clothing with anti-viral and hydrophobic properties built into the fabric. An example is travel leggings with an additional layer that kills germs and toxins in the environment.

Hyper-Personalized Footwear & Apparel: Brands are better able to hyper-personalize products using datasets that come from consumers' recent purchases, interests, hobbies and online behavior. Sizes become less applicable as consumers provide body scan data to brands to get apparel and footwear that fits their specific figure.

Consumers Demand ​Product-Level Impact: Widespread adoption of retail, footwear and apparel hangtags quantifying the resources and true cost to create the product. Beyond just capturing raw materials, these tags include metrics for water usage, miles shipped to store, and the total carbon footprint from cradle to grave. Consumers look to these tags before making purchases to buy new products.
Critical Value Chain Enablers for Product Leaders
Retailers and brands who lead in this scenario will invest in the following product development capabilities.
Product teams adopt more efficient, flexible WFH and virtual collaboration models proven out during lockdowns

Merchants rethink assortments to balance desires for expressive, unique and personalized styles with societal values

Sourcing Teams rebuild fractured supply chains to provide visibility, mitigate risk and optimize for speed and efficiency
​Download the full ebook
For the full scenario description, along with more artifact examples and critical enablers

Scenario Summary
Waves of economic recovery and COVID resurgence drive consumers to adopt a new socially-distant normal defined by home life. Physical product development is a pre-COVID relic as product teams abandon the office in favor of safer, faster, more virtual ways of working enabled by the digital thread. Volatility necessitates responsiveness as brands turn to ubiquitous data to frequently tweak slot plans, rebuild assortments, rapidly alter designs, reforecast orders, and remodel supply chains. As a result, product also becomes less seasonal, more modular and more dependent on the materials available in this new, domestic and hyperregulated market. Meanwhile, channel teams defund unsustainable brick & mortar in favor of enhanced online experiences.
Artifacts from the Future
In the Big Brother is in Control scenario, we imagine RFA products that monitor health and provide a sense of security. Common product attributes will include smart connected, device compatible, protective, versatile / multi-purpose, and modular.
Examples include:
Data Protection Clothing:​ Digitally-native startups emerge, specializing in accessories designed to help wary consumers evade facial recognition. New materials are also developed with a layer that obstructs digital scanning to protect body figure data and secure pockets to protect sensitive content stored in devices.

Wellness Apparel & Footwear: Brands differentiate with smart fabrics that can detect body temperature fluctuations and shoes that use pressure sensors to determine changes in balance and weight as a signal for health risks. These products tie back to wellness apps to help wearers track their health and fitness goals. A new clothing category emerges around 'helping to heal'. This includes fabrics with infrared that activate in specific areas to reduce inflammation and well as clothing with Electric Muscle Stimulations (EMS) to ease muscle soreness and reduce tension.​

Virtual Fitting Rooms​: Consumers use their body scan data to create their own personal avatars as ​a tool to virtually try-on their online purchases. Instead of fitting rooms, consumers instantly see how products would fit and look through the avatar on their device.
Critical Value Chain Enablers for Product Leaders
Retailers and brands who lead in this scenario will invest in the following product development capabilities.
Product Teams abandon the office and adapt to a faster, seamless virtual collaboration model

Merchants abandon rigid seasonal constructs in favor of more flexible, but complex, seasonless product capsules

Vendors partner with public and private entities to vertically-integrate and automate domestic production and distribution
​Download the full ebook
For the full scenario description, along with more artifact examples and critical enablers

Scenario Summary
COVID-19 fundamentally changes consumers, who now adopt more localized, less-is-more, values-first buying habits and curtail instances of retail shopping. Merchants strip down assortments in favor of long-lasting, high-quality, timeless, seasonless, genderless and sustainable product. Brands reduce central headcount, turning to lean teams of remote talent who rely on virtualization, simulation and automation capabilities to design and develop product efficiently and with minimal waste of scarce resources. Emphasis is given to developing sustainable materials and to local, no waste, just-in-time, automated manufacturing. Retail outlets are retooled to enable a circular product lifecycle with end of life repair and take-back programs.
Artifacts from the Future
In the Regenerative Systems scenario, we imagine retail, footwear and apparel products that closely align to the wearer's values. Common product attributes include environmentally conscious, DIY at-home, personalized styles and designs.
Examples include:
Biodegradable Garments​: Designed to satiate consumers' need for novelty, climate-conscious biodegradable garments hit the market. Leveraging small-scale laboratory-based production, technical designers grow bacteria, fungi, algae, yeast or animal cells into textiles.

Genderless, Inclusive Fashion​: With less emphasis on traditional menswear or womenswear, there is more freedom for consumers to wear what they want, regardless of gender. Clothing is designed to be inclusive and non-gender specific. Silhouettes that fit a range of sizes rise in prominence while bold patterns, colors and prints are introduced.

Virtual Fashion Viewing: Extended time spent at home forces designers to find creative ways to showcase their upcoming styles to the public. Major fashion events, such as Paris and New York Fashion Week, convert to fully virtual. Models are no longer needed, as designers rely on the latest 3D and digital technologies to showcase their clothing on the runways.
Critical Value Chain Enablers for Product Leaders
Retailers and brands who lead in this scenario will invest in the following product development capabilities.
Material R&D Teams focus heavily on the development of sustainable materials and the enablement of circular design

Insight Teams trade macro-market trends and global fashion shows for highly localized or individualized insights

Sourcing Teams optimize for locally available, responsive buying, just-in-time manufacturing and minimized inventory on hand
​Download the full ebook
For the full scenario description, along with more artifact examples and critical enablers

Scenario Summary
Consumers abandon retail outlets and limit spending to essential products, bought online. Channel teams react by divesting in brick & mortar and optimizing distribution centers and direct to consumer operations to minimize inventory and improve response times. Big brands consolidate to battle nimble new-world natives with leaner teams that run entirely remote operations powered by virtual and automated workflows that drive efficiency. Product teams deemphasize sustainability, focusing instead on consumers' utilitarian needs with simpler product that is designed, developed and manufactured for quality, durability, and affordability. In response, new domestic factories retool for just-in-time, high-quality production using cheap, abundant labor and automation.
Artifacts from the Future
In the Divisive Terrain scenario, we imagine retail, footwear and apparel products that provide protection and comfort amid uncertain times. Common product attributes will be the most bifurcated, where high-end attributes include bold, trendy, and high performance, but mass market product attributes include affordability, utilitarian, and ready-to-wear.
Examples include:
Functional Footwear: ​Instead of design, celebrity endorsements and name brands of shoes, purchase behavior is driven by durability and functionality. Consumers want shoes that last years, as opposed to months, and footwear that can be worn across the seasons. Insoles and midsoles are designed for more comfort with the assumption that those wearing them will be on their feet for hours at a time.

Utilitarian Clothing​: Pre-pandemic fashion was a statement of personal identity. By 2025, personal identity is a luxury and consumers desire function over form. Designers abandon seasonal colors, patterns and unique forms for neutral tones and more essential items. Hues of brown, nude, black and gray are common.

Nostalgic Pop-Up Shops​: Post-pandemic, digital native brands with bold prints and colors trend upward in popularity for affluent consumers. In order to engage with consumers, brands launch pop-up shops as a throwback to simpler times - giving residents of exclusive, wealthier communities the ability to try on and purchase fashion-forward looks.
Critical Value Chain Enablers for Product Leaders
Retailers and brands who lead in this scenario will invest in the following product development capabilities.
Vendors retool for just-in-time, high-quality, production using a combination of cheap, abundant labor and automation

Tech Designers simplify patterns, reduce construction complexity and optimize for product quality and durability

Product Teams are entirely remote and leaner than ever, relying on virtualization and automation to support workflows
​Download the full ebook
For the full scenario description, along with more artifact examples and critical enablers
Cross-Scenario Opportunities
Across all four scenarios, the following future state capabilities arose as required to renew the model for product development while reducing near-term risk and building toward a resilient future.
Faster: Products are brought to market 50% - 70% faster than current processes, to design and develop closer to the moment of demand to lower the risks of a mistake
Smarter: Products are designed, developed, and supplied with the use of predictive and prescriptive analytics, especially applied to consumer insights, development, and demand planning
More Virtual: Design and develop with digital product creation tools to collaborate virtually to make many more decisions before needing to commit to binding decisions
Globally Distributed Sourcing: Sourced via a globally distributed network of more innovative, automated suppliers and factories, located on shore, near shore and offshore, based on segmented product development path
To achieve this future, teams will leverage technology including: Digital Product Creation (DPC), Advanced Analytics (AA), Product Lifecycle Management (PLM), Smart Connected Operations (SCO) and Smart Connected Product (SCP).
Next Steps: Design Your Organization's Response
Scenario planning provides a framework for organizations to consider a variety of ways that the future might unfold. But for scenario planning to be effective, leaders must move from a place of awareness towards continuous strategic action.
To increase resilience, product creations leaders should:
Build internal capacity for strategic foresight
Transform product innovation through the digital thread
Appoint a clear sponsor and leader with roles and responsibility for the two actions above
Learn More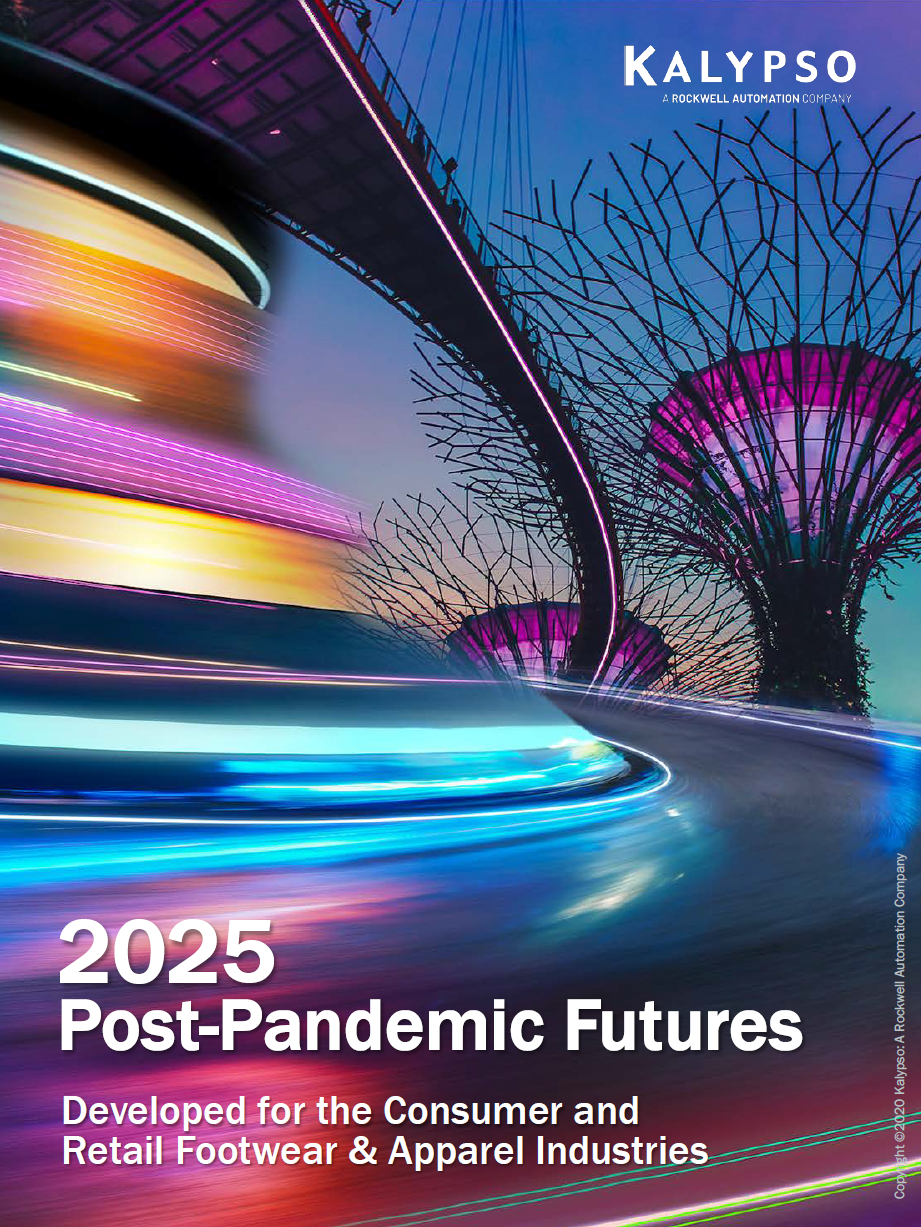 2025 Post-Pandemic Futures: Consumer and Retail Footwear & Apparel Industries
Watch a video Summary
Featuring our strategic foresight lead, Kelly Kornet