Post-Pandemic Futures for CPG: Implications and Value Chain Enablers
During the initial months of the pandemic, consumer packaged goods (CPG) companies have invested time in stabilizing operations and finding ways to respond to shifting needs. Now, with new learnings around resilience and flexibility, product leaders must start to plan for the future.
The next challenge: planning for a highly uncertain future.
Kalypso wants to provide our clients the confidence to respond in the post-COVID world. To do so, we brought together Kalypso's consumer industry leaders and the latest strategic foresight methodologies around the central question:
How might the value chain for North American and European CPG markets evolve and shift in the next 5 years?
What's a Scenario?
Kalypso developed four alternative future scenarios for the year 2025. Scenarios are plausible, provocative alternative views of the future. They are meant to magnify change happening today and challenge our assumptions about tomorrow. The full in-depth report is available for download here.
Scenarios are not predictions of the future but tools to spark discussion in order to build more resilient operating models and refine product strategies in the face of uncertainty.
Each scenario is modeled after a plausible economic recovery scenario. The economic recovery timelines are an abstract representation of the trajectory of real GDP, real income, employment, industrial production, and wholesale-retail sales from 2020 to 2025.
With the scenarios we outline, it's less important to focus on exact timing and more important to assess the impact of the recession recovery pattern on society and the consumer industries. The scenarios will be unevenly distributed. Across and within regions, patterns from more than one scenario may even play out simultaneously.
CPG Implications and Value Chain Enablers
For each scenario, we explore the implications these recovery scenarios have on what product creation leaders might make (in the form of artifacts from the future) and how products are made (in the form of value chain enablers).
What - Artifacts from the Future
This explores the long-term implications for product strategy by demonstrating products and experiences that could be available in 2025. Artifacts from the Future make the details of each scenario concrete and help the reader become more immersed in the scenario.
How - Value Chain Enablers
This explores near-term and longer-term product development implications (including shifts to customer needs, business models, the product creation process, and the supply chain) and the relevance of five sets of technologies in the digital thread to enable transformation.
Below is a summary of each scenario, as well as a high level overview of implications for CPG companies.
The full in-depth report is available for download here.










Scenario Summary
Although consumers largely return to pre-COVID shopping habits, the economy stunts spending, driving CPG companies to prioritize efficiency, cost reduction, and getting high demand categories out to the door. Product teams' reliance on virtual collaboration during lockdown accelerates the adoption of digital product creation tools. For teams focused on consumer insights, brand management and supply chain, backward-looking projections give way to predictive analytics that more accurately model new consumer behaviors and complex, geographically dispersed supply chains. Meanwhile, channel teams encourage high-margin online consumers to continue to engage virtually. Retailers update their e-commerce requirements to find efficiencies and sustainability goals.
Artifacts from the Future
In the Flourishing Communities scenario, we imagine consumer packaged goods (CPG) products that are designed for convenience and efficacy. Common product attributes will include automation, personalization, product transparency and convenience.
Examples include:
In-Home UV Lighting Systems: UV lights become a standard fixture in the home to assure inhabitants are safe from germs and bacteria. UV lights are placed in closets, kitchens, and entrances to immediately sanitize products brought into the home. Start-ups compete to develop highly effective UV germicidal bulbs and offer discounted rates for subscription-based purchases.
End-to-End Carbon Impact: An increased emphasis on sustainability demands that brands transparently present the full carbon impact of their products. This impact is measured in each stage of the value chain. Finished goods are fixed with a connected RFID tag that calculates the total impact of transportation between the factory and consumer.
Hyper-Personalized Services: Hyper-personalized services allow customers to have an abundance of choices for how they shop and discover new products. To refine their choices from a sea of items, consumers look to hyper-personalized products created just for them. CPG brands capture each consumer's data to formulate products like vitamins, skincare, hair care, and cosmetics to her unique needs.
Critical Value Chain Enablers for Product Leaders
Brands who lead in this scenario will invest in the following product development capabilities.
Product Teams adopt more efficient, flexible WFH and virtual collaboration models proven out during lockdowns
Customers influence increased supply chain requirements for e-commerce and consumer values, such as shippable, sustainable consumer unit packaging
Ingredients/Materials Teams deepen partnerships to co-develop with suppliers for sustainable fit-for purpose benefits
​Download the full ebook
For the full scenario description, along with more artifact examples and critical enablers

Scenario Summary
Waves of economic recovery and COVID resurgence drive consumers to adopt a new socially-distant normal defined by home life. Physical product development is a pre-COVID relic as product teams abandon the office in favor of safer, faster, more virtual ways of working enabled by the digital thread. Volatility necessitates responsiveness as brand management turns to build resilience into their offering. As a result, product also becomes less seasonal, and more dependent on the materials available in this new domestic and hyperregulated market. Meanwhile, channel teams defund unsustainable brick & mortar in favor of enhanced online experiences, but CPG manufacturers and retailers collaborate to use the stores as direct to consumer sales sites.
Artifacts from the Future
In the Big Brother is in Control scenario, we imagine consumer packaged goods (CPG) products that provide data driven solutions for health and safety. Common product attributes will include traceability, personalization, natural formulas, and health-centric.
Examples include:
Tailored Health Services: Pre-populated wearables provide personalized, real time, and accurate health data to consumers. Data on all the wearer's activities and interactions are tracked and their health and immunity are measured. This information can be sent to doctors, fitness trainers, nutritionists, and other health professionals.
Health-Positive Products: Healthiness starts influencing the social rating for members of society. Products track immunity, cleanliness, and amount of contact with others, and wearers use these to increase their social rating. These products have QR codes and provide benefits, such as discounts, specialized assistance, and faster service at online and physical shops.
Packaging Labels to Capture Supply Chain Impact: Consumers are more conscious of how sanitary their products are, and brands are required to be more transparent in their supply chain. Packaging labels are required to show the point of physical touch for their products so they can easily tracked and traced. This is done through RFID tags on products and on employees involved in the process. This information provides more confidence for consumers that companies are responsiblly avoiding product contamination.
Critical Value Chain Enablers for Product Leaders
Brands who lead in this scenario will invest in the following product development capabilities.
Brand Management anticipates portions of product portfolios directed by the state, adopt seasonless, flexible offerings
Insight Teams explore new channels for consumer insights as privacy wanes and personal data becomes ubiquitous
R&D Teams create products that innovate for personal wellness, visual simplicity and multi-seasonal consumer use
​Download the full ebook
For the full scenario description, along with more artifact examples and critical enablers

Scenario Summary
COVID-19 has changed consumers who now adopt more localized, less-is-more, values-first buying habits and curtail instances of retail shopping. Brand managers focus on fewer and more effective and sustainable products. Brands reduce central headcount, turning to lean teams of remote talent who rely on virtualization, simulation and automation capabilities to design and develop product efficiently and with minimal waste of scarce resources. Emphasis is given to developing sustainable materials and to local, no waste, just-in-time, automated manufacturing. CPG direct-to-consumer channels have an end-of-life take back or repair strategy, many times in collaboration with retailers.
Artifacts from the Future
In the Regenerative Systems scenario, we imagine consumer packaged goods (CPG) products that contribute to the health of individuals and the environment. Common product attributes will include sustainability, reusability, validated claims, regionally focused, and multi-purpose.
Examples include:
Hyper-Localization of Products: Post-pandemic, the emphasis on local remains. National companies join the trend and tailor manufacturing and product formulas to meet the needs of communities, including seasonal changes, environmental considerations and population demographics. For example, communities that experience droughts annually tend to have self-care products in their local pharmacies that are non-water based.
Eco Packaging: In 2025, the trend towards more sustainable packaging continues to grow. Use of plastics and Styrofoam are quickly rendered obsolete. Use of cardboard, glass and biodegradable materials grows in popularity due to reusability and positive impacts on the environment.
Single-Use Toy Packaging: Consumers are hyper vigilant about the ways in which they interact with their environment, particularly when shopping. To address the need for cleaner products, toy manufacturers begin incorporating single-use packaging into their designs. This packaging protects against germ spreading on toys that traditionally lack packaging or experience high amounts of in-store use. Packaging designs also focus on maintaining the functionality of the toys for in-store testing purposes. These single-use packaging designs, which also align with sustainability trends, are made of recyclable materials.
Critical Value Chain Enablers for Product Leaders
Brands who lead in this scenario will invest in the following product development capabilities.
Brand Management focuses on fewer, highly effective products in essential categories, and invest in studies to support claims of natural, efficacious sustainable materials
Channel Teams support the circular lifecycle with end-of-life repair and take-back DTC programs, or collaborate with retailers
Supply Chain Teams optimize for locally available, responsive buying, just-in-time manufacturing and minimized inventory on hand
​Download the full ebook
For the full scenario description, along with more artifact examples and critical enablers

Scenario Summary
Consumers abandon retail outlets and limit spending to essential products, bought online. Channel teams react by divesting in brick & mortar while optimizing distribution centers and direct-to-consumer operations to minimize inventory and improve response times. Big brands consolidate to battle nimble new-world natives with leaner teams that run entirely remote operations powered by virtual and automated workflows focused on efficiency. Product teams deemphasize sustainability, focusing instead on consumers' utilitarian needs with simpler product that is designed, developed and manufactured for quality, durability, and affordability. In response, new domestic factories retool for just-in-time, high-quality production using cheap, abundant labor and automation.
Artifacts from the Future
In the Divisive Terrain scenario, we imagine consumer packaged goods (CPG) products that provide affordable solutions to sanitary lifestyles. Common product attributes will include anti-bacterial, health conscious, accessible, and affordable.
Examples include
Online Groceries for All: The dangers of the pandemic drive consumers to turn to online channels for their shopping needs, including groceries. The ease and quickness of these online grocers is extended to SNAP recipients. National chains partner with the US Department of Agriculture to ensure that SNAP recipients can meet their families' needs while also reaping the benefits of online grocery shopping.
Facial Sanitizers: Consumers call for products that not only sanitize their hands, but their faces as well. New facial cleansers come equipped with bacteria-fighting properties to protect the face against common germs. The disinfecting properties also draw consumers, as they desire a product that will protect them from germs while not harming their sensitive skin.
Virtual Daycare: Parents invest in finding safe ways for their children to interact post-pandemic. Toy manufacturers offer VR bundled headsets and toys that create safe playing environments. Using VR, children can interact with their classmates while avoiding toys that have not been disinfected. Teachers can give clear instruction, as each bundle has identical toys based on class needs.
Critical Value Chain Enablers for Product Leaders
Brands who lead in this scenario will invest in the following product development capabilities.
R&D Teams focus on creating products with greater utility, with innovations in safety and affordability at their core
Manufacturing retools for just-in-time, high-quality, production using a combination of cheap, abundant labor and automation
Brand Management focuses on luxury or value price targets with no middle ground
​Download the full ebook
For the full scenario description, along with more artifact examples and critical enablers
Cross-Scenario Opportunities
Across all four scenarios, the following future state capabilities arose as required to renew the model for product development while reducing near-term risk and building toward a resilient future.
Faster: Products are brought to market 50% - 70% faster than current processes, to design and develop closer to the moment of demand to lower the risks of a mistake
Smarter: Products are designed, developed, and supplied with the use of predictive and prescriptive analytics, especially applied to consumer insights, development, and demand planning
More Virtual: Design and develop with digital product creation tools to collaborate virtually to make many more decisions before needing to commit to binding decisions
Globally Distributed Sourcing: Sourced via a globally distributed network of more innovative, automated suppliers and factories, located on shore, near shore and offshore, based on segmented product development path
To achieve this future, teams will leverage technology including: Digital Product Creation (DPC), Advanced Analytics (AA), Product Lifecycle Management (PLM), Smart Connected Operations (SCO) and Smart Connected Product (SCP).
Next Steps: Design Your Organization's Response
Scenario planning provides a framework for organizations to consider a variety of ways that the future might unfold. But for scenario planning to be effective, leaders must move from a place of awareness towards continuous strategic action.
To increase resilience, product creations leaders should:
Build internal capacity for strategic foresight
Transform product innovation through the digital thread
Appoint a clear sponsor and leader with roles and responsibility for the two actions above
Learn More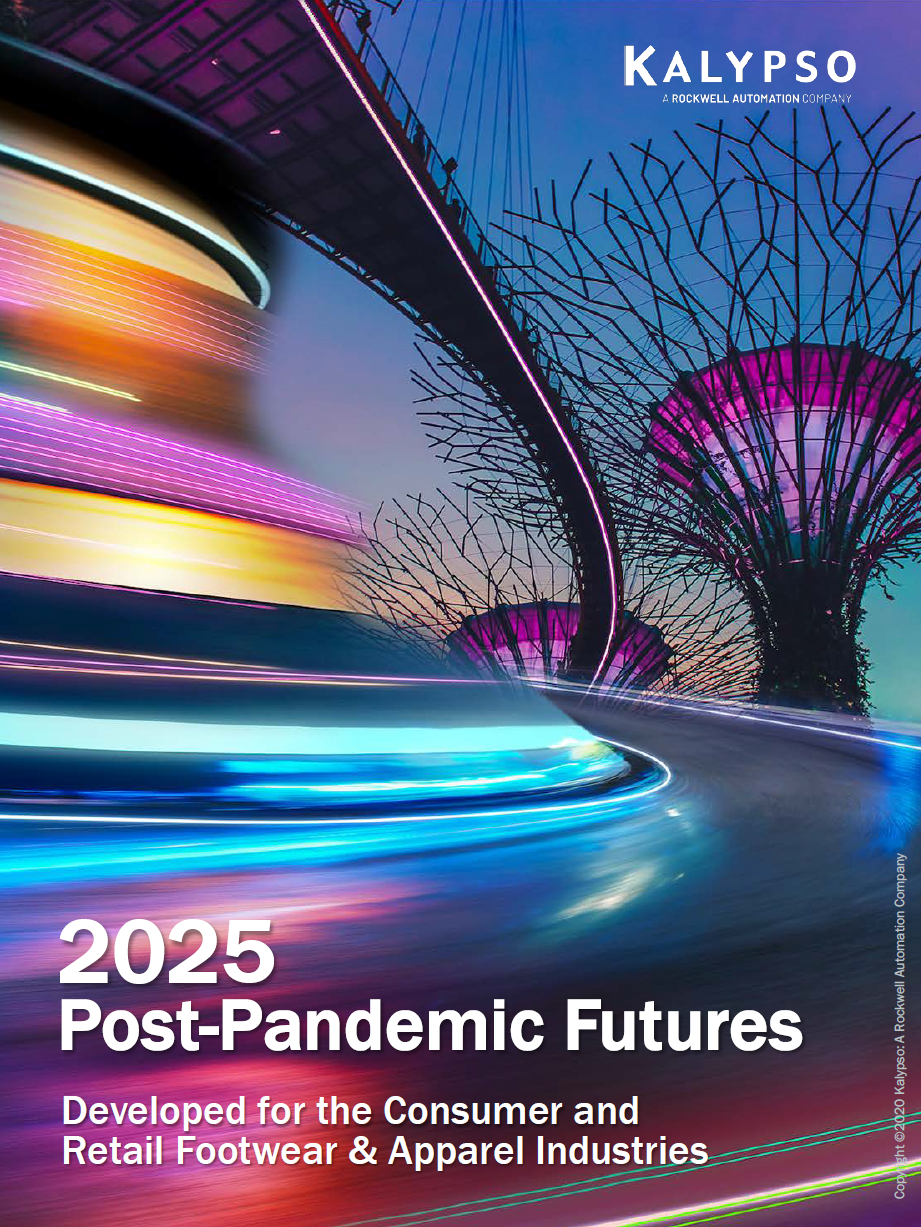 Download the Full Report
2025 Post-Pandemic Futures: Consumer and Retail Footwear & Apparel Industries
Download our No Regret Moves for CPG Companies
We've recently revisited our analysis, updated some of the survival tactics, and created five no regret moves that will prepare companies for any scenario

Watch a video Summary
Featuring our strategic foresight lead, Kelly Kornet