Keeping Up with Sustainability in the Chemical Industry, Part 1
A User's Guide to Not Killing the Planet
As the Securities and Exchange Commission and European Union regulations define increasingly specific criteria for what constitutes "sustainability," companies face mounting pressure to change their operations in order to reach compliance. Out of all industries, the chemicals industry is one of the least prepared to handle the changes to come.
Market Trends
Since the 2015 release of the United Nation's Sustainable Development Goals (SDGs), the chemicals industry has faced increasing pressure to employ sustainable practices and curb resource consumption & emissions. The chemicals industry has already aligned itself with these market shifts by publishing sustainability targets. This is particularly noteworthy as the industry is the biggest final-energy consumer within the industrial sector.
Looking at a set of 12 identified chemicals industry leaders, 10 have pledged carbon neutrality by 2030, carbon positivity by 2050, and have goals to reduce water intensity or consumption (or 83% of companies). Additionally, 7 companies (58%) aim to reduce waste and energy consumption or utilize renewable resources by 2030.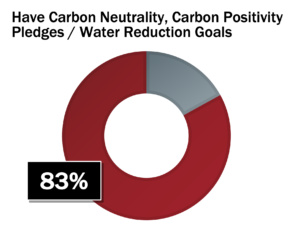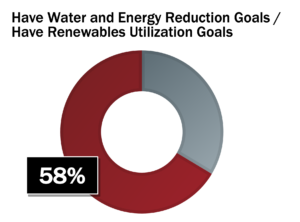 At large, companies face an increasing incentive to proactively manage progress toward these sustainability targets, given current regulatory and consumer environments as well as investment trends.
The convergence of sustainability and investment risk, for example, is prompting investors like BlackRock to acknowledge a portfolio shift to net zero. Additionally, while the chemicals industry has already begun implementing automation strategies as the market moves toward Industry 4.0., the needle is shifting further toward Industry 5.0. Expanding on Industry 4.0, Industry 5.0 broadens the focus on stakeholder value through more sustainable approaches. Companies headquartered in Europe may be at the forefront of this additional momentum, but global connectivity provides sustainability incentives for all.
Companies can employ the digital thread to uphold accountability to their pledged goals, realize cost and other business benefits, and materialize environmental benefits.
For companies, managing established sustainability targets consists of:
Upholding accountability to pledged goals, such as by accurately tracking and reporting on progress to the investor community and to regulators
Realizing cost or other business benefits
Realizing environmental benefits
By focusing on end-to-end enterprise connections such as through the digital thread, companies can accomplish all three of these sustainability objectives.
Industry Challenges Faced
After establishing sustainability goals, companies may struggle to accomplish the first objective: tracking progress toward and measuring the success of meeting targets. Out of the 12 identified chemicals industry leaders, less than 45% currently measure their progress towards sustainability goals.
Out of a set of 12 identified chemicals industry leaders, less than 45% currently measure their progress toward sustainability goals.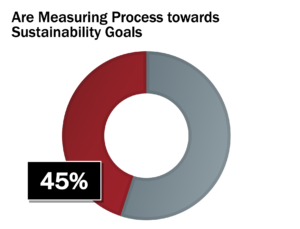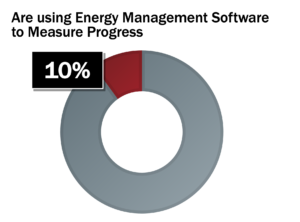 As market trends continue to evolve and more processes become automated, the chemicals industry has a unique opportunity to reap benefits in areas like sustainability while also achieving productivity goals. Companies have already begun employing smart machines for process optimization but have not yet considered the environmental, productivity, and profitability benefits associated with these strategies. For example, less than 10% of chemicals industry leaders currently use energy management software to measure progress toward sustainability targets.
Chemicals companies also face unique industry challenges that make the case for digital transformations that can help track and measure sustainability progress while realizing business and environmental benefits.
Chemical companies can simultaneously address challenges regarding customer perception, business opportunities, compliance, energy input costs, and workforce trends by focusing on digital transformation to further sustainable practices & accountability.
Customer Perception
The chemicals sector is responsible for 6.5% (3.3 giga, or billion, tons) of the annual 51 billion tons of global greenhouse gas emissions. While other industries can easily fence their area of responsibility to their own products and individual supply chains, the chemicals industry also forms the bedrock of other sectors. It faces pressure not only from stakeholders and regulators but also from customers to "greenify" products across their value chains. For example, 72% of consumers are either "not very" or "not at all" confident in the information they hear from chemical manufacturers on their products' environmental impact. Additionally, up to 75% of emerging consumers are willing to pay more for environmentally sustainable products. Scope 3 emissions can also affect a company's ability to sell products downstream to the industry as well as to end consumers. Being able to quantify and track progress toward sustainability goals is therefore important from both a business and a regulatory perspective.
Manufacturing Byproducts
Solids production is another sustainability challenge. A key area to focus on is the commercialization of waste streams as input for other industries, which requires an understanding and quantification of the current state.
The production of highly undesirable compounds (HUCs) is also a sustainability challenge. In addition to worker safety implications, people sustainability and the reduction of harms is a priority of Industry 5.0, so being able to quantify these targets will become important too.
Manufacturing Inputs
Fluctuation of energy input prices is often top of mind in an industry particularly reliant on natural gas. Enabling data-driven decisions can help more effectively manage inventory, adjust feedstock allocation, and increase output and efficiency. Focusing on simplifying the management processes of operational and manufacturing data can shorten response time to both market changes and stakeholder requirements.
Workforce Trends
By 2025, 23% of the chemical workforce will be eligible to retire. Prioritizing digital transformation now can enable remote access monitoring and support in the face of a growing skills shortage in addition to addressing accountability for sustainability targets. A wider scope of sustainable practices can also help drive new talent to the industry: 65% of employees are more likely to work for a company with strong environmental policies.
Come back for Part 2 to read more about upholding accountability for sustainability targets, realizing business & environmental benefits through the digital thread and further considerations organizations must take into account. This includes a real-world case study that demonstrates why more organizations need to invest in a sustainability solution.
*Albemarle, BASF, Celanese, Chemours, Corteva, Covestro, Dow, DuPont, Eastman, Huntsman, Lubrizol, PPG