Connectivity Across the Energy Value Chain
Recap of Our Webcast with PTC and Ariel
In today's world, the need for manufacturers to improve productivity is as high as ever as they are looking to meet increased demand with fewer experienced people. That is compounded with the challenge of getting experienced individuals in roles and having them stay there. Machine builders can fill that gap for manufacturers through new digitally-enabled business models and aftermarket offerings.
In a recent webcast, we discussed the digital transformation at a global, heavy industrial company and the reasons and benefits of their connected products journey.
Watch the full webcast here: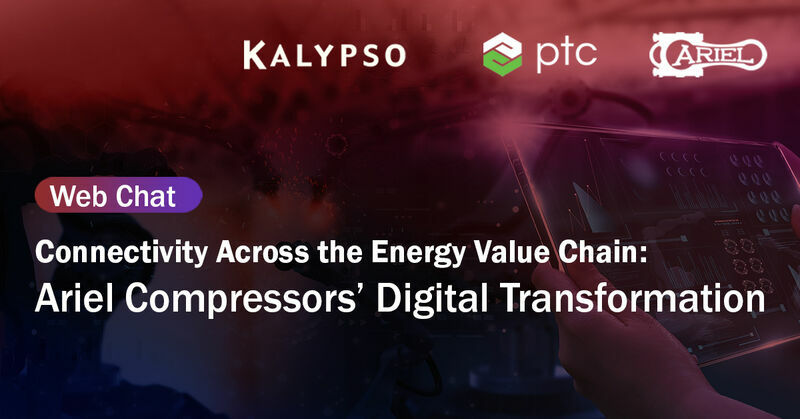 The goal of connectivity across the energy value chain is to enable machine builders to transform their service and business models through smart connected products (SCP). These new offerings support an organization's customer outcomes of improved asset utilization and productivity at a time when they have less ability to do it themselves. With the successful implementation of a SCP solution, an organization can see many benefits, including:
Real-Time Data: There is strategic value of a connected data stream. It enables an organization's engineering teams to access real-time data on the performance of their designs.
Better Visibility: The ability to have better visibility into an organization's units' operation enables better and new kinds of service, along with better costs for distributors and end-users.
Expanded Market Share: Machine builders can increase margins with software-driven functionality and expand market share with high-value, outcome-driven services and offerings.
Increased Revenue: These new business models are creating revenue that's more predictable and recurring compared to cyclical capital projects.
Looking to get started on your connectivity journey? Companies need to think about how this transformation will impact the entire organization. Initiatives that revolve around digital transformation need support to be successful. Having a clear vision of the solution you want to build, having buy-in from an executive level and understanding how the organization and processes need to change around the solution can help lead to a successful implementation. Leveraging industry-leading best practices and architectures is also critical to quickly going to market and scaling SCP-enabled offerings and services.