Retail Innovation Annual Report - 2015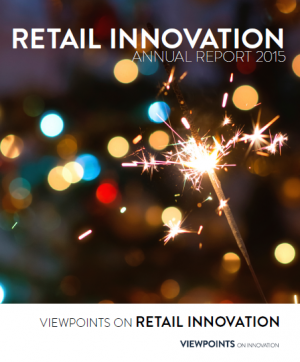 While there were quite a few trends that gained momentum in 2015, there are three mega-themes that stand out. These are the trends that we expect to continue to expand in 2016.
First, it has become increasingly clear that the Voice of the Customer is being heard and as a result, product and service offerings are being shaped to respond. We have reported on brands who seek the Voice of the Customer early in development, even as early as crowdsourcing for product concepts or design. We have highlighted brands who have established their supply chains to react quickly to personalize or customize product offerings to their customers' specifications.
Second, brands have made it a priority to find new ways to delight their customers with unique and improved customer experience. Brands with smart connected stores are interacting with their customers when they walk in the physical stores by texting or emailing offers right to their phones.
Finally, products have evolved, primarily with innovation in manufacturing or materials. Digital product creation, such as 3D printing, had originally hit the industry for prototyping purposes, but we now see it as an opportunity and differentiator for the manufacturing process.
We are excited and invigorated as we think about the industry's progress in 2015, and look forward to the future of innovation in 2016!