10 Dimensions to Navigate Burnout by Empowering a Cultural Transformation
If you know Kalypso, you know that Kalypso is a story of its people. We're encouraged to pursue and develop areas of interest that we're passionate about. To help guide us, we look to our core values that govern how we work with our clients and manage our teams.
We believe in the power of creativity, diversity and innovation to change the world.
We have passion for personal development.
We are a team of characters with character.
The well-being of our Kalypsonians is also essential. K-Wellness is an internal initiative to improve mindfulness, physical fitness, prevention, and nutrition within Kalypso. It provides Kalypsonians with tools and tips on how to focus on different areas of wellness, including mental, physical, emotional, and financial health.
In the spirit of K-Wellness, Monica Aranda - our senior design manager, TEDTalk presenter and published author – has written 10 Dimensions to Navigate Burnout by Empowering a Cultural Transformation. Check it out below!
- Katherine Murphy, Editor-in-Chief of Viewpoints
The South Korean Byung-Chul Han, one of the great philosophers of this contemporary era, mentions in his book "The Burnout Society" that historically, every age has its own set of illnesses. Thus, there was a bacterial age, which ended with the discovery of antibiotics; now, in the twenty-first century, society faces neurological diseases such as depression, attention deficit hyperactivity disorder (ADHD), borderline personality disorder (BPD), and burnout syndrome.
Burnout is a state of physical, emotional or mental tiredness, according to the Mayo Clinic. An unbalanced workplace where employees feel that they lack support in the office, feel uncertain about their role's expectations or have a lack of work-life balance can foster this syndrome.
Managers can be crucial in helping to prevent burnout among employees. Here are 10 ways they can do this: empower and support employees, help them develop new skills, avoid overloading them with tasks, and provide the tools they need to do their jobs effectively. By taking these steps, managers can help ensure that their employees don't reach a state of burnout.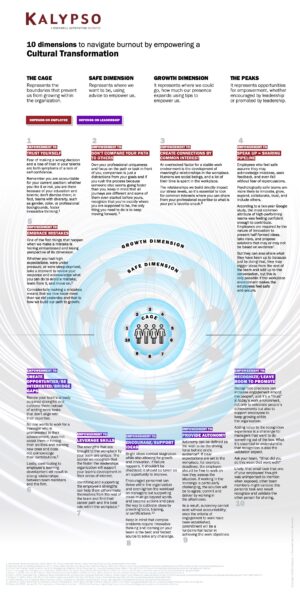 We also asked Tania Bashford, senior manager of engagement and development, to reflect on these insights, including how Kalypso leadership ensures we continue to stay true to our values and culture.
My first career out of my undergraduate degree was teaching. I was a high school teacher for 7 years in Australia. I taught at a handful of different high schools where I met over 100 different teachers. It quickly became apparent to me that the best teachers were those who were unapologetically themselves, those willing to step outside of the proforma, those that genuinely cared and gave students room to be themselves and develop individually (sometimes at their own pace). They were empowered in their work; they were not simply going through the motions. I hope we can all look back and remember a teacher who embodied this.
After reading this piece and reflecting on empowerment I realized that being a great consultant is not all that different from being a great teacher. Those that understand their purpose, make meaningful connections, and trust their own path; they excel at serving our clients. Kalypso prides itself on being a destination where we radically alter the consulting landscape. Kalypso empowers employees by having values that are promoted in everyday interactions. Values like 'characters with character,' 'passion for personal development' and 'build the house you want to live in.' As leaders, counselors, and consultants we should promote the values, provide space and opportunities for people develop within our values and we should hold ourselves and our leaders accountable to them.
Tactically, there are a lot of strategies that can help with avoiding burnout including, creating boundaries, learning to disconnect, finding our own form of meditation, and connecting with others to name a few. Empowerment in the workplace is key to avoiding burnout and finding passion. I would encourage to look over the 10 dimensions outlined, find those you excel and identify one, maybe two, that you would like to focus on as you grow in consulting. Personally, I am going to focus on number 7, leverage skills as team I work with continues to grow.
Remember that like innovation, individual empowerment is at the core of what we do.