The consumer packaged goods (CPG) industry has undergone profound changes – particularly when considering digital strategies. Digital transformation and integrating information technology with operational technology (IT/OT) used to be optional investments for industry leaders and innovators. Once Covid hit and the supply chain crisis came into effect, resiliency and cost optimization became more important than ever. Digital solutions went from a nice-to-have for some to a must-have for all.

As capabilities evolve, so do inherent challenges, forcing companies to adapt to ever-changing market conditions, continuously align and realign their leadership and operations, and effectively handle organizational change management for technology solutions.
Kalypso SMEs have taken their knowledge and expertise to identify and document how businesses should move forward to be resilient.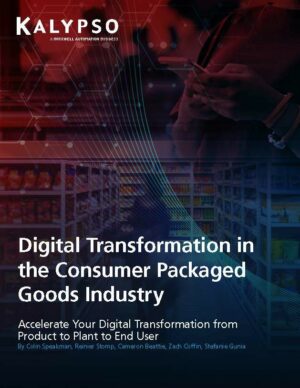 Companies will need to digitize to keep up with their competitors by using digital solutions to optimize their operations, invigorate R&D practices, reduce time-to-market, forecast supply & demand trends and meet regulatory compliance requirements. The biggest challenge, however, will be effectively making the transition.
Challenges impacting CPG
The keys to success: value realization and OCM
Applying digital solutions
High impact use cases
Taking the next step
We hope you find these insights valuable and explore how we help through our consumer focus areas.