The pharmaceutical industry can move slowly, especially when it comes to adopting innovative technologies. There are important legal and ethical reasons for them to advance with caution including strict regulations about drug development as well as the need for exact documentation of processes to achieve results. ​
​Pharmaceutical, biotechnology and contract development and manufacturing (CDMO) companies need to securely optimize data and knowledge flow through their extended value chain networks to accelerate product realization. ​
Technology transfer, or tech transfer, refers to the ability of the pharma or biotech innovator to share Chemistry and Manufacturing Controls (CMC) knowledge and analytical methods of a drug product with a recipient site such as a CDMO (contract development and manufacturing organization). or a downstream manufacturing unit within the same company - regarding the manufacturing process from discovery & development to commercial production. ​
​Today this is a largely manual and extremely time-intensive process that primarily utilizes paper or paper on glass (electronic) documents that disrupt a continuous flow of reusable digital data. It can be long, laborious, and sometimes complicated, process. However, it is necessary at every stage of pharmaceutical manufacturing. ​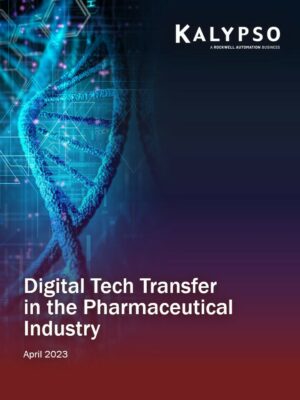 ​Rockwell Automation's digital technology transfer solution utilizes natural language processing and machine learning to extract and parse digital data from existing documents to establish a continuous product and process information flow – with robust change control from discovery, clinical and commercial development through internal or external manufacturing. This enables secure and seamless technology transfer and scale-up, unlocking significant timeline, cost and profitability improvements.
Our eBook includes advice and opinions on:
Trends increasing the need to get products to market faster include: ​
The cost of inefficient tech transfer
Industry challenges
Different pathways your organization can take
How to get started
We hope you find these insights valuable and explore how we help through our life sciences focus areas.