World Economic Forum Highlights Unlocking Digital Sustainability
Sustainability Shout Out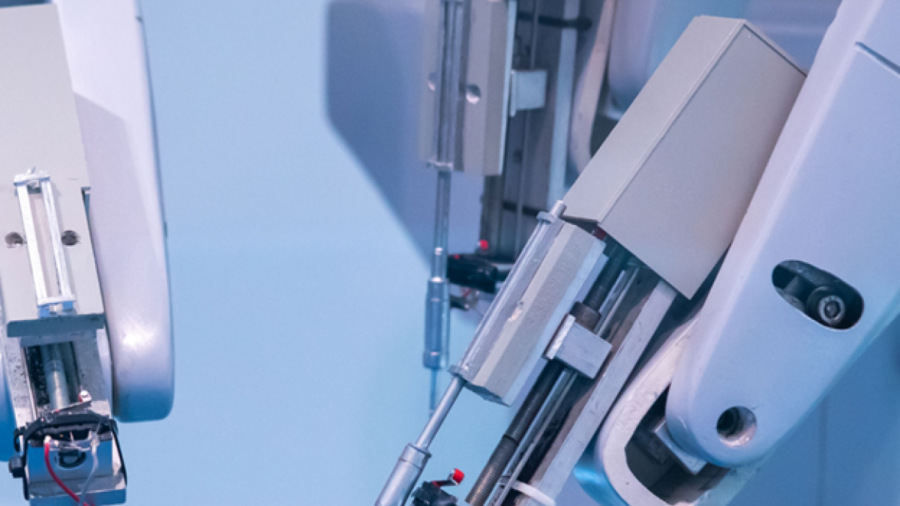 "The future belongs to those companies willing to embrace disruption and capture new opportunities. The lighthouses are illuminating the future of manufacturing and the future of the industry."

Francisco Betti, Head of Shaping the Future of Advanced Manufacturing and Value Chains, World Economic Forum
Shout out to the World Economic Forum and their latest white paper, Global Lighthouse Network: Unlocking Sustainability through Fourth Industrial Revolution Technologies, showing that productivity and sustainability are not trade-offs, but coexist. Through their Global Lighthouse Network, we see how digital transformation can lead to both productivity and sustainability outcomes.

Global Lighthouse Network
World Economic Forum's goal is to "improve the state of the world". In 2018, as part of their platform Shaping the Future of Advanced Manufacturing and Value Chains, they launched the Global Lighthouse Network, a community of world-leading manufacturing sites, to serve as a beacon of learning for digital technologies and advanced manufacturing. From the Lighthouses, manufacturing innovation will be replicated and scaled.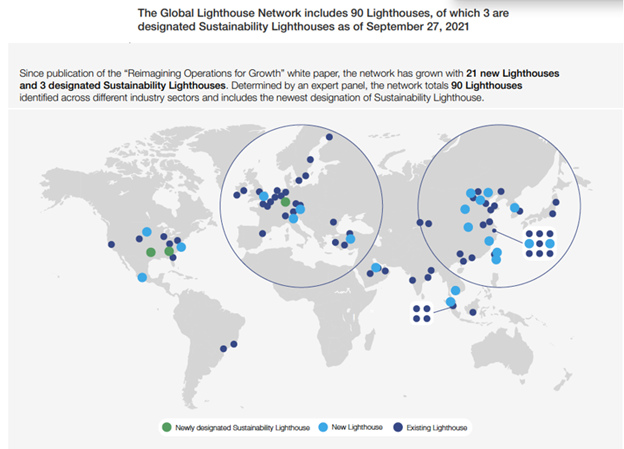 The Global Lighthouse Network has grown over time and as of September 2021, there are 90 global manufacturing lighthouses across a broad range of industries including consumer packaged goods, pharmaceuticals, medical devices, automotive, industrials, process industries (oil, gas, and steel), electronics, semi-conductors and others.
Digital Transformation Leads to Sustainability Outcomes
Across vastly different Lighthouse sites, we see companies drive efficiency through digital transformation, and they create sustainability impacts. This is relatively easy to imagine—optimizing energy, water, raw materials, machine hours and square foot for productivity reasons will also have an impact on sustainability KPIs. 64% of lighthouses in the report sustainability impacts deriving from direct and indirect uses.
Direct Impact Sustainability Use Cases
Direct use cases are purpose-built to optimize resource efficiency. Three of the most common use cases among the Lighthouses are:
IIoT Real-Time Sensor-Based Data Aggregation and Visualization for Production Sustainability: IIoT connected platform to track WAGES[i] consumption and feed management tools to support shop-floor decisions—mostly to monitor equipment performance and provide early warnings for resource consumption.
Advanced Analytics-Enabled for Production Sustainability: In the addition to the above IIoT connected platform, advanced analytics drives decision making and a closed-loop process automates these behaviors—such as balancing consumption.
Digital Twin for Sustainability: Digital twins to create a dynamic energy model to simulate complex, dynamic processes and recommends how to optimize energy utilization scenarios based on data from operations (steam), weather (wind turbines) and electricity grid (cost).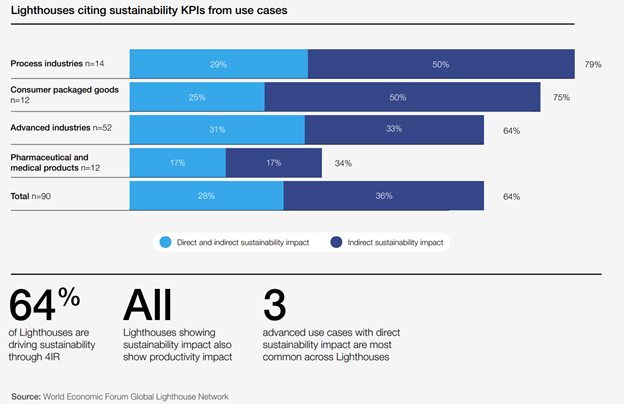 Indirect Sustainability Use Cases
Indirect use cases focus on operational KPIs with a second-order sustainability impact. There is a wide range of use cases that provide indirect sustainability impact; below are two impactful advance used cases:
Data-Driven and Digitally Connected Logistics: Digital delivery optimization uses advanced analytics to consolidate shipments, which in turn provides emissions benefits. Western Digital in Prachinburi, Thailand reported a 46% reduction in logistic cost and a 12% reduction in greenhouse gas emissions.

AI-Optimized Processes: Artificial intelligence-enabled process improvement utilizes automation software to improve workflow and traceability alongside flexible real-time resourcing to eliminate human error in the product lifecycle. This reduces rejected material waste while improving energy efficiency along the production line. Unilever, Dubai Personal Case saw a 42% reduction in material waste and a 15% reduction in water consumption.
Sustainability Outcomes
Below you can see the range of KPI improvements for Lighthouses reporting on sustainability and productivity improvements.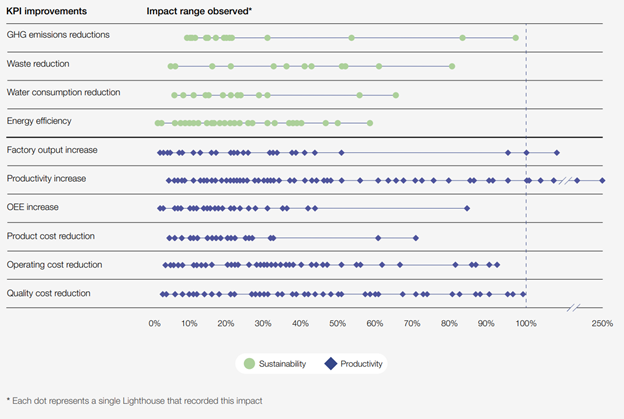 We salute World Economic Forum for showcasing how digital transformation can lead to both productivity and sustainability outcomes.
---
[i] WAGES stands for Water Air Gas Electric Steam (Energy and Power Management Systems)