Want to Succeed with PLM? Implement One Step at a Time
There are as many approaches to implementing product lifecycle management (PLM) as there are companies that implement it. We talked to Tech-Clarity President Jim Brown to get his take on the various approaches and what's most likely to drive success.
What are the different implementation approaches that you have seen used in the market?
There are probably as many approaches to implementing PLM as there are companies that implement it. After researching how different implementation processes are defined, I've found that while some companies adopt the software's best practices, others define their own processes first, and then look for software to complement those practices.
But those are not the only options. I've conducted a couple of studies on the factors that drive PLM implementation success and both showed that companies that improve processes and software concurrently are the most successful. These companies compare their processes to the best practices provided by their software and adopt embedded best practices unless there is a compelling reason not to. These top performers achieve stronger business results from PLM, which extends their success beyond the implementation itself. On the other hand, those that define their processes independently of the software and then customized the solution achieve poorer results.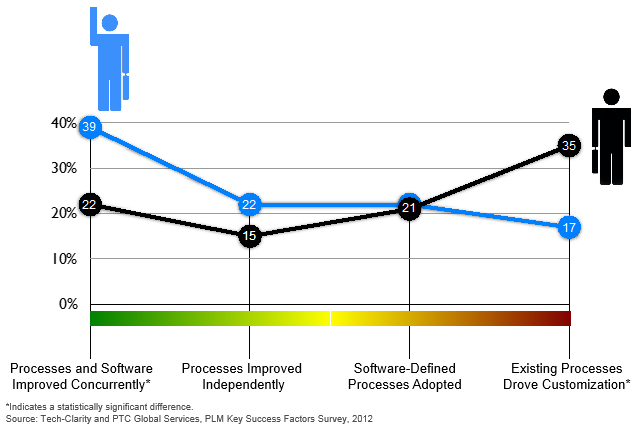 High Performers Prioritize Business Process Improvement and Use Software to Enable Change
Are PLM implementations different than other technology solution implementations? How?
While PLM implementations are different in some ways from other technology solution implementations, they share some similarities.
One of the lessons we have learned from large enterprise efforts is that too much change at once is hard for organizations. Incremental adoption with tangible deliverables along the way is much better than projects with delayed ROI.
The good thing is that PLM is very well suited to be implemented in stages, and actually provides higher value that way. Companies that put a PLM foundation in place and add additional capabilities over time have lower risk and more success in both the short-term and the long-term.
Another thing our research points out is that companies that implement PLM in multiple phases have seen higher levels of business value in subsequent projects. They get a positive ROI from the initial implementation, and future projects that extend functionality leverage the early investment to provide even higher ROI. This ties in to the idea of putting the foundation in place and then growing the value over time by adding additional PLM capabilities.
So, you say that phased PLM implementations drive higher ROI. What should companies know and define before starting?
It's important for the business to have a solid PLM vision before beginning implementation. It's impossible and unnecessary to define all future requirements, but it's critical to know what you are looking for at a high level – Do you plan to include suppliers? Do you want to address processes like quality? Do you want to extend into manufacturing engineering? Defining your PLM vision and roadmap will help you find a partner that can guide you as you adapt and grow your implementation. At the same time, it's important to start small with a project that provides positive ROI in a reasonable time frame (less than two years).
What usually drives success from an implementation standpoint?
Clear goals are the key to success during implementation. These goals should be well communicated to the project team. Too many times, the goal is to 'go live'. It's an all-too common mistake to implement software for software's sake.
Aside from knowing the basics, it's most important to understand the issues at hand. If you don't know the problems you are trying to solve, then you will be disappointed with the results.