Trust in Food & Bev – Do Consumers Trust You More than You Thought?
It seems like every day we see a new threat to a food or beverage manufacturer to "come clean" around artificial flavors, colors, or genetically engineered (GE) ingredients. Yet are most consumers really concerned, or do they even care?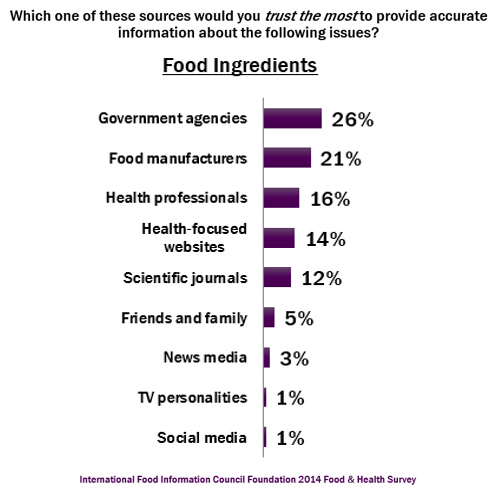 Food and beverage manufacturers often assume that consumers don't trust them to provide accurate information about food ingredients. However, the International Food Information Council (IFIC) Foundation 2014 Food & Health Survey actually showed that food manufacturers are the second-most trusted source of food ingredient information, at 21%.
So if most consumers aren't putting on the pressure, who is? Food and beverage manufacturers are facing intense pressure from consumer advocacy groups, but in reality, these groups are the vocal minority. These activists can flood consumer response lines and make it appear that they are much larger in numbers than they really are. Many of them spread misleading or outright false information, which circulates on social media with lightning speed, knowing that people have a tendency to believe the first thing they hear—even if the response is far more accurate and truthful. So in responding to these determined few, companies must balance insights from carefully measured consumer opinion with what is known about the science, safety and efficacy of the ingredients in their consumer products.
Interestingly, the 2014 survey also showed that consumers are less likely to cite food manufacturers as a trusted source when it comes to food safety issues (5% trust them the most), or the ways that foods and beverages are farmed and produced (10% trust them the most). This presents an opportunity for companies to tell their story of the care that goes into each step of their food production from farm to fork.
---