Retail Innovation Shout Out: Tommy Hilfiger Introduces In-Store Virtual Reality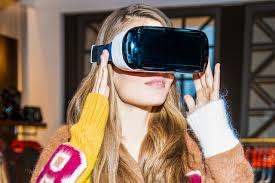 Where do you go to find entertainment? The movie theater, sports arena, concert venue... retail store??? That's what Tommy Hilfiger would like you to do. For several years now, brick and mortar brands have been losing the battle at the cash register to online shopping sites. Recent Black Friday in-store sales numbers reinforce this. So in an effort to increase foot traffic in the stores, brands have increasingly turned to technology to engage and excite their customers by providing a shopping experience they can't find on a website.
Tommy Hilfiger is trying to pioneer the next phase of in-store technology through the use of virtual reality. They recently introduced Samsung's GearVR Headsets in their 5th Avenue store in Manhattan. The headsets give in-store shoppers the ability to experience the brand's fall fashion show that was held in New York earlier this year. To pull it off, they partnered with a company out of the Netherlands called WeMakeVR who filmed the show using special cameras to capture every angle. When users put on the headset, they can turn their heads and get a full 360⁰ view of the action, just as if they were VIPs in the front row. Tommy Hilfiger plans to rolls out the technology at several of their flagships later this year.
This is definitely a unique way to give fans of the brand a way to experience something that most of them would never have otherwise. It will be exciting to see how this impacts the amount of customers coming to the stores, and ultimately what will be the next generation of this technology in retail.
---
Like this Blog?
Read more Retail Innovation Shout Out blogs and join the conversation!