Sustainability Shout Out: McCormick Leads the Food Industry in Sustainable Sourcing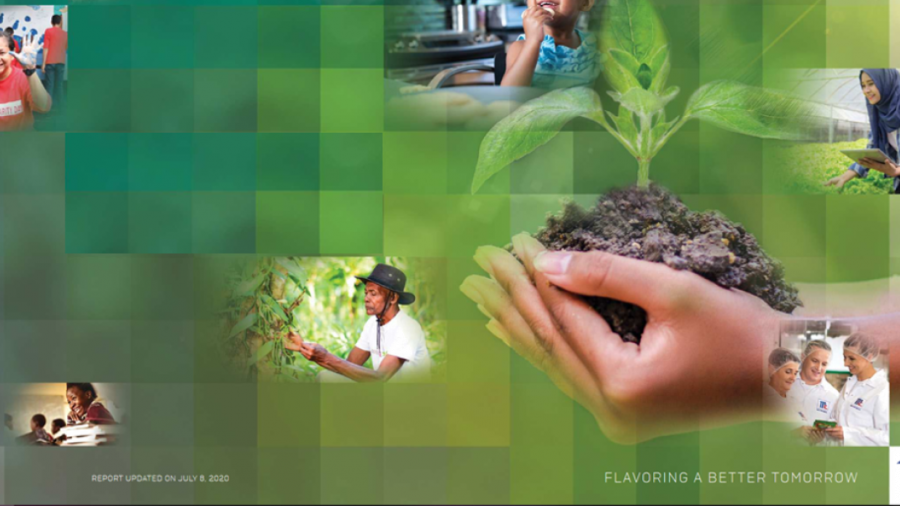 McCormick, the iconic spice brand that supplies our kitchens with essentials ranging from cinnamon to the East Coast favorite Old Bay, assert themselves, once again, as a sustainability leader in the food products industry. The firm set ambitious sustainable-sourcing goals for its products, starting with five of its flagship ingredients and has taken significant steps to achieve them.
Ambitious Goals in Sustainable Sourcing
As part of their vision for a sustainable 2025, McCormick publicly dedicated themselves to achieving significant reductions in waste and emissions, as well as full adoption of circular plastics among other targets, but of particular note is their effort to drive sustainable sourcing of ingredients. Ultimately, McCormick plans to reach 100% sustainable sourcing for all herbs and spices. They have identified their five branded iconic ingredients (vanilla, red and black pepper, oregano, and cinnamon) as the starting point. At 60% sustainable sourcing for red pepper, 24% for black pepper and 34% for vanilla, McCormick is making significant progress toward its goal. Half of the firm's revenue is already coming from sustainable products (roughly $2.8 billion). It has also announced a plan to empower local farmers to produce sustainably by purchasing directly from them and offering better prices and incentive opportunities to increase certified-sustainable production. McCormick's support for local farmers is evident, not only by their push for more direct sourcing and sustainable products, but also by their construction of local processing plants to support the economies of farming communities.
#1, Four Years and Counting
McCormick has been ranked #1 in sustainability in the food products industry for the last four years by Corporate Knights at the 2020 World Economic Forum. It is a well-deserved accolade for a systematic and ambitious approach to supply chain sustainability. Beyond sustainable sourcing, the firm further garnered superlatives when it struck a deal with a mid-Atlantic solar power producer, allowing its operations in Maryland and New Jersey to be powered completely by green energy­, a deal referred to as the "largest-ever of its kind." McCormick's dedication to 100% sustainably sourced ingredients by 2025 demonstrates its radical and sincere approach to sustainability in the global food supply chain and its progress thus far is impressive.

Learnings
McCormick achieved significant progress in sustainable sourcing by:
Committing to transparency. This helps keep everyone accountable and increase trust with partners, suppliers, customers and investors.

Leaning on partnerships. McCormick leaned on external partnerships to improve the resilience of its sustainable supply chain and expand Purpose-led Performance with partnerships, including USAID, CLUSA, FarmForce, universities and others.

Using the Pareto principle (80/20 Rule). Manufacturing companies should prioritize items in their journey to 100% sustainable sourcing. The pareto principle, or 80/20 rule, assumes that 80% of gains will occur with 20% of items in the supply chain (which for many companies is fewer than 12 items). McCormick started with five key ingredients to provide the highest impact and volume of sustainable sourcing.

Extending Sustainable Sourcing beyond Purchasing. McCormick's sustainable farming incentive model promotes a more wholistic view of sustainability, empowering farmers and local communities as well as offering customers a more sustainable product
McCormick's 2019 Progress Report details its goals and progress by year; it is well worth a read for anyone interested in corporate sustainability and corporate social responsibility.