Sustainability Shout Out: Ethique Models Top-to-Bottom Sustainability with Transparent Production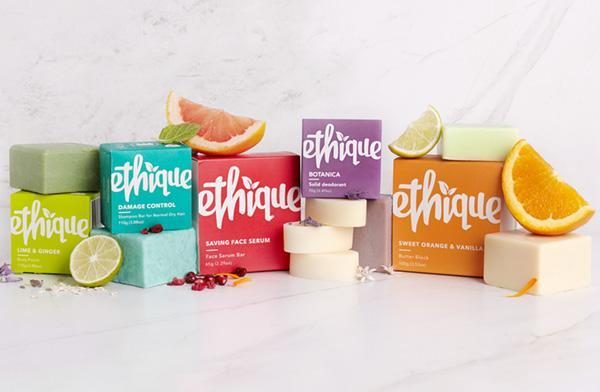 As consumers become more conscious of their role in sustainability and waste generation, companies such as Ethique, a New Zealand based shampoo and skincare brand, have taken responsibility and boosted confidence in their product through total transparency to their supply chain. In addition to being completely carbon neutral and plastic-free, Ethique uses sustainable practices top to bottom, from establishing direct trade partners for raw materials to designing reusable packaging for customers to store their product. By employing a suite of sustainable practices, Ethique serves as a model for showcasing sustainable strategies that can be incorporated at any point in the supply chain.
Direct Trade Partners
Ethique begins their production process by sourcing raw materials through direct trade with partners whenever possible. By purchasing directly from the source, the company is able to ensure the materials are responsibly sourced and gain direct insight into production practices to show to concerned consumers. By minimizing importers, exporters, and other intermediaries, Ethique can omit CO2 emissions created through shipping and travel. This has the added benefit of removing associated costs as well, benefiting local material businesses and end-customers alike.
Plastic-Free Packaging
About 300 million tons of plastic is produced in a year, with a shift towards single-use plastics as opposed to more durable, reusable varieties. Over 80 billion plastic shampoo bottles are thrown away annually. Managing plastic waste will become critical—current trends predict there will be more plastic than fish in the ocean by 2050. To combat this, Ethique removes plastic from their packaging by distilling their product to the fundamentals and using recyclable materials.
First, Ethique re-evaluated their product design. Instead of having shampoo that comes in a bottle, theirs comes in a cardboard box. This was achieved by reducing the ingredients to the essentials. While bottled shampoo is mostly comprised of water, Ethique's shampoo uses concentrated ingredients and only 1% water, resulting in a durable bar that has minimal packaging restraints. Then, Ethique has the freedom to choose recyclable paper packaging without sacrificing product quality and durability. By innovating on product design, Ethique was able to plan for sustainability early on.
Customer Engagement
Because their consumer base is so dedicated to sustainable lifestyle practices, Ethique builds brand integrity by allowing them to take matters into their own hands. Ethique provides transparency and visibility to all their partnerships and procedures to prove back up their claims as a sustainable brand. They also offer biodegradable storage products to allow customers to continue sustainable practices after their merchandise has left Ethique's facilities. By building a strong relationship with their consumers and allowing them to build trust in the brand, Ethique has a firm group of supporters that enable them to continue innovating on sustainable practices. While Ethique is already carbon-neutral, they aim to continue offsetting carbon emissions and become carbon negative in the coming year. In addition to this, they are raising funds to research new technologies in laboratory automation to continue to innovate on their product.
Kudos to Ethique for their commitment to sustainability!