Sustainability Shout Out: Dunkin' Brands Continue to Deliver Sustainable Packaging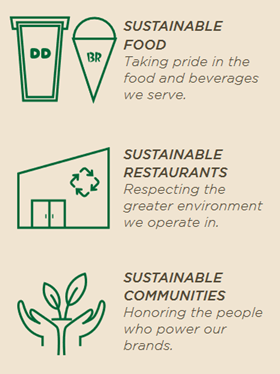 Shout out to Dunkin' Brands, the parent company of Dunkin' Donuts and Baskin-Robbins for finding new ways to deliver sustainable packaging.
Before we share their recent outcomes, let's discuss the actions proceeding their success. First, there were four major steps at the leadership level:
Understand sustainability in context of a Quick Service Restaurant
Identify potential sustainability issues. They grouped 30 potential issues in 6 categories that fall into 3 domains
Receive stakeholder engagement and feedback. Align on the goals and metrics
Prioritize and validate. Each of the 30 topics was analyzed and scored against criteria
Sustainable Packaging is one of the categories under Sustainable Restaurants. The packaging team measures their packaging materials on environmental factors and volume. In recent years they have:
Replaced foam cups with a new double-walled paper cup
Increased the recyclability of the lids
Reduced environmental impact of plastic. This includes reducing plastics use, using recycled materials and finding long-term alternatives to plastics
Increased the sustainability of paper and pulp products including the amount of paper-based packaging certified by the Forest Stewardship Council (FSC)
Outcomes
This year Dunkin' Brands said "Goodbye" to foam cups and completed a global transition to paper cups. These new cups, made from Sustainable Forestry Initiative (SFI) Standard paper, are currently used to serve all Dunkin' hot beverages, including coffee, espresso drinks, tea and hot chocolate. The new lids for these cups are made of #5 polypropylene that can be recycled in cities and towns that offer #5 recycling. This transition to double-walled paper cups will remove a collective 19 million pounds of polystyrene from the waste stream annually.
Dunkin is also testing biodegradable straws in about 250 Dunkin' restaurants in select markets throughout the U.S. The straws are made with PHA, a material created by the fermentation of canola oil. While the straws have the same look and feel as traditional plastic, the PHA material is both marine and soil biodegradable. It is compostable both at home and industrially, creating significant environmental advantages over plastic.
Shout out to Dunkin' Brands for continuing to deliver great outcomes in their sustainable efforts.