Sustainability Shout Out: Blueland Eliminates the Need for Single-Use Plastic in Cleaning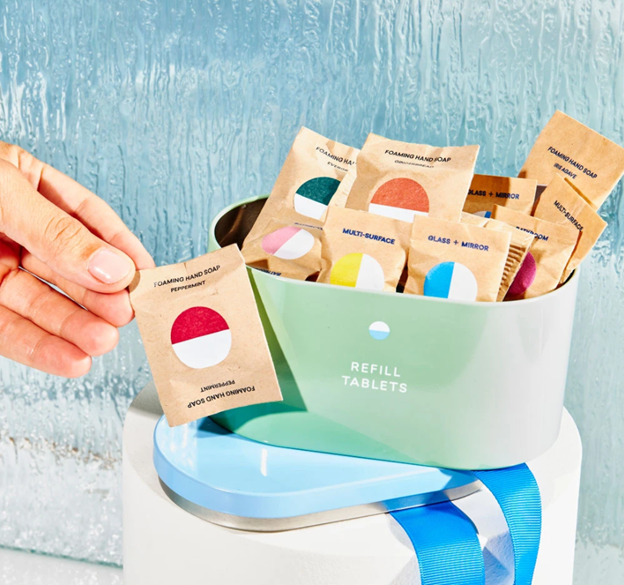 Consumers face a dilemma when purchasing cleaning products. Plastic containers are much more convenient, yet they contribute to the massive problem of 8 billion tons of plastic trash in the world. Despite increased awareness of the dangers of plastic to our world, consumers still consistently buy cleaning products in plastic containers because of the convenience of liquid cleaners.
Blueland offers an eco-friendly and perhaps even more convenient than traditional cleaners in single-use plastic. Buy the bottle once. Blueland produces a "soap tablet" that dissolves when combined with water. Consumers simply fill the bottle with water, drop in a cleaning or soap tablet, then can start cleaning within minutes. Blueland offers an array of five cleaning products (hand soap, cleaning sprays, dish soap, dishwasher, and laundry) for all consumers' cleaning needs.
Learnings
The household cleaning product market size was estimated at $164 billion in 2019 and is expected to grow at a CAGR of ~5%. Blueland found its space in the market by fulfilling consumer preferences, changing the product form, and updating the CPG business model in ways many of the top competitors seem resultant. All these changes were centered around eco-friendly brand identity.
Convenient & Affordable. Blueland offers convenient solutions for consumers by having a direct-to-consumer model where consumers can receive its products without leaving home. Its products are also very easy to store, as each hand soap tablet is only 0.3 ounces. One could store nine soap tablets in less space than one plastic hand soap container. Blueland's hand soap tablets are $2 each (cheaper in bulk), compared to the average price per unit of liquid hand soap of $2.63. Blueland's shipping price is also very affordable; one order of six soap tablets was only 99 cents.
Plastic-Free Packaging. Blueland's shipping materials are recyclable and made with 100% recycled paper, and its packaging for all of its is composable. Blueland estimates that they can eliminate over 100 billion single-use plastic bottles in the U.S. alone. Moreover, it saves the company money and lowers emissions by not shipping the water around the planet.
Cruelty-Free, Sustainable Ingredients. Blueland only uses ingredients contained on the EPA Safer Chemical Ingredients List and none of the ingredients on the EWG Unacceptable List and Prop 65 Banned Ingredients List. It also only sources ingredients that are gluten-free, vegan, and cruelty-free. Blueland has received multiple certifications for the ingredients in some or all of their products: the Platinum Material Health Certificate (highest level from Cradle to Cradle Products Innovation Institute), The USDA BioPreferred certification, EPA Safer Choice certification, and the Leaping Bunny (cruelty-free) certification. Its dishwasher tablets are the only dishwasher detergent that is EWG verified (chemical safety).
Blueland proves that companies can satisfy consumer preferences while being eco-friendly through powerful innovation.