Saluting Innovation @ Smartsheet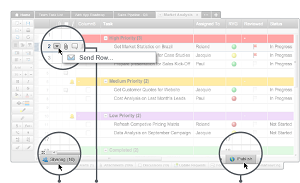 Saluting Innovation at Smartsheetfor taking spreadsheets to a new level of simplicity and collaboration. Smartsheet is an intuitive online project management spreadsheet tool with advanced features that simplify changes to layout and content, and facilitate interaction with multiple collaborators. Smart columns and rows enable those working on projects to easily insert web forms, formulas, files, discussions, and reminders directly on to the spreadsheet. Sheets can be viewed as a grid, Gantt chart, or calendar, depending on project needs. This gives users the ability to create sheets detailing large projects, ongoing processes, or simple checklists.
Smartsheet uses a pay-as-you-go business model, targeting project teams and small businesses needing to create professional spreadsheets, by offering a monthly fee payment model. Although free spreadsheet software exists, none compare to the innovative features provided by Smartsheet. We salute Smartsheet for creating an easier, multifaceted way to create and view spreadsheets.
---
Read More InnoSalutes
Innovation comes in many shapes and sizes. Stay informed about the latest and greatest innovations happening in the world as our team salutes our favorites and uncovers what makes them authentically innovative. Click here for more #InnoSalutes.