Retail Innovation Themes for 2017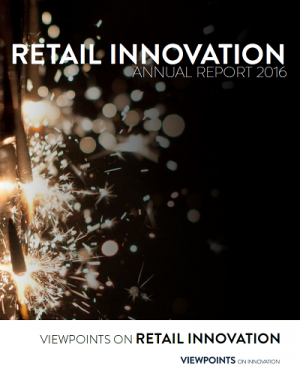 [Excerpt from Report]
Retail Innovation Themes for 2017
Competing for customer attention and loyalty continues to be a tough battle as we enter 2017. We find leading companies investing more and more in digital technologies to increase customer interactions with their brands and products or even to redefine the shopping experience altogether.
Many retailers are finding ways to leverage artificial intelligence (AI) with applications that recognize our voices, interpret what we are asking and respond to our questions immediately and accurately. They are launching these tools to both better serve their customers and arm sales associates with product or order information. We saw significant growth in the use of AI in 2016 and it's likely to accelerate further in 2017.
Internet of Things (IoT) technology has rapidly expanded across almost all categories. From apparel to accessories to home, we are finding products that track indicators of health, performance, energy consumed and more. The best IoT products provide data and information that consumers grow to rely upon, strengthening their relationship with the brand. As IoT technology continues to evolve, we expect to find even more uses for connected products, not only for consumers but also for companies.
IoT-enabled manufacturing and supply chains will become increasingly important. Aside from digital innovation we also see continued focus on material innovation and sustainability as we enter 2017. The leaders in material innovation continue to be the athletic and outdoor brands, however consumers are putting pressure on all retail and brand companies to ensure their practices are socially responsible and environmentally friendly.
We saw many exciting retail innovations in 2016, and we look forward to an equally innovative 2017.