Retail Innovation Shout Out: Timberland Launches Digitally Connected Store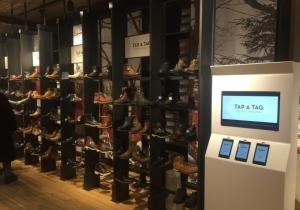 Timberland is partnering with CloudTags, the creator of Connected Stores, to bring a digital customer experience to its flagship store in Herald Square, New York City. They are introducing tablets that can be used to provide detailed product information, styling tips, and recommendations for a guided shopping tour. Interactive tap walls have also been installed to feature an assortment of exclusive merchandise, including a range of colors and sizes, that are typically only available online.
While providing an enhanced shopping experience, Timberland's Connected Store also benefits the retailer itself. The tablets and tap walls can pull data analytics from user searches to understand valuable customer insights which can be used to influence future product design and development decisions.
The integration of a physical and digital customer experience preserves the traditional "try it on" method of shopping while remaining competitive in a market driven by technology. Many customers want to try something on before they buy because we all have different body types and shapes. Now Timberland can offer the convenience of modeling their products with a larger array of variations online to choose from – because who doesn't like having options?
---
Like this Blog?
Read more Retail Innovation Shout Out blogs and join the conversation!