Retail Innovation Shout Out: The Dandy Lab is Innovating with In-Store Experience and IoE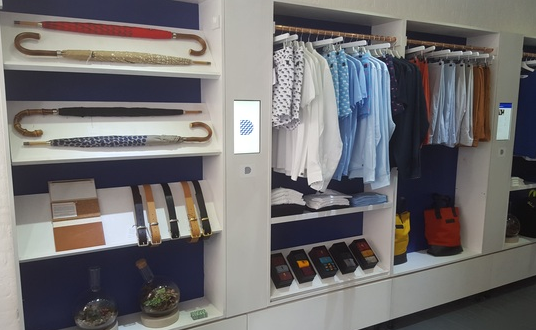 What do in-store experience and Internet of Everything (IoE) mean to you? At The Dandy Lab, a London-based men's lifestyle shop, it means using the latest technology to engage and excite their customers and keep them coming back for more. Sensors in the store recognize customers' shoes and ankles to get an indication of age, style preference, and demographic without compromising their identity. NFC-enabled products reveal information about the British designer brands carried in the shop, tablets embedded in the walls display product details, price and inventory levels when a product is held up to the screen, a virtual styling wall recognizes products held up and suggests matching products and colors, and window displays change based on who's looking. And to up the fun ante, there are regular brand and product launch parties in the store, complete with mixologists.
The store's WiFi helps to monitor foot traffic as customers' smartphones pickup and interact with the wireless signal, showing which displays are most popular and providing a more accurate view of how busy the store is versus sales figures alone. Data collected from the store's variety of sensors and apps is linked to the store's network to show trend information such as foot traffic and sales compared to weather data. And if that wasn't enough, The Dandy Lab employs IoE to integrate their e-commerce and in-store data. Not only does all this data provide deep, real-time insights into trends and operations, it can also be leveraged to negotiate with suppliers as it provides details on how customers interact with products beyond sales figures. Now that's innovation!
---
Like this Blog?
Read more Retail Innovation Shout Out blogs and join the conversation!