Retail Innovation Shout Out: Men's Wearhouse Offers Performance Products for Everyday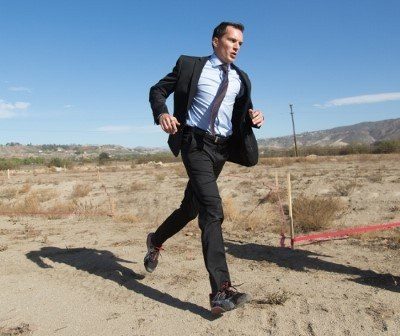 It's not glamorous… it's not even polite to talk about it—but can we just admit it already? Sweating doesn't just happen at the gym. Call it glistening, perspiring, excreting liquids produced by glands in the skin—it happens when we're active, but it also happens when we are still. When we are anxious, stressed, nervous… it happens.
The good news now (for men anyhow, or anyone in the presence of men) is that the product and fabric features that were once relegated to active and performance apparel, are now available in clothes for everyday living. Features like moisture wicking and cooling technologies can take on the commute, the meeting room, the parent/teacher conference, and beyond (including the in-law visit).
Kenneth Cole and Men's Wearhouse have partnered to deliver tailored and sportswear apparel made from performance fabrics that use the 37.5 technology—the patented technology formerly used exclusively for high-performance sports gear. Products are branded under the AWEAR-TECH label, a division of the Awearness Kenneth Cole product offering. The AWEAR-TECH assortment includes suits, jackets, pants, as well as shirts and vests, with price points running from $70 to $270.
The AWEAR-TECH label, as with all other products sold under the Kenneth Cole Awearness line (exclusive to Men's Wearhouse), will give back a portion of the proceeds to charity. The AWEAR-TECH giving will be directed toward Hire Heroes USA, an organization that helps veterans get back into the workforce.
---
Like this Blog?
Read more Retail Innovation Shout Out blogs and join the conversation!