Retail Innovation Shout Out: Ikea's Digital Pop-Up Store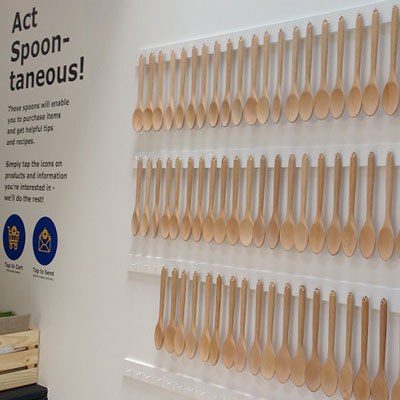 Ikea Canada has a new pop-up kitchen store concept in downtown Toronto where customers use RFID-enabled wooden spoons instead of carts. The store offers around 50 products, including kitchen, dining, and food-oriented items (yes, the iconic Swedish meatballs are available). Shoppers tap the spoon on the display product's sensor and it's added to their virtual cart. At the cash-less checkout, the spoon is scanned, the cart contents are displayed and confirmed, a credit/debit card is swiped, and the order is gathered from a storeroom and handed to the customer.
But wait, there's more! The shop has a kitchen display replete with cabinets and appliances, and when a VR headset is used, customers can "step into" and visualize other kitchen set designs. Bravo Ikea, for bolstering your "It Starts With The Food" global theme with digital content, highlighting how food unites us and providing a unique experience for your customers.
---
Like this Blog?
Read more Retail Innovation Shout Out blogs and join the conversation!