Retail Innovation Shout Out: Glass-Media Introduces Digitized Glass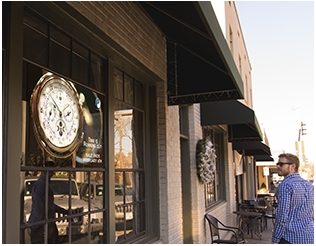 Gone are the days of cardboard, vinyl, or paper posters hanging in store windows or propped up around store displays. Glass-Media, launched in January 2015, brings new and innovative digital point-of-presence (POP) solutions to brick-and-mortar businesses and their customers. The company uses dynamic, cloud-connected, projection-based marketing displays which allow businesses to upload, manage, and display content on just about any surface that has been coated with their proprietary projection paint. Glass-Media also installs customizable acrylic-based displays that can hang in stores or be placed on a wall or interior glass to exhibit messaging and advertisements.
Most static posters or signs have a lifecycle of four to nine weeks, while digital display content can be tested and changed by the hour, highlighting the difference between static vs. dynamic. The projector-powered system not only displays dynamic and digitized content, but is also less invasive compared to a TV and handles direct sunlight better due to higher luminosity.
In addition to unique signage and wayfinding solutions, Glass-Media can help a business gather valuable consumer insight, set new key performance indicators, and ultimately measure return on investment more effectively. Data can be collected through mobile engagement, audience measurement, WiFi analytics, and integration between point of sale and external content management systems, which can all be packaged into the Glass-Media platform. The data can then be used to analyze and optimize campaigns in the physical space.
In 2016, shoppers can expect to see digitized glass in a number of cities across the country as Glass-Media begins to roll out its solution with over a dozen notable brands that will be piloting and distributing the technology.
---
Like this Blog?
Read more Retail Innovation Shout Out blogs and join the conversation!