Striding Toward Sustainability: Nike Sets Ambitious Target for Carbon Reduction
Sustainability Shout Out

Shoutout to Nike for committing to a 65% reduction in the carbon output of their owned and operated facilities by 2025.
This is an ambitious target with a narrow time frame. To hit this target, Nike is investing in research and innovation in the materials space. Currently, materials used in Nike's popular footwear and apparel currently account for 70% of their carbon footprint. Nike hopes to bring this number down significantly by increasing their use of recycled synthetic or sustainably produced natural fibers, and by reducing the amount of energy consumed during their dyeing and finishing processes.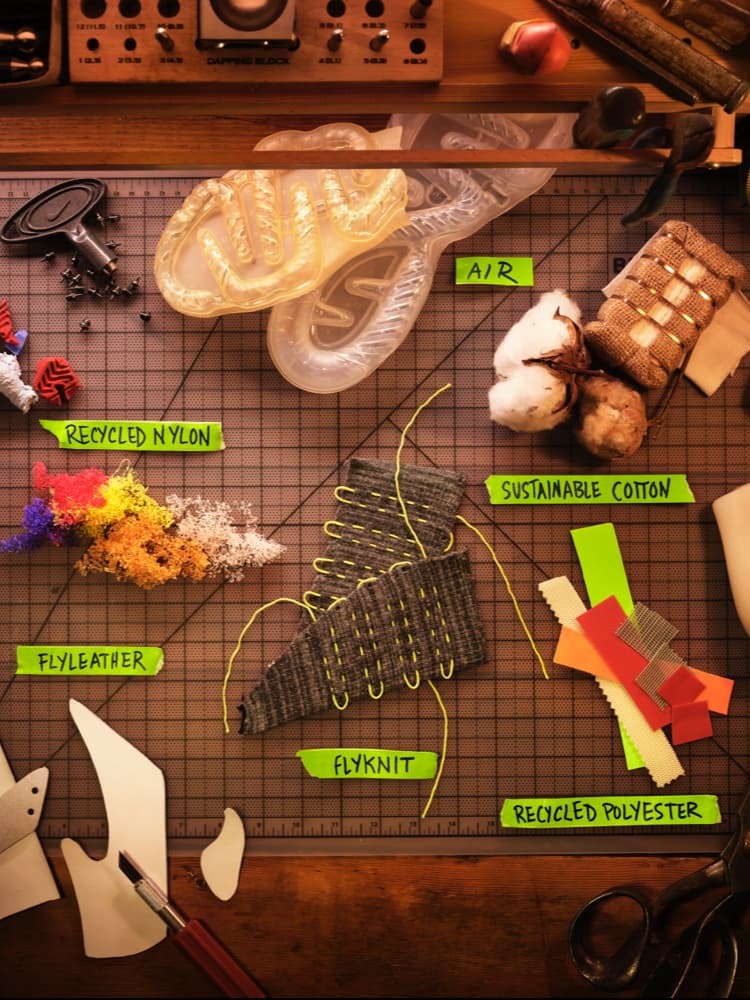 The Shoes of Tomorrow and their Carbon Footprint
One of Nike's biggest innovations in synthetic and natural fibers is their new Flyleather®, a material that combines recycled leather fibers with synthetic fibers. Out of all the materials that Nike uses in its footwear, leather has the second-highest impact on carbon emissions and water usage. This is due to the significant amounts of energy and water required to raise cattle and tan their hides. By creating a new synthetic leather, Nike was able to take the carbon footprint of a pair of Air Force 1 sneakers and cut it in half; bringing it down from 16.9kg of CO2 to 7.9kg. If Nike can repeat this success through continuous materials research, it will be on target to meet its 2025 goal.
Leather, however, makes up only a small fraction of Nike's material usage. The common material in their shoes and apparel is Polyester and in FY2020 they used 153 million kg of it. Recycled polyester uses 30% less carbon than creating virgin polyester – opening an opportunity for Nike. Nike is seizing this opportunity by doubling its use of recycled polyester, transitioning from 16% of its overall polyester use to 26%. They did this by focusing on converting a small number of high-performing categories of apparel (such as Global Football and Basketball) to recycled polyester use. Their hope is to continue to increase their use of recycled polyester as they move into the future.
Significant Strides in Sustainability
Nike has also been working with its suppliers to reduce the amount of carbon used in their dying and finishing processes. Over the past five years, Nike has managed to reduce the carbon footprint of these processes by 15% and hopes to increase that number to 35% by 2025. These reductions are due, in part, to efforts to convert factories from high-carbon energy sources, such as coal, to lower-carbon energy sources like natural gas and solar. Nike has also been working on eliminating inefficient steam boilers within their factories and replacing them with electric heaters. These electric heaters have allowed some factories to reduce their overall energy use by 15-20%.

Nike set a very ambitious target for themselves when they committed to slashing their carbon footprint by 65% by 2025, setting precedent across the Retail, Footwear, and Apparel industry. Despite this lofty goal, Nike has already made significant strides in materials innovation and energy consumption over the past five years. They are well on their way to meeting their 2025 goals and setting the foundation for future improvements for many years to come.