Enabling Semiconductor Innovation with a Comprehensive Product Record
Semiconductor companies are committed to consistently deliver meaningful growth from innovation — and a rare few are really prepared to deliver on that commitment.
Many companies have widely adopted basic product lifecycle management (PLM) and/or product data management (PDM) tools for managing their product data for part numbers, bill of materials, and customer-specific variants.
To achieve true innovation results transformation, all semiconductor firms must now move beyond this basic PLM/PDM approach and place more emphasis on first pass design success, efficient product introductions, and manufacturing flexibility. This will require a specific set of enhanced innovation and new product development capabilities, including: the creation of a comprehensive product record, a structured portfolio and pipeline management process, and a closed loop customer requirements management system.
This blog will focus on this comprehensive product record and the capabilities that it supports.
Capabilities Supported by a Comprehensive Product Record
Creating a comprehensive product record goes beyond having the basic product data management capabilities to support product development. A comprehensive product record includes a broad set of PLM capabilities throughout the innovation process, accelerating product development, improving product quality, and reducing costs.
Here's a view of the capabilities supported by a comprehensive semiconductor product record: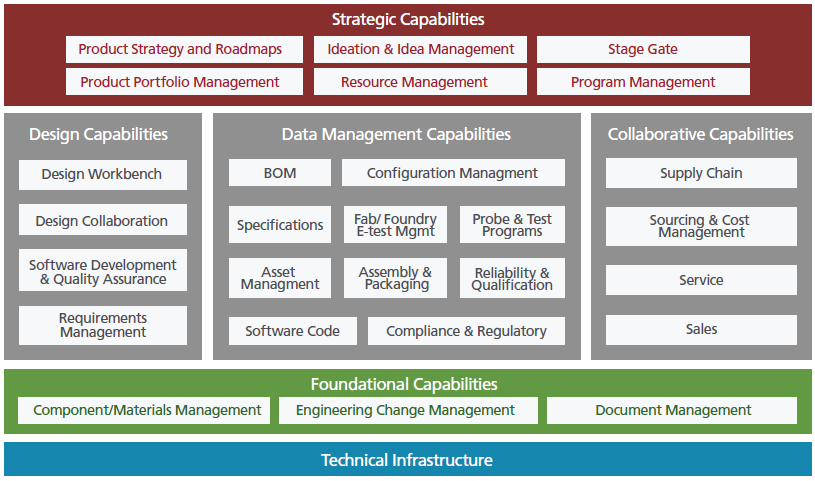 Strategic Capabilities enable program management for product development processes and launch programs, as well as product portfolio management. More advanced solutions enable product and technology road mapping, and support for idea management and ideation processes.
Design Capabilities of a PLM solution start with basic customer needs definition and extend to the decomposition of specific product requirements. The design capabilities allow a user to link customer requirements in the system to features and design teams, providing a record of the linkages and changes throughout the development process.
Data Management Capabilities are often seen as the foundation for an effective PLM system, and this represents the PDM capabilities that many semiconductor firms have installed. Additionally, the product record should link all information related to a product and manage changes to that information over time, providing the same information to customers, employees, partners, and suppliers.
Software Capabilities give companies a way to manage source code or firmware for the design, which is an integral, but often omitted, component of a comprehensive PLM solution. Many successful semiconductor companies find that integrating bug tracking and issue management in their PLM solution offers them a much more powerful way to resolve design issues identified during testing or in production.
Supply Chain Capabilities are integral to the development process. Whether it be internal wafer fabs, external foundries, assembly/test facilities, or banking schemes, all supply partners play an important part of a comprehensive solution. Linking manufacturing partners and suppliers with product information enables intelligent decision making for optimal sourcing, quality, supply assurance, and cost.
For semiconductor companies, PLM should almost always be considered a multi-enterprise system. Most companies find it useful to define a strategy based on a commercially available platform, and create a roadmap that integrates additional new capabilities over time.
A comprehensive product record and PLM tools must be viewed as a transformational initiative rather than a one-time event and installation. Without intelligent business processes that drive business results impacting the P&L statement, semiconductor companies cannot take full advantage of the innovative capabilities that PLM tools can offer. Leading firms build their PLM vision around maintaining the data to create information for ever-changing business environments and new priorities.
---
More Reading
Kalypso has published a white paper titled "Comprehensive Innovation Management for Semiconductor Firms: Leading Practices, Capabilities and Tools". This paper reviews some of the leading practices and enhanced tools that top companies in the semiconductor industry use to stay ahead in an industry where comprehensive innovation management is becoming a critical requirement.