Driving Sustainability: The Tires Carrying Michelin to a Cleaner Tomorrow
Sustainability Shout Out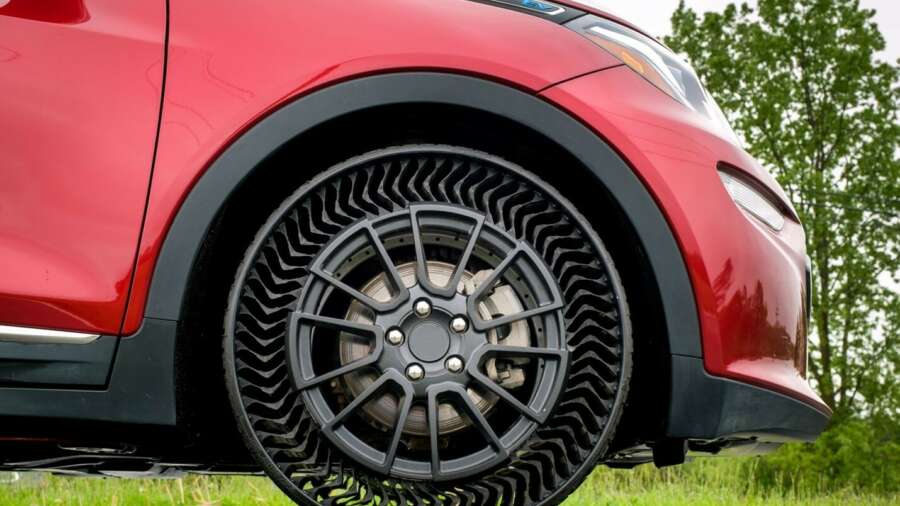 "Each year 20% of tires are discarded as scrap due to flats and rapid pressure loss or irregular wear and tear caused by poor tire pressure alone." This statement from a 2012-2015 Michelin internal scrapyard survey defines the challenge facing tire manufacturers as it seeks to become more sustainable and reduce tire waste around the globe. The modern tire is an amalgamation of rubber, synthetic polymers, wires and fillers, which interplay in a recycling nightmare that if left alone, will take hundreds of years to decompose.
In response, companies have gotten creative in reshaping the end-life of tires; tires are now burned for fuel, ground into asphalt, blended into roadbeds and recycled into playground surfaces and tire swings. While intensive development in this area has helped to reduce the number of tires that make their way into landfills, 11% of all scrapped tires are still deposited into landfills. The end result? Each year, around 30 million tires are added to waste piles in the United States alone.
Michelin looks to the Future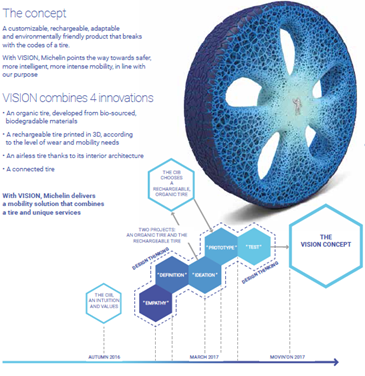 In 2017, Michelin unveiled their VISION concept tire, a summation of Michelin's sustainability goals and a roadmap for Michelin's R&D teams going forward. The Vision concept tire is a 3D-printed, airless, rechargeable, connected, and 100% sustainable tire, made out of wood chips, root vegetables, regenerated styrene and reclaimed carbon black from existing discarded tires. The tire is biodegradable, and an aspirational goal with a target rollout in 2050.
Michelin's First Steps
Presented to the world at the Movin' On summit in 2019, and making their auto show debut in Munich this past September, Michelin unveiled their UPTIS (Unique Puncture-Proof Tire System) airless tires – the result of roughly 21 years of development. These tires are slated to launch on General Motors vehicles as early as 2024, at prices comparable to run-flat tires. In addition to being airless and puncture-proof, these tires can potentially be re-treaded, extending the lifespan of the UPTIS tire even further. These innovations show progress along two areas of the VISION concept (the airless and rechargeable fronts) and show how Michelin has progressed in the four years since the VISION concept tire was introduced.
Bridging the current tire with Michelin's Future VISION
As Michelin progresses towards its 2050 100% sustainability goals, it has made several investments seeking to combat more imminent dangers of tire waste. Michelin subsidiary ResiCare is innovating upon their biomolecule non-toxic adhesive resin used in tire production, in an effort to mitigate negative health outcomes of tire fires and fuel production. Additionally, since 2020 Michelin has been partnered with the Swedish company Enviro, utilizing pyrolysis technology to extract quality raw materials from discarded tires such as carbon black, pyrolysis oil, gas, and steel – all that can be reused in the manufacture of new products, including the manufacture of new tires. Finally, Michelin subsidiary, Lehigh Technologies, has developed a system to produce micronized rubber powders from tires and other rubber articles at the end of their life, to replace raw materials used in the production of tires, plastics, asphalt and other construction materials.
In just a few years, Michelin has made tremendous strides towards achieving its sustainability goals.
Shout out to Michelin for prioritizing innovation and sustainability. The tire manufacturer is driving toward an eco-friendlier future with solutions addressing every component of the tire's lifecycle.