Consumer Innovation Shout Out: Spectrum's Mass Customization Platform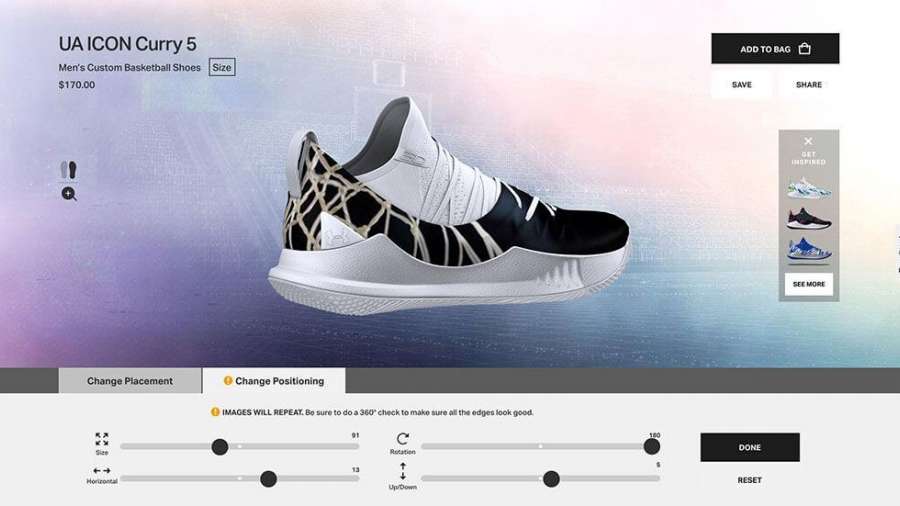 Mass customization is gaining momentum with brands and retailers wanting to engage more with consumers and provide them with the ability to create unique products. Spectrum software helps brands provide product personalization service to consumers. Whether in-store or online, it allows consumers to personalize a product by selecting materials, colors, graphics or embellishments. While consumers are generally willing to pay more for personalized service and products, the supply chain end of the transaction can be challenging. The need for factories to manufacture one-off products versus the typical mass production requires a change in process and technology and in-store services require space, machinery and trained resources.
Shout out to Spectrum software for being the only end-to-end product customization solution in the market today. Spectrum and their WebGL technology supports product visualization with a real-time, photo-realistic 3D models allowing consumers to spin the product as customizations are added and zoom to see fine details. Capabilities include conditional logic to offer embellishment options based on the substrate while limiting designs that cannot be manufactured. The solution even has embedded social media sharing technology for every important update. Approved designs are packaged into a Tech Pack with associated consumer-provided graphics files, if included in the design, and submitted directly to the factory.
A key to success is identifying a manufacturing facility open to dedicating a line (or sample room) to mass customization. Brands opting for speed identify local manufacturing or even in-store facilities to get the finished product to the consumer more quickly. Spectrum's Factory Integration team collaborates with manufacturing facilities, large and small, to establish a dedicated workflow and integration plan to fulfill one-off orders.
Enhance products offered online and in-store with mass customization, you'll build brand loyalty and allow everyone to be a designer.
---
Like this Blog?
Read more Retail Innovation Shout Out blogs and join the conversation!